There is a lot of mixed information on the internet about the Radio Frequency Skin tightening treatment, and to some, it may sound like a treatment right out of a sci-fi movie.
But don't worry, I'll help you understand everything you need to know about it below!
Here you get to know the details about the treatment, its cost, its benefits, its at-home alternatives, and a step-by-step guide to performing this treatment yourself.
Plus, I have answered some commonly asked questions, to clear any confusion you may have regarding RF. Keep reading…!
READ MORE: Alternative Techniques to RF Skin Tightening
What is Radio Frequency Skin Tightening?
Radio Frequency therapy famously known as Radio Frequency skin tightening is a non-surgical method for tighter skin.
It not only makes your skin firm but also reduces, fine lines, skin wrinkles, cellulitis, etc, and improves your skin texture.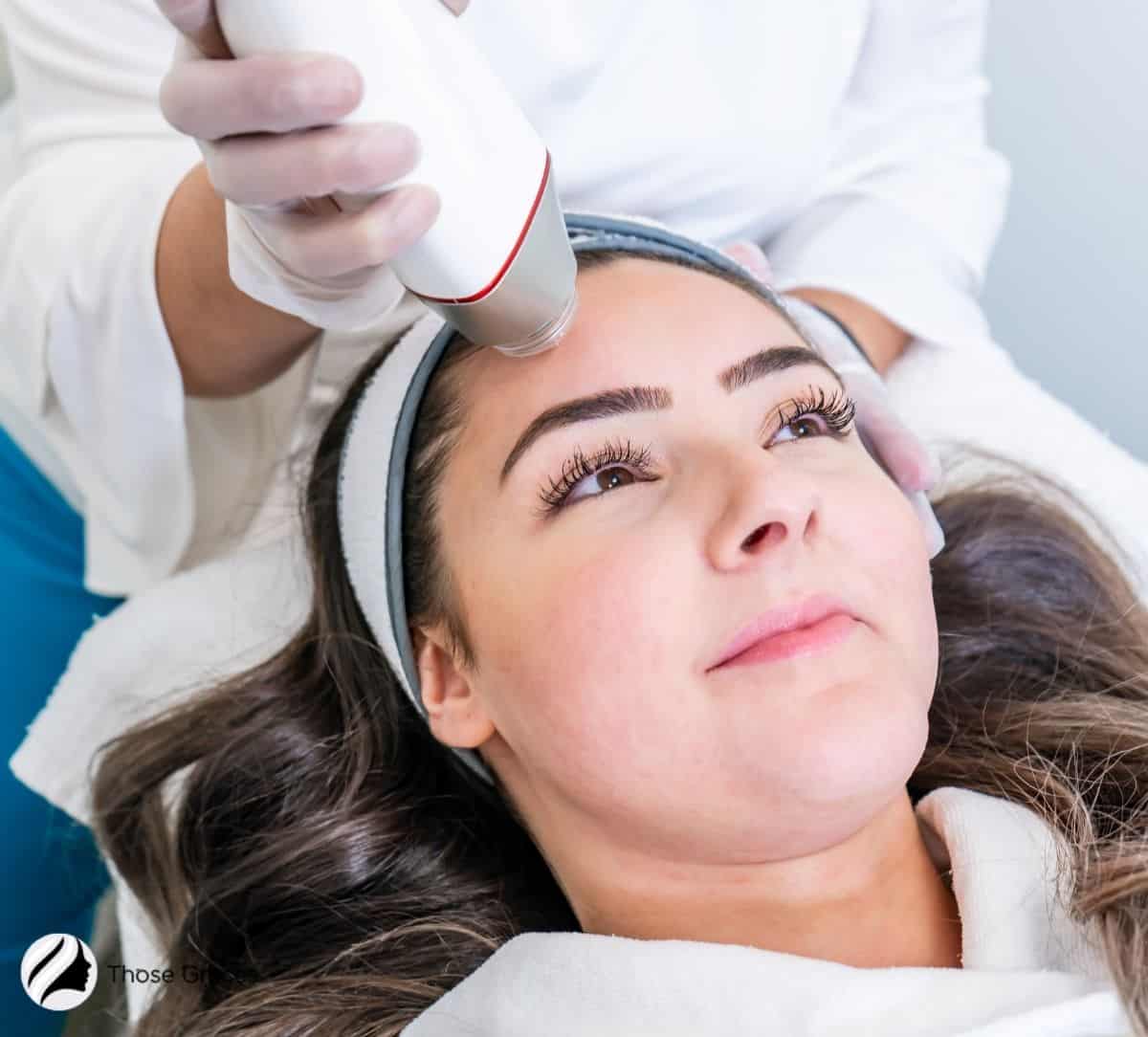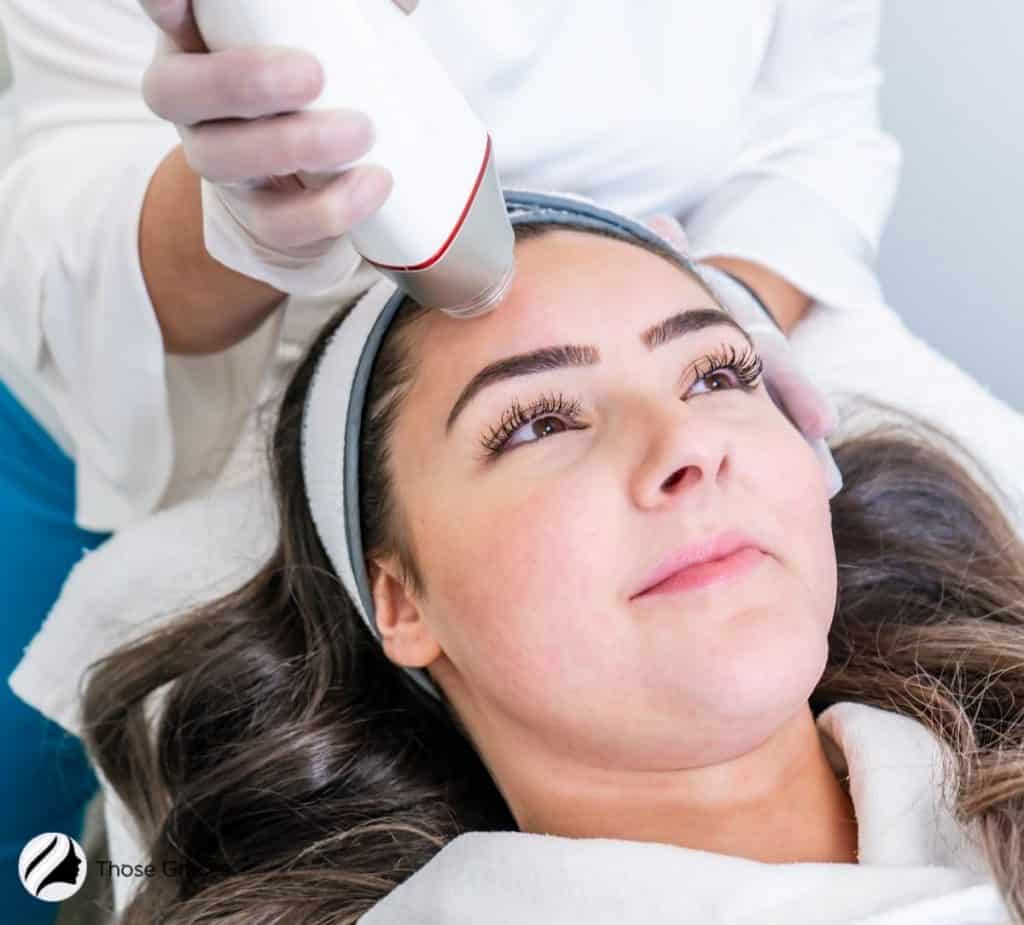 This treatment was invented in 2001 when for the first time radiofrequency was used for cosmetic purposes.
Looking at the perks of this treatment it quickly became famous among celebrities. However, it was a comparatively infamous skin tightening treatment in common public back then. It may be due to the stigma people had around radio frequency and its use on skin.
Nevertheless, as the public started gaining knowledge of RF, it was quickly used to bypass skin tightening and face lifting surgeries. In the past half a decade, this treatment gained more followers and now can be done at home too for skin Rejuvenation.
How Does Radiofrequency Skin Tightening Work?
Radio Frequency works in a very unique way, it's unlike any other skin tightening treatment.
The non-invasive skin tightening treatment utilizes RF energies to heat the inner subdermal levels of the skin.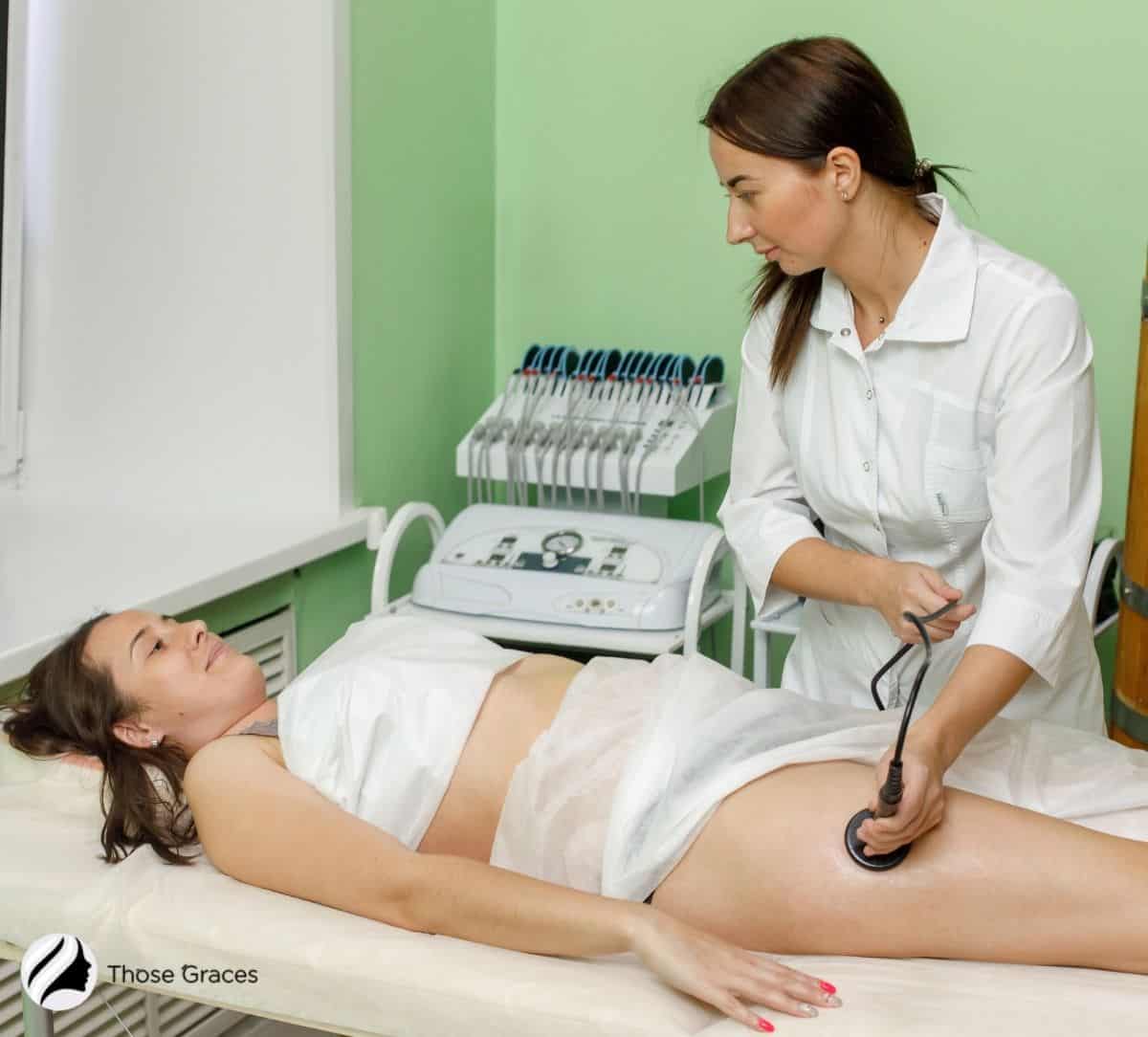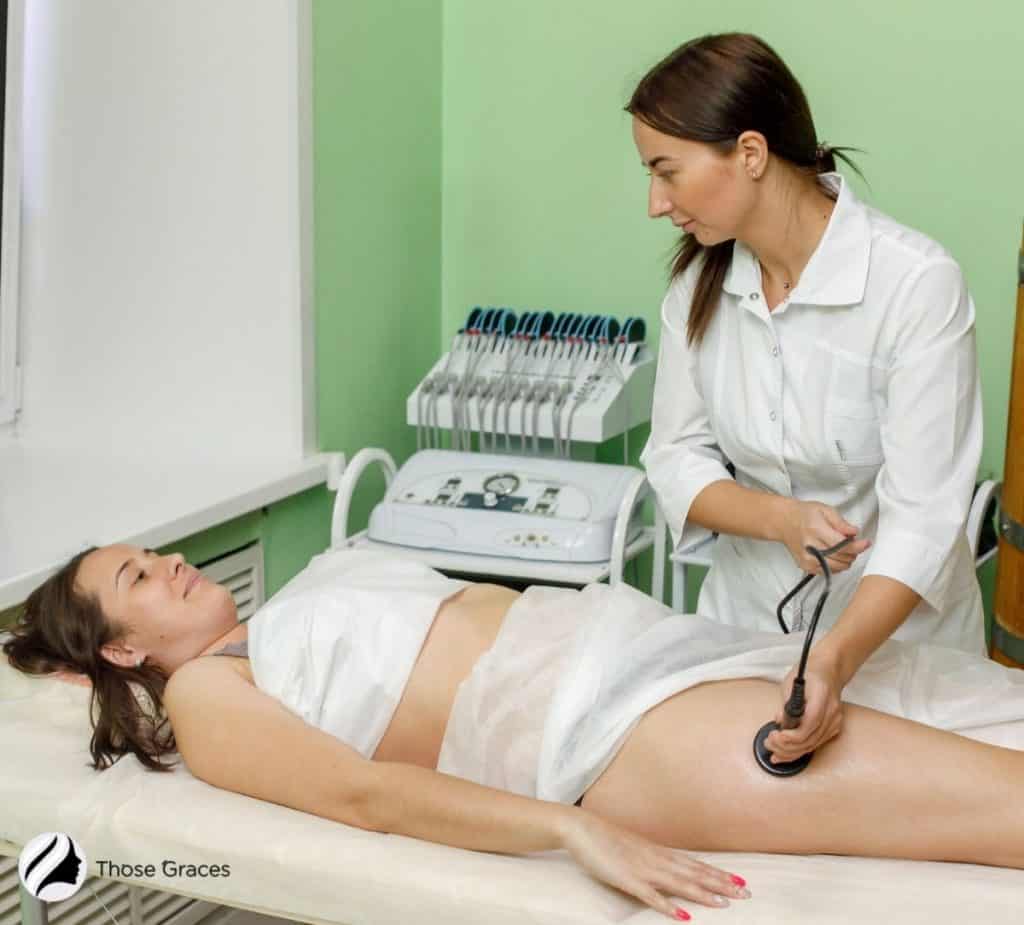 When the tissues of this inner level heat up, they kick start elastin and collagen production, which in turn makes the skin firm, smooth, and devoid of any fine lines, wrinkles, and age spots.
These skin-tightening effects can be visibly seen on loose skin after a few sessions of Radiofrequency treatment.
Looking to tighten your skin after weight loss? Check out our article on the "skin tightening cream for stomach after weight loss" for tips on how to find the best product for you.
How Often Can You Do Radiofrequency at Home?
With the boom of RF treatment in the past decade, there has been a large number of people looking for an at-home alternative to clinical RF treatment.
To meet this rising demand in the market. Some brands have started manufacturing at-home Radio Frequency Skin tightening machines.
The cost of these machines starts right from $30 and goes as high as $1000.
Many people consider this option to be economic. A professional Radio Frequency treatment is done not more than once every six months.
However, at-home treatment needs to be done for around 12-15 minutes per session, twice or thrice a week, continuously for 6 to 8 weeks to achieve expected results.
This is due to the low intensity of the RF waves emitted by an at-home machine.
Yet, in my opinion, any cosmetic treatment should be done by experienced professionals.
The practitioners performing the at-clinic treatment have years of experience, over any newbie trying it at home.
Furthermore, I don't think it's appropriate to expose your skin to an RF treatment constantly at home.
Some at-home users claim that after some days of RF treatment they see the desired results. As of now, there is no study proving that an in-clinic RF treatment is better than an at-home one.
So, if you are uncomfortable getting an RF treatment in a cosmetic clinic, feel free to choose the at-home approach.
How to Use Radio Frequency Machine at Home
Follow this step-by-step approach while using an RF skin tightening machine at home.
Step 1– Wash your face or the body area you wish to treat thoroughly with a cleanser and or soap. Make sure it's not sticking with sweat, other dirt, any type of skin powder, or makeup.
Step 2- Apply serum or your regular moisturizing cream to maximize its absorption into the skin, during and after the treatment.
Step 3- Now, depending on your machine, you may have to attach a suitable applicator for your respective skin concerns.
Step 4- Rub the applicator on the targeted areas in a slow circular motion.
Tip- Take your time with the process, it may take two to three sessions for you to get a hang of it. Or else you could ask someone else to do it for you.
What are the Benefits of RF Skin Tightening?
Let's get to know some benefits of RF skin tightening treatment.
#1 Completely Non-invasive Treatment
If you are scared of Botox and body contouring surgeries, then this treatment is best for you. RF treatment does the job of Botox and surgeries without any type of knives or needles.
You do not shed even a single drop of blood in this treatment and still achieve the same results through Radio Frequencies.
#2 Improves Blood Circulation and Secretion of Collagen and Elastin
One of the most desired side effects of Radiofrequency skin tightening is that it promotes blood circulation.
RF treatment causes a mild inflammation on the treated area, which stimulates blood flow.
If you are treating your face with Radio Frequencies, it may increase the blood flow in your face and give it a beautiful, glowing rosy tint.
Your undereye area may also brighten and, you will end up looking more lively.
#3 No Downtime
If you are a working-women just like me, this treatment is meant for people like us. There is zero downtime of an RF treatment. Similar goes for Laser Resurfacing.
This treatment takes about 20 to 30 minutes and you can immediately go back to your daily routine.
Generally, this is not the case for most cosmetic treatments. This perk makes RF extremely popular, and sought-after skin countering and tightening treatment.
#4 Targets Cellulite, Reduces Wrinkles, and Contours the Body
Getting rid of cellulite is tough. If you have tried the longer route of diet, exercise, and anti-aging serums and have not had much success, give RF a try.
Radio Frequency treatment is known to eliminate fine lines, wrinkles, burst cellulite and burn fat through its heating effect on skin tissues.
It secrets the production of collagen and elastin which are the two hormones responsible for firm, tight and smoother skin.
#5 Scar Free Treatment
Most cosmetic surgeries leave scars, not Radio Frequency skin tightening. You don't have visible surgical marks on your body after RF. Also, unlike lasers, it does not cause burns or skin discoloration.
This treatment uses radiofrequency waves to contour your face/body and not any penetrative instruments.
How Much Does Radio Frequency Skin Tightening Cost?
While I was researching the cost of Radio Frequency Skin tightening, two factors affected the price of this treatment the most: your location and which part of the body do you wish to tighten.
This treatment needs multiple sittings to be completed. Most patients see visible results after three or more sittings. The cost of a single sitting can vary from $200 up to $1000 or even more.
Likewise, the cost of the entire treatment will range from $800 to $2500 or more.
Radio Frequency skin tightening is considered a cosmetic treatment hence it's not covered by most insurance providers.
In big cities, the price of this treatment is comparatively higher than in other smaller cities and towns, despite the treatment being the same.
Is Radio Frequency Skin Tightening Safe?
For the first-timers, Radio Frequency Skin tightening treatment may seem like a deal too good to be true.
As it is quick, painless, comfortable, with no downtime and no surgical scars. Even I was a bit skeptical in the beginning.
However, as I got to know more and more about this treatment, my doubts were cleared.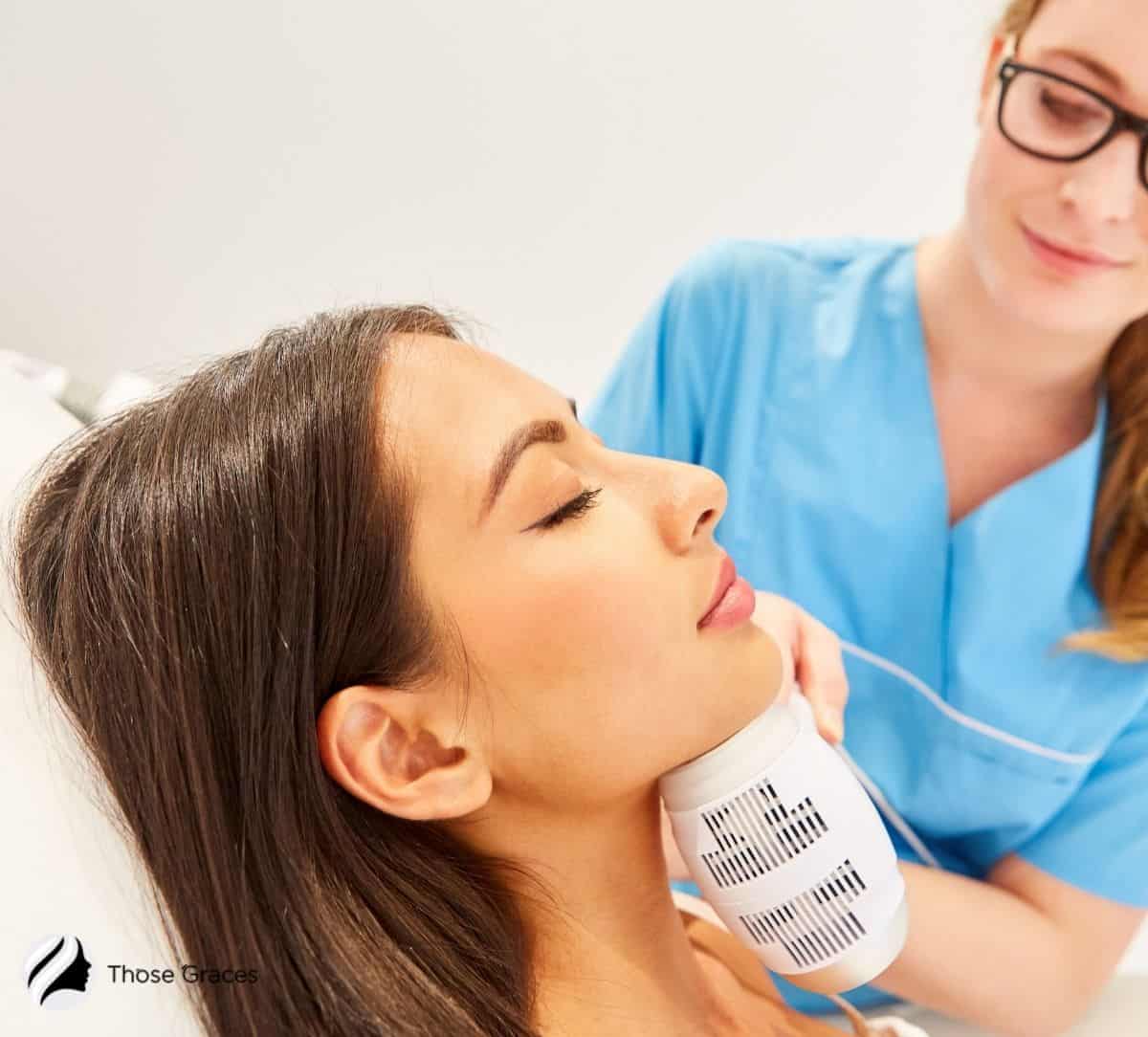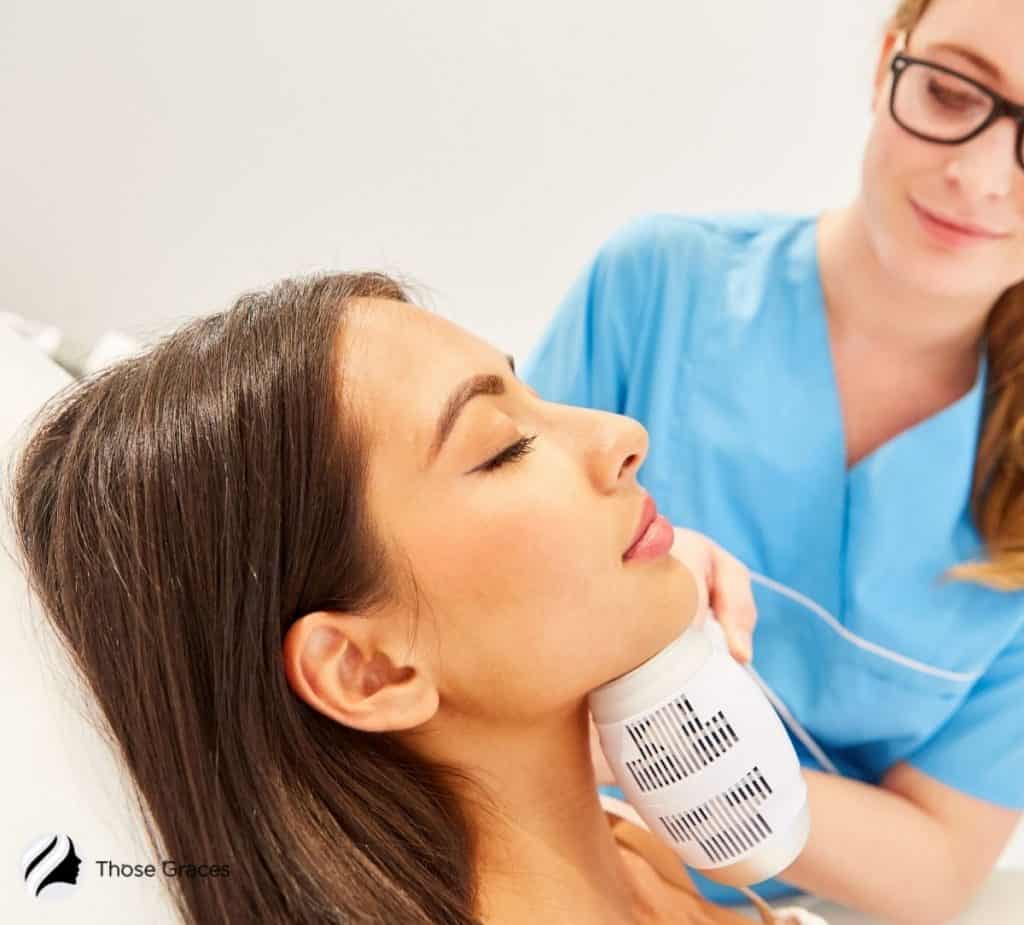 In our day-to-day life, we are exposed to a certain amount of radio frequencies. TV, cell phones, Wi-Fi signals, radio, etc are all examples of radio frequency emission devices.
There had been debates over years, claiming RF to be carcinogenic to humans. However, nothing has been proven yet.
This means that certain individuals exposed to RF on daily basis may or may not get cancer. Radio Frequencies used for Radio Frequency skin tightening are of lower frequencies.
Plus, they are controlled by the practitioner throughout the process. So, the chances of any kind of damage are second to none.
Many people think that radio frequencies can cause burns, scars, or skin discoloration. But, on the contrary, it's a scar-proof treatment.
The thermal energy supplied to the inner layers of the skin is just enough to heat the skin and synthesize the production of collagen.
Experts say that RF skin tightening is the only method that is not only harmless but also immensely effective.
Some people, experience mild redness, and itching after an RF session. But these side effects are temporary and fade as soon as the skin starts to heal.
People with active acne breakouts or other skin disorders should stay away from RF, as it will only worsen their skin conditions.
Our staff doctor talked a bit more about these radio frequency skin tightening dangers and other rare side effects yesterday. I recommend checking that out for a more in-depth overview.
FAQs
How long does Radio Frequency skin Tightening last?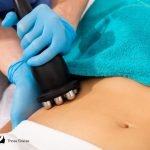 Depending upon the skin type and the issues targeted by the Radio Frequency skin tightening treatment, on average the results last for about a year.
However, if it was performed on someone with considerably fewer skin issues, it may last for 2 to 3 years. Skincare is also crucial after this treatment. If followed properly RF skin tightening will show results even after 2 to 4 years maximum.
How many radiofrequency treatments are needed?
On average to see visible and lasting results minimum of three sessions of Radio Frequency treatments are required. Rarely do people start seeing a difference in a single session, but that's not the case for most people.
Some people may even need more sessions. Everyone's skin is different, so the number of sessions also depends upon how well your skin reacts to the treatment.
Does Radio Frequency get rid of cellulite?
Yes! Many people are choosing Radiofrequency treatment for cellulite reduction and body contouring. This is an extremely painless and effective treatment to get rid of cellulite.
Is Radio Frequency skin tightening harmful?
No! Radio Frequency Skin tightening treatment is considered one of the safest methods of skin tightening. It has been approved by the FAD to reduce wrinkles and fine lines. It does not damage your skin as all it does is increase the natural production of collagen and elastin in your skin.
This method does not use any harmful chemicals or substances. It's based on Radio Frequency which is harmless to the skin. However, mild itchy skin, temporary redness are some of the common side effects seen in patients immediately after a session. These side effects reduce over time.
Can you perform Radio Frequency Skin tightening at home?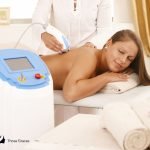 Yes! Radio Frequency skin tightening can be performed at home. Some machines claim to offer professional results at home.
However, this process depends not only on the quality of the radio frequency machine but also on the skill of the practitioner. So, it is recommended to get it done by a professional at a clinic.
How much does a Radio Frequency skin tightening session cost?
The starting range of one session of the Radio Frequency skin tightening treatment is $200.
The cost of one session may increase depending upon your location, the skills, and experience of the practitioner, which skin issues you are targeting, etc.
However, it takes multiple RF sessions to see expected results so the total cost of the whole treatment could range from $800 to $2000.
Conclusion
Radiofrequency skin tightening is a skin and facial rejuvenation treatment that affects the deeper layers of the skin.
It stimulates the subcutaneous tissues with radio waves, to increase the secretion of skin tightening hormones in people with lax skin.
This non-invasive procedure is highly recommended in place of Laser skin tightening and other surgical skin tightening methods.
Especially after knowing the benefits of this treatment and the fact that it can be performed at home, I recommend everyone to at least check out RF treatment if you are looking for a skin tightening procedure.
References
ABCS. 2020. "So, Are Radiofrequency Treatments Really Safe?" ABCS. November 16, 2020. https://www.americanboardcosmeticsurgery.org/are-radiofrequency-treatments-really-safe/.
"At-Home Radiofrequency Devices." 2021. Mdedge.com. June 11, 2021. https://www.mdedge.com/dermatology/article/89359/aesthetic-dermatology/home-radiofrequency-devices.
Lolis, Margarita S., and David J. Goldberg. 2012. "Radiofrequency in Cosmetic Dermatology: A Review." Dermatologic Surgery 38 (11): 1765–76. https://doi.org/10.1111/j.1524-4725.2012.02547.x.
Team ePainAssist. 2017. "What Are Erythematous Papules, Know Its Viral Causes, Treatment." EPainAssist. ePainAssist. February 2, 2017. https://www.epainassist.com/infections/what-are-erythematous-papules.
Weiss RA;Weiss MA;Munavalli G;Beasley KL. 2012. "Monopolar Radiofrequency Facial Tightening: A Retrospective Analysis of Efficacy and Safety in over 600 Treatments." Journal of Drugs in Dermatology : JDD 5 (8). https://pubmed.ncbi.nlm.nih.gov/16989184/.
Yetman, Daniel. 2020. "What Is Radiofrequency Skin Tightening?" Healthline. Healthline Media. July 17, 2020. https://www.healthline.com/health/beauty-skin-care/radio-frequency-skin-tightening#cost.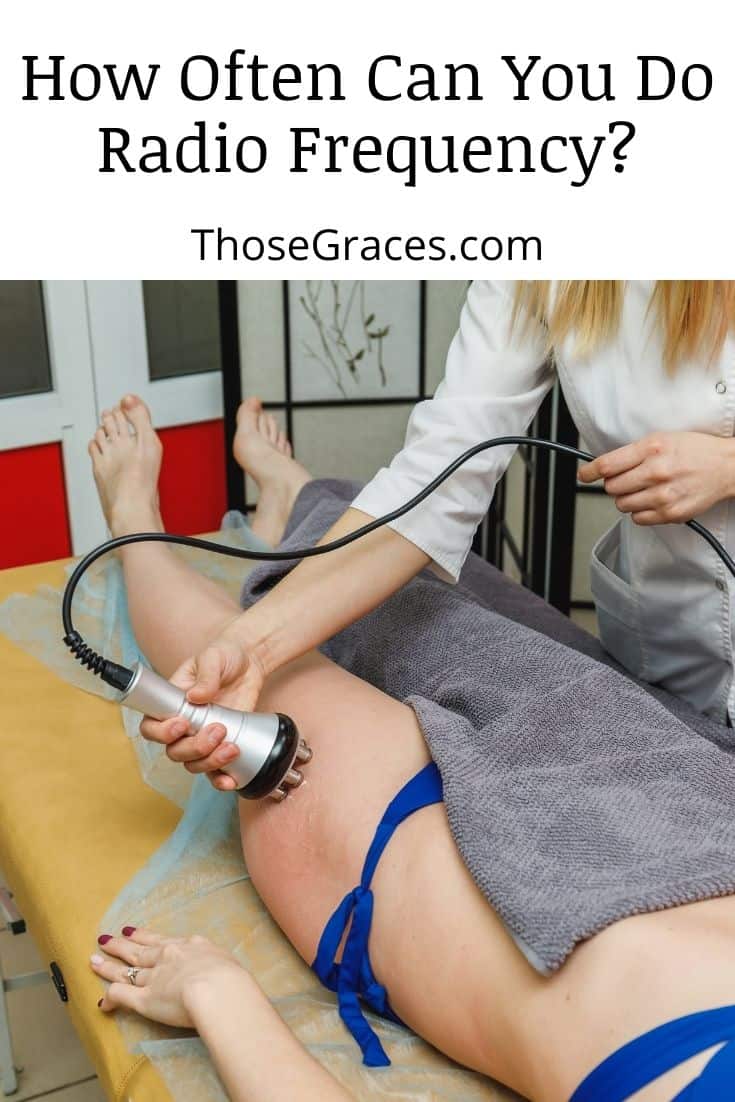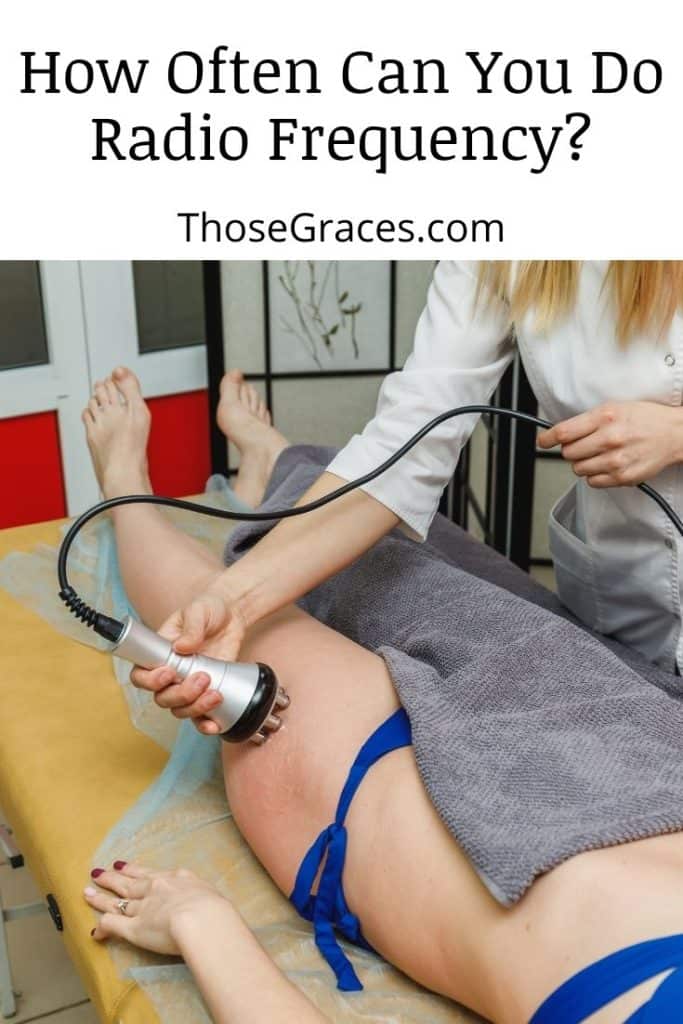 Have you tried radio frequency skin tightening? Please share your experiences below!