How to blow dry a bob?
It sounds simple as long as you can master the technique and know everything you need.
This guide considers all the different types of bob styles and specific instructions for blow-drying for each type.
I'll start with a general instruction manual for blow-drying a bob and then move on to the specific types.
Key Takeaways
Mastering the art of sectioning: Learn how to divide your bob haircut into manageable sections for precise and efficient blow drying.
Perfecting the technique: Discover the secrets to using a round brush and a blow dryer to create volume, smoothness, and movement in your bob hairstyle.
Banishing frizz and sealing the style: Uncover expert tips for minimizing frizz, setting your blowout, and ensuring your bob stays sleek and polished throughout the day.
How To Blow Dry A Smooth Bob (Tutorial)
These first steps are the same no matter what type of bob you're working with.
1. Pre-blow-drying Prerequisites
I can't stress this enough: If you want to blow dry a smooth bob, use some heat protection product. Otherwise, we're talking frizz city, my friends!
There are A LOT of them on the market. Pick one that's right for your hair and fits your budget.
Yeah, some are better than others, but honestly, I want you to use one, period [1].
For those of you wondering about how to style curtain bangs with a flat iron, the technique might be different, but the importance of heat protection remains the same.
Curtain bangs, with their iconic sweep, can be polished and refined using a flat iron, but always ensure you're safeguarding them against potential heat damage.
In addition, you can add light oil since it will not only add a protective layer to the hair but also will help you have a silky look.
Now the fun begins!
2. Drying And Combing Simultaneously
Hold your blow dryer on your dominant hand and a wide-toothed comb on the other.
It is important to have a wide-toothed comb since using a hair dryer without one will leave your hair a tangled mess. Trust me, been there and done that.
Try not to use a hairbrush since the gaps between the teeth are so narrow that the brush might end up completely entangled in the hair.
Again, I speak from experience. Learn from my mistakes.
All you have to do in this process step is comb your hair as you go along with the drying process. There is no rule regarding which part of the head to start with.
However, starting from behind is preferable since many of us tend to have the maximum hair volume behind.
You must be careful about the space between a group of hair and the blow dryer's nozzle.
Hold your dryer a decent distance from your hair since it might burn your hair follicles.
When that happens, it leaves an easily detectable and very unpleasant smell. Honestly, you can't miss that smell!
If you have very thick or natural hair [2], check out this video for some tips on using the tension method to blow dry:
3. Add More Products And Styling
Once your hair is fairly dry, it's time to start styling! Once again, this step starts with one very important product: a serum.
Make sure you do not apply it to the roots of the hair and use a minimum amount since you do not want dandruff or oily hair.
Once you are sure you have fairly covered most of the hair, use a blow dryer at a low speed.
Styling your hair is your choice. If you want volume in your hair, make sure that you keep lifting the strands of hair as you style.
This will give you the illusion of more volume for quite some time.
If you want to style it a bit flatter than usual, you must keep pulling your hair downwards so that the hot air does not leave gaps between the individual hair follicles.
Use a hairbrush towards the hair ends to make that curve towards the neck to give it a finished look.
This video shows how to apply hair products before blow drying:
Styling Specific Types Of Bobs
Now let's get to the nitty-gritty: how to style specific bobs. I'll break this down by type and hair concern.
How Do You Blow Dry A Bob Without Frizz?
To answer this question, you might want to know what you should not do while blow-drying your hair.
First, you cannot start blow-drying your hair right after you come out of the shower. It is a process that takes at least 20-30 minutes.
With the help of a towel and air drying, dry out almost 50-60% of the water from the hair. Once that is done, you can start blow-drying.
Since the blow dryer is not drying completely wet hair, the hair won't be exposed to any sudden excessive heat.
Therefore, the hair won't be frizzy, and the blow-drying will take no longer than 15 minutes to dry and style the hair.
Another reason the hair gets frizzy is that you should start blow-drying from the tip to the hair ends and not the other way around [3].
Frizzing also results when you try blow-drying all of your hair without organizing it into sections.
Sectioning the hair and then blow-drying it will help you manage it well without creating knots.
Check out this great video for an actual demo:
How Do You Blow Dry A Medium-Length Bob?
A medium-length bob means that the hair ends extend till the shoulders.
To blow-dry a medium-length bob, start by washing your hair and soaking away the maximum water and moisture from the hair.
After keeping a decent distance between the hair follicles and the nozzle, start with cool or warm settings to gently blow dry your hair.
The process will be pretty much similar to the steps mentioned above. With a medium-length bob, there are a few extra things to be mindful of.
Sectioning is a must when it comes to medium-length bob.
The hair is too long to get tangled up. Another thing that is a must with a medium-length bob is the use of the nozzle.
This way, you can direct the airflow while ensuring a smooth curve from the tips to the hair ends.
How Do You Blow Dry A Short Bob With A Fringe?
With a short bob, people usually prefer a voluminous, smooth, yet straight style. Now, how do you do that?
While the process is pretty much the same as before, one thing that applies explicitly to short bob haircuts is that blow-drying in sections on either side of the midline brings the hair follicles forward towards the face instead of keeping them localized on the sides.
This is a great natural trick to increase volume.
For your fringe, apply a simple blastoff because, since the fringe is the last section as you work your hair from down under to the top, the fringe hair is already quite dry.
A simple blastoff is enough to get them in shape.
If you also want the hair to be straight and smooth, you must carry a small round brush for your fringe and a medium round brush for the rest of your hair.
Put the nozzle in and start creating tension in your hair by brushing the hair while pulling it outwards. Work the dryer fairly close to the hair.
But make sure that you keep moving the hair dryer at a fast pace to not end up burning your hair.
For an actual demonstration, watch this video:
How To Blow Dry A Bob With Fine Hair?
A bob with fine hair needs your hair to roughen up since you need volume and texture. Most hair drying needs to be accomplished with the nozzle off and blast drying [4].
There is no specific direction based on which blow-drying needs to be done.
After the rest of the process is done, which is similar to the steps mentioned above, lift your hair with a round hairbrush in places where you require maximum volume and blow dry it with the nozzle on.
Finish the process to get a beautiful overall shape of hair with volume.
How To Blow Dry A Bob With A Round Brush?
The idea is to lift strands of hair at a time in places where you need volume and then use a hair dryer with the nozzle on. Round brushes are a great device to add volume and texture to your hair.
Repeat the same process a few times until your expectations are met.
For some great techniques, watch this video tutorial:
FAQs
How does a nozzle help in blow-drying?
One key feature of a blow dryer is a nozzle. Nozzles are handy when you want to regulate and concentrate the airflow. Also, after drying, styling the hair will always require a nozzle.
What should I apply to my hair before blow-drying?
Argan oil and a heat protection product must be used before blow-drying. In addition, once the hair is moderately dry, apply a hair serum that will further provide a protective coat on your hair follicles that will help protect them from UV radiation and dust particles.
Can you blow dry every day?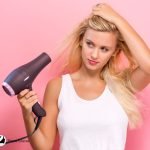 Blow-drying every day is not a healthy choice for your hair. Applying that much heat every day to your hair will cause excessive frizz in your hair. Your hair follicles will slowly break off due to a lack of natural moisture. Experts from RichFeel say, "Blow dryers CAN damage your hair, as does air drying when not done right."
Final Words
Follow this manual perfectly and get ready to emulate the art of blow-drying a bob at home.
Once you have perfected the technique, there will be no rush to the parlor to complete such a simple styling. Happy blow-drying skin, peeps!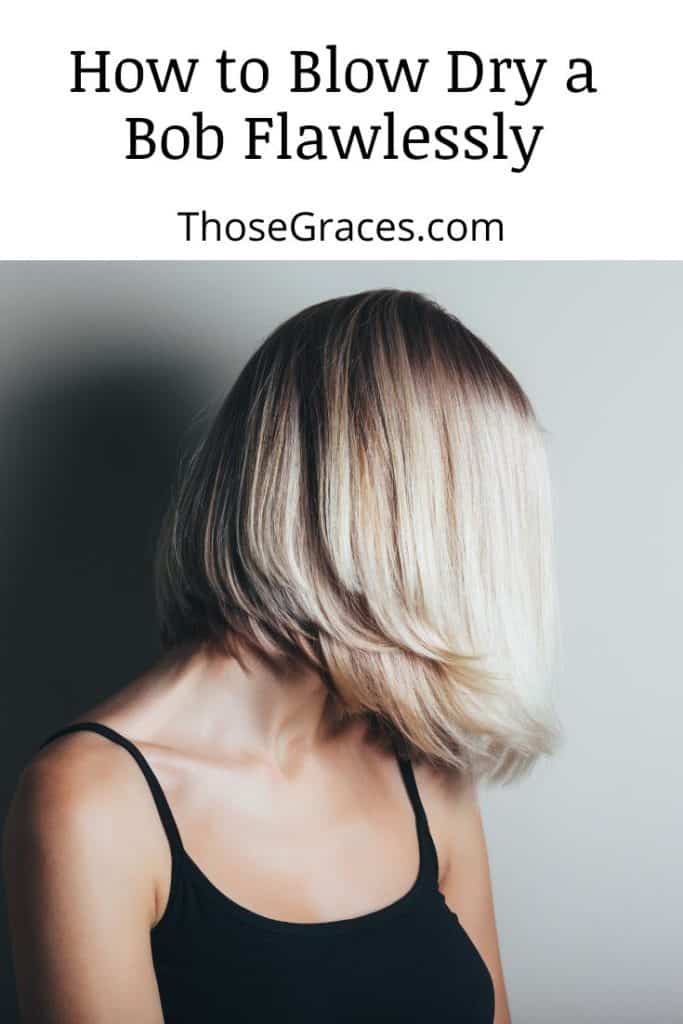 Do you have other great tips on how to blow dry a bob? Let us know in the comments below!
References
1. SkinKraft. Heat Protectant Spray: Why Is It A Must & How To Use It? [Internet]. SkinKraft. 2020 [cited 2021 Dec 6]. Available from: https://skinkraft.com/blogs/articles/heat-protection-spray-for-hair
2. Quammie B. A Complete Guide To Discovering Your Natural Hair Type — and How to Take Care of Each Texture [Internet]. InStyle. InStyle; 2020 [cited 2021 Dec 6]. Available from: https://www.instyle.com/hair/natural-hair-types
3. Scully SM. 6 Surprising Causes of Frizzy Hair – and 8 Ways to Combat It [Internet]. Healthline. Healthline Media; 2021 [cited 2021 Dec 6]. Available from: https://www.healthline.com/health/beauty-skin-care/what-causes-frizzy-hair
4. Villa S. The Best Way To Blow Dry Fine Hair To Achieve More Volume [Internet]. Sam Villa. Sam Villa; 2014 [cited 2021 Dec 6]. Available from: https://www.samvilla.com/blogs/hair-tutorials/blow-drying-fine-hair-for-maximum-volume