As a beginner tattoo artist, I know you're excited to do cool tattoo designs from the traditional style to the realism tattoo style and chainsaw tattoos!
Like any other art form, tattoo apprenticeship starts with the basics.
Here are some easy tattoos for beginner artists, according to a professional tattoo artist. You can showcase them during the tattoo models jobs you land!
Also Check: The Best Microshading Machine
10 Easy Tattoo Outlines for Beginners
The outline is the very first thing you learn about the tattoo process. Tattoo stencils will be your reference. Outlining can be an essential component of a good tattoo on its own.
When doing an outline, you'll need a high level of concentration and attention.
Tiktok-famous LA tattoo artist @patch_tattoo_therapy shared, "The smaller the liner is, the less deep it should be, but unless you're a master of thicker lines, it's time to try thinner lines!"
What's the point of an outline? Well, a clear, clean-cut line demonstrates professional tattooing skills and is the foundation for a superb tattoo.
Bad outlines make bad tattoo designs.
READ MORE: 4 Simple Medusa Tattoo Outlines
Before you go for an actual tattooing process on human skin, there are tattoo drawing exercises for tattoo artists to perfect outlining. They practice their designs on a piece of paper.
Here's a video on how to practice tattooing and draw a perfect line art tattoo.
Easy to Draw Tattoo Designs for Kids
Tattoo tip: The legal age to get a tattoo in the US is at least 18 years old. Should a minor walk into your tattoo shop to get a tattoo, secure parental consent first.
Here are some easy tattoo ideas for beginners who will tattoo kids or parents who want to honor their kids.
ALSO READ: Rotary vs Coil Tattoo Machine
1. The Kid's Name
Adults and kids like the idea of having their names on their bodies.
A tattoo with a child's name on it makes them feel more at home when they meet their friends.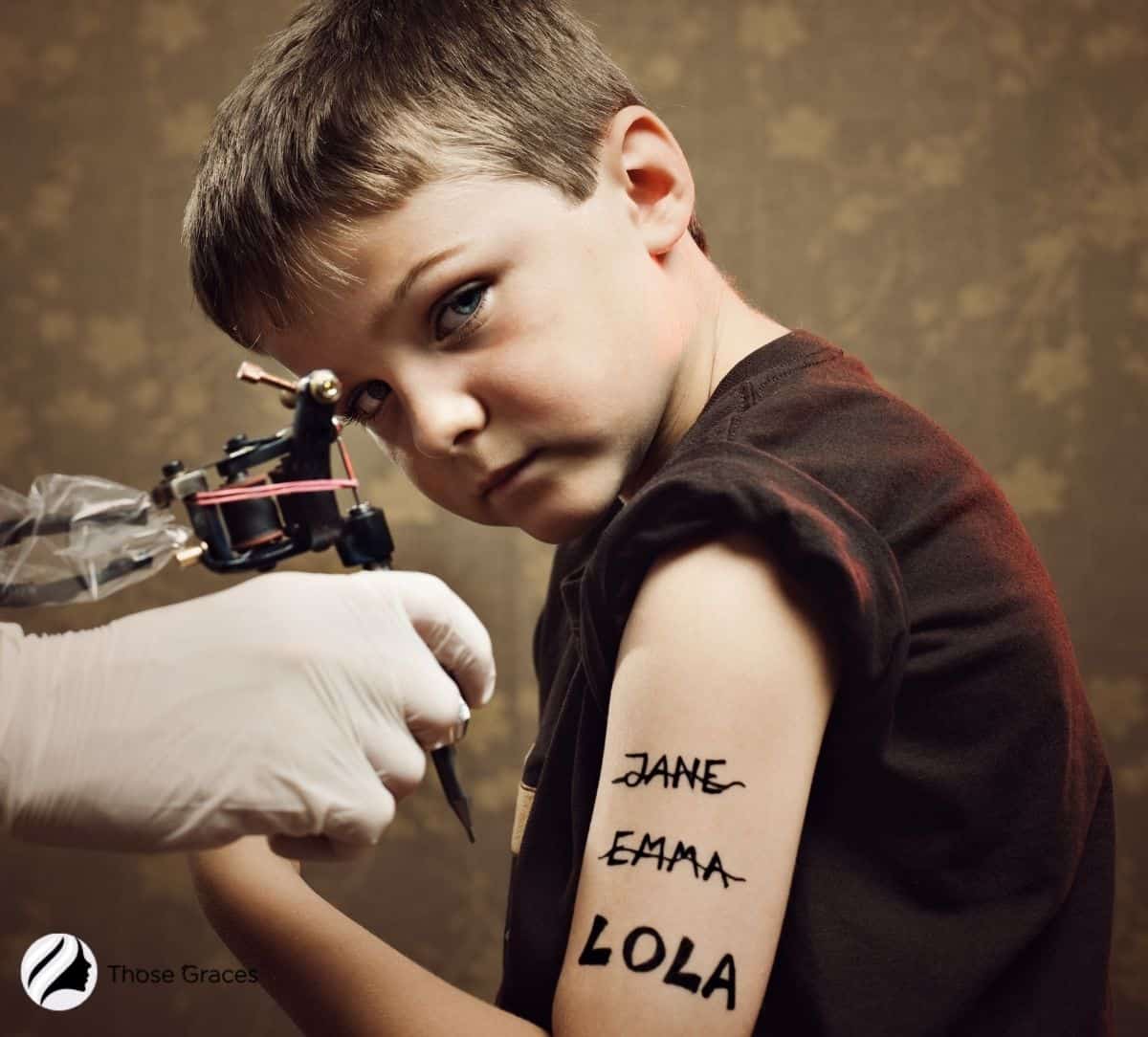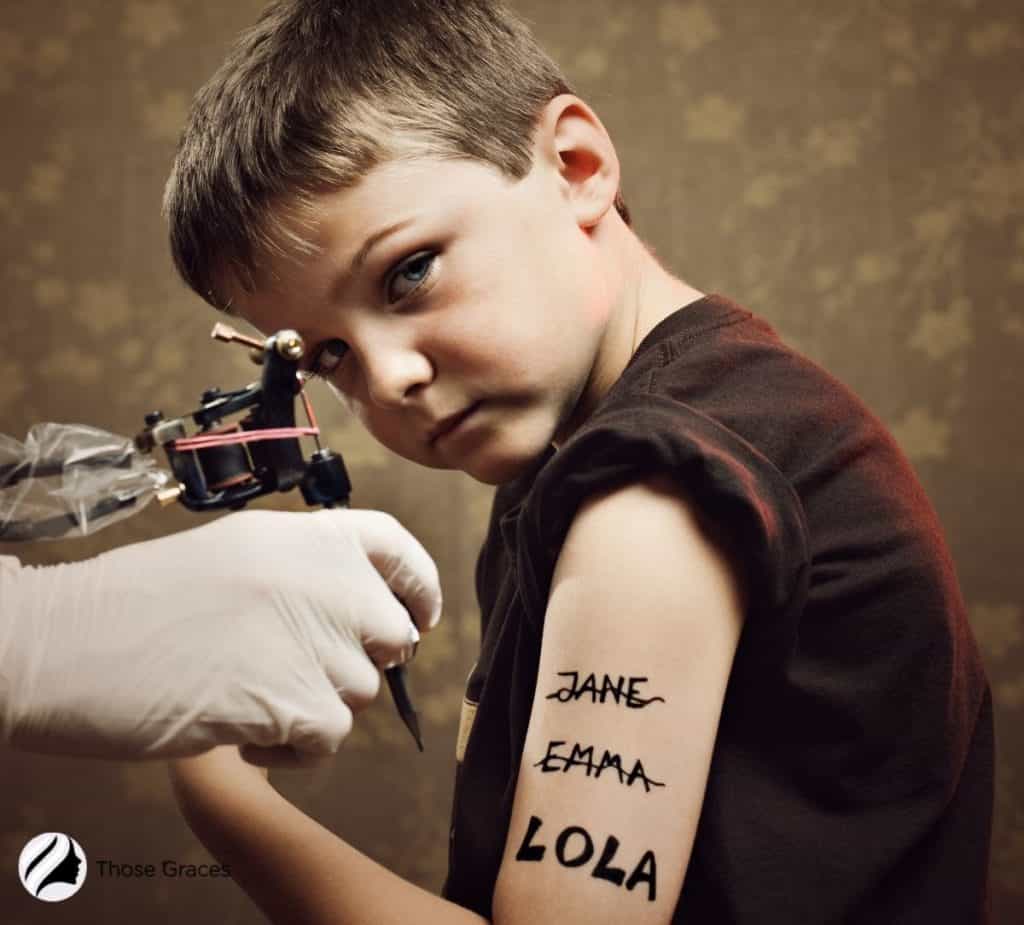 It can be written in various styles, and you can practice your smoother lines as you tattoo that dermis layer of skin.
2. The Kid's Birthday
Another way to get that strong sense of identity is the Kid's birthday.
You can be creative and use bold lines to write the birthday in Roman Numeral or any form your client wishes.
3. Shapes
A symbolic heart to signify love, a star for the achievements, or added with the planets if they are fond of the galaxy.
Any shape will do as long as the kid finds it meaningful.
4. The Kid's Drawing
Talk about uniqueness and personal. There's nothing more touching than a kid's drawing or message written or drawn on the client's skin.
This is also one of the excellent beginner tattoos because who would have thought you could draw as a child with an actual tattoo machine?
Simple Tattoo Drawings for Women
It doesn't require you to have the best drawing skills.
You just need your rotary machine or any of the best tattoo guns for beginners and your tattoo stencils.
Remember the proper tattoo needle depth – reach up to the dermis layer!
Here are beginner, basic easy tattoo designs for women even a professional and licensed tattoo artist is fond of.
1. Floral Tattoo
Bring out her feminine side with your tattoo ink!
I mean, who doesn't like flowers? They are ornaments of popular styles, from traditional tattoos to the contemporary tattoo scene.
Every flower has a meaning. And for every meaning, there's a flower to represent that trait.
Check out this video for floral tattoos ideas
Flowers are an excellent way to practice your perfect lines or blackwork tattoos.
You can also practice working with darker colors and lighter colors of ink with the help of your experienced artist mentor.
2. Geometric Tattoos
Some love the thrill of having people crack the code of their geometric tattoos.
They were often used in spiritual and religious practices in ancient times, so it can be hard to figure out what geometric tattoos mean.
However, in today's world, they are symbols of balance, symmetry, stability, intelligence, mystery, and many other things.
3. Inspirational Word and Life Quotes
It could be a quote from her favorite movie, author, song, or person. It could be her motto in life.
A quote tattoo will permanently mark her skin and inspire her to keep going in life.
Tips for tattoo artists: In every step, be meticulous!
Write well on your paper, and list down the words properly. Check each letter and the words' spacing.
You don't want an angry customer walking out of your tattoo studio because of a misspelled tattoo design.
Simple Tattoo Designs to Draw for Men
1. Tribal Tattoos
Practice your perfect lines with tribal designs. Here is a tutorial on how to perfect those lines.
While it used to be exclusive only for indigenous peoples, tribal tattoos became popular in the US in the 1980s. (1)
The designs could tell a story about the client's heritage and story. As Jason Porterfield says, "Tattoo artists are the direct link between the populace and humanity's earliest art forms."(2)
2. Shapes and Symbols
Men love arrow tattoos or a compass to remind them to stay focused and follow the right direction in life.
Other men like a simple cross to remind them of their faith or an anchor for hope.
To be honest, any minimalist symbol is an easy tattoo design for beginners.
It doesn't matter if the design is small. When behind it, there's a deeper meaning.
3. Outdoor Tattoo
An outdoor tattoo would be an excellent design for men who love the outdoors, like camping in the forest or exploring the seas.
Do different dots and lines combinations to design a mountain, tree, or waves on his skin.
Excited about your first design?
Here is a reminder guide for beginners to give you more tattoo artists' tips.
For your client, consider proper tattoo placement and the tattoo pain level.
Remember the correct tattoo needle depth. Do not tattoo the fat layer.
Use proper tattoo equipment and the best tattoo kit for your preference.
Don't forget about proper tattoo hygiene to avoid cross-contamination.
For the last step, use a clean paper towel for cleaning excess ink, and remind your clients about tattoo aftercare for proper healing.
READ MORE: How Long Do Stick and Poke Tattoos Last?
FAQs
What should I practice drawing to be a tattoo artist?
The most fundamental skill you can acquire is drawing a straight line. Practice sketching straight lines without worrying about shading, colors, patterns, or designs.
If you know your lines, a better skill level will follow.
Is tattooing closer to drawings or paintings?
Yes, it's like painting on real skin with tattoo needles as your brushes. The fundamentals are the same with drawing and painting, where you do lining and shading.
Conclusion
Tattoo apprenticeship is intimidating at first, but worry not!
There are easy tattoo outlines for beginners.
With your mentor's positive learning attitude guidance, you'll walk a good journey to becoming one of the professional and famous tattoo artists in your place.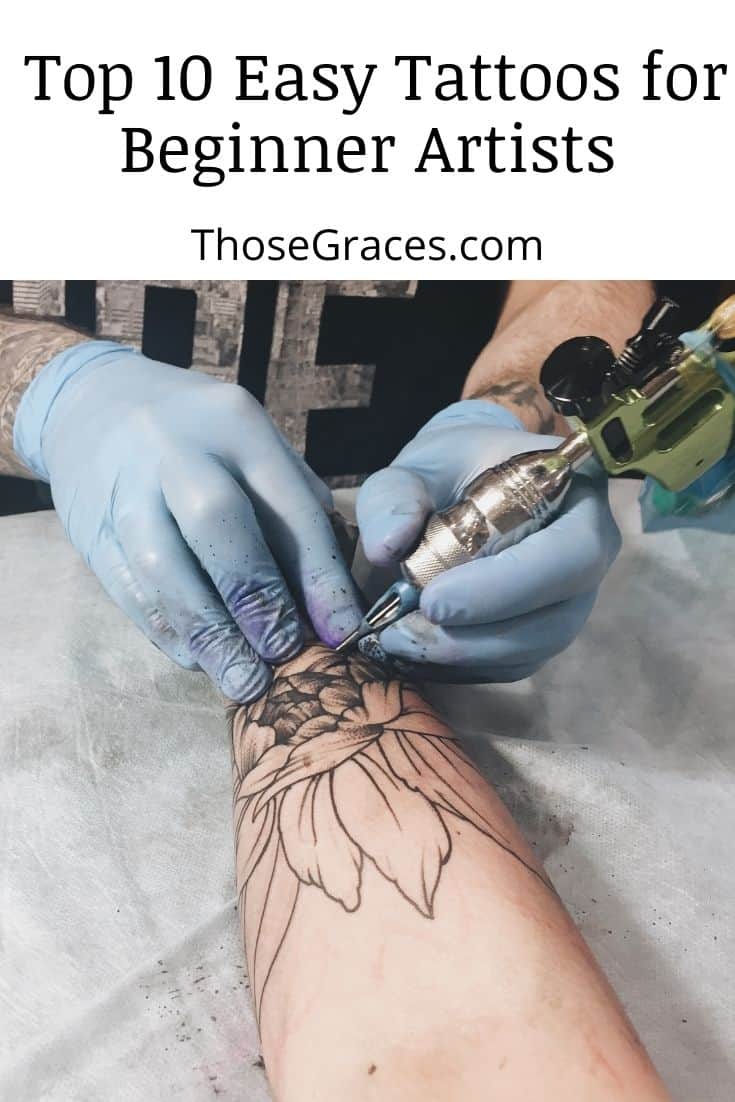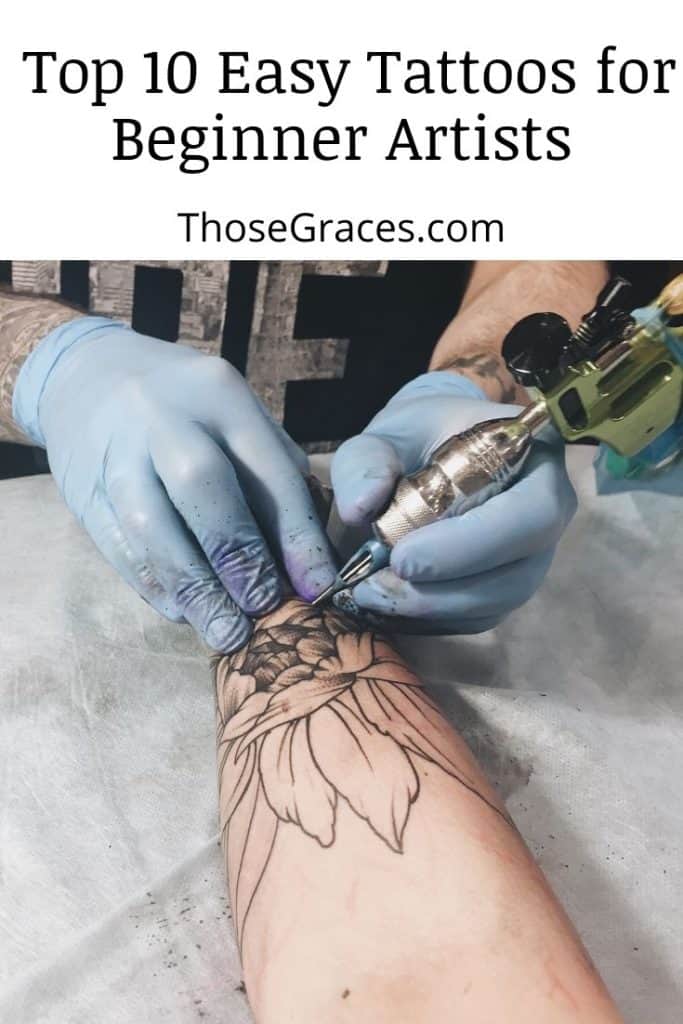 Resources
1. Tattoos and Indigenous Peoples. Accessed March 16, 2022. https://bit.ly/3My6oLh
2. Porterfield J. Working as a Tattoo Artist in Your Community. The Rosen Publishing Group, Inc; 2015. Accessed March 16, 2022. https://tinyurl.com/2p8cvyp2