One of the most popular questions with derma rolling aftercare is, "Can I wash my face after dermarolling?" Yes, you can -, but there's more to it:
. As a skincare enthusiast, I've researched, reviewed, and tested derma rolling techniques to bring you the easiest and most effective methods.
In this guide, I'll share my unique insights to help you safely perform derma rolling at home and ensure proper post-treatment care.
If you're eager to master at-home derma rolling, keep reading for expert insights that'll have you performing like a pro with ease!
Key Takeaways
Dermarolling effectively treats skin concerns like acne scars, fine lines, and wrinkles by stimulating collagen production for improved texture and tone.
Proper pre and post-treatment care is crucial for optimal derma rolling results and minimizing complications.
Wait at least 8 hours after derma rolling before washing your face to allow time for healing and avoid potential infections.
Use gentle skincare products, stay hydrated, and avoid sun exposure to support your skin's recovery after derma rolling.
If you're wondering "can I wash my face after dermarolling" head over to the next section…
Can I Wash My Face After Dermarolling?
Absolutely, you can wash your face after derma rolling. Yet it's essential to give your skin time to heal before doing so. Wait at least 8 hours after the treatment before washing your face.
After pricking your face with a derma roller, your first instinct is to get rid of the bloodstains and dead skin on your face.
However, to ensure optimal results, proper pre and post-care is crucial.
Also, to reduce the risk of complications (I've seen them myself), you need to craft a well-planned treatment routine for optimal results – pre and post-treatment care:
Pre-treatment care will help prepare your skin and equipment, reducing the risk of complications and making your skin glow…
Post-treatment care is equally important to promote healing and maximize the benefits of derma rolling…
What Is Dermarolling?
Derma rolling has gained traction among skincare enthusiasts and professionals alike, as it has been proven effective in addressing many skin concerns, such as fine lines, wrinkles, and acne scars [1].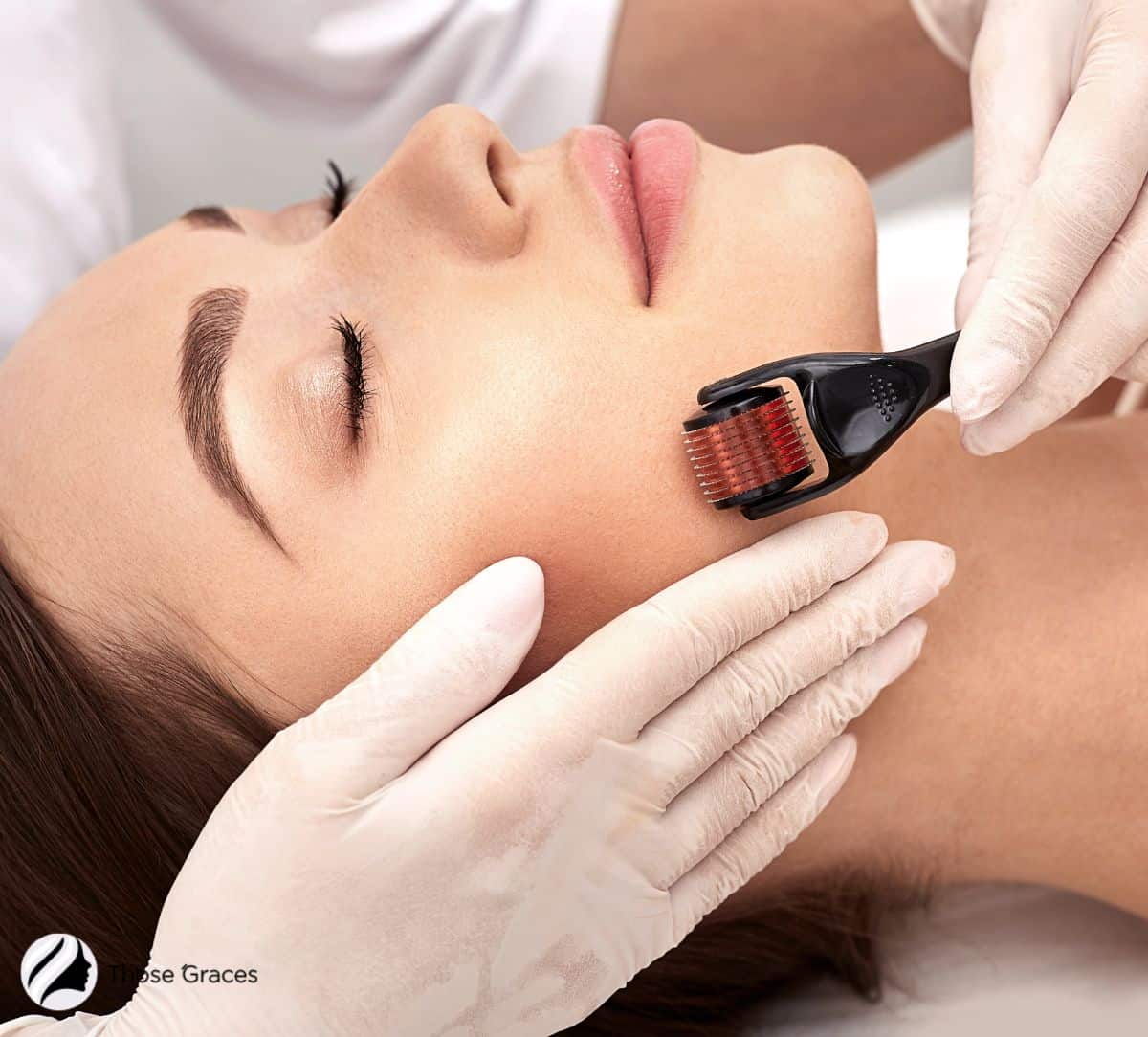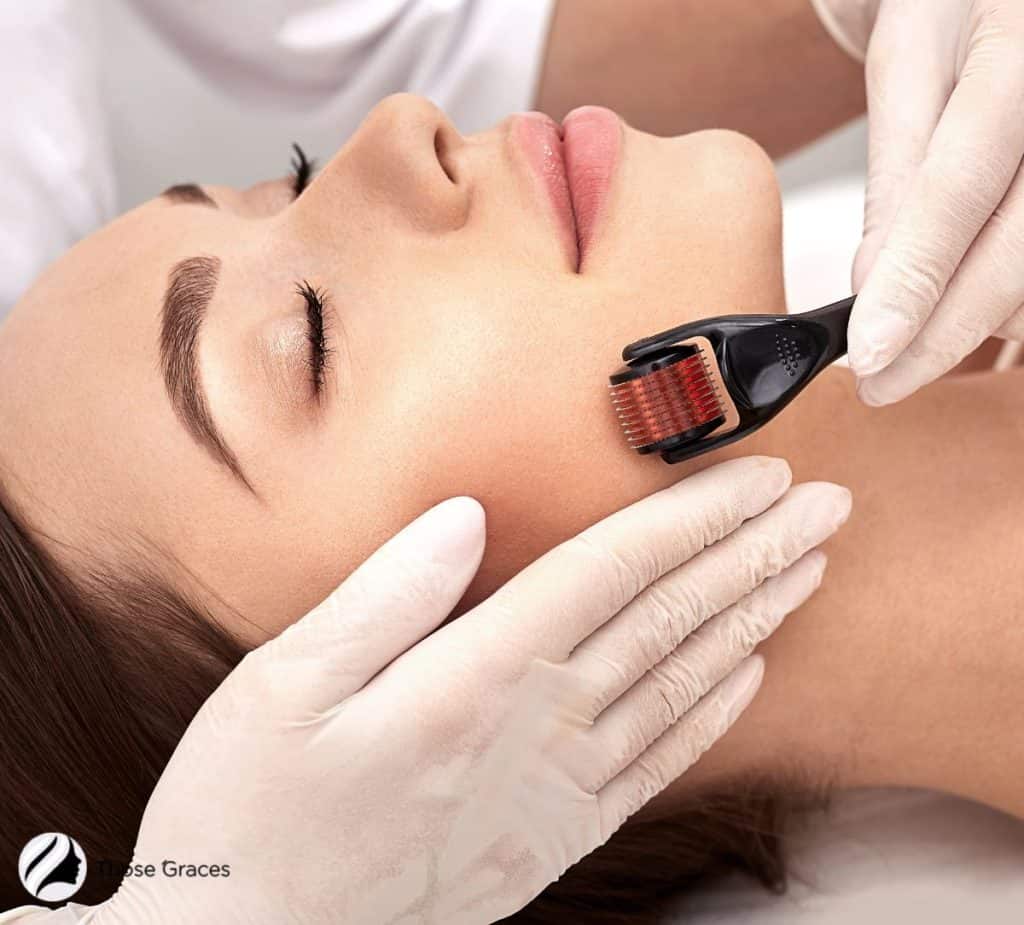 I first heard about this treatment from a friend and was amazed when I tried it. I thought it would hurt me since the process uses a microneedle – but it didn't. How does it work?
According to experts, derma rolling is "a very simple, safe, effective, and minimally invasive therapeutic technique. (Yadav & Singh, 2016) [1]"
These micro-injuries stimulate the skin's natural healing process, increasing collagen production and skin texture and tone (Yadav & Singh, 2016).
This amazing treatment is known for reducing acne scarring, fading hyperpigmentation, smoothing rough patches, and promoting beard growth.
The procedure is generally safe, but as Healthline advises, "Always clean your derma roller after each use."… (Healthline, 2020) [2].
Now, what's a pretreatment plan? Why is it important? Let's find out in the next section!
Don't forget to check out my expert guide on using a derma roller for cellulite for a comprehensive skincare routine!
Pre-Treatment Skincare: 5 Essential Tips for Dermarolling Precare
Before you start, always pick a derma roller with high-quality, medical-grade needles and ensure you replace it as needed for optimal hygiene and effectiveness [7].
Here are five tips I follow to avoid infections:
Wash your face using a gentle, pH-balanced cleanser.
Disinfect your derma roller with 70% isopropyl alcohol for at least 10 minutes [3].
Avoid waxing, shaving, or using depilatory creams on your face a week before derma rolling.
Do not take blood thinners a week before the procedure, as they can increase the risk of bruising.
What about Post-treatment care? Let's dive into the next section to find out…
Post-Treatment Skincare: 5 Essential Tips for Dermarolling Aftercare
To ensure optimal results, follow expert-recommended derma rolling aftercare practices.
Drawing from my personal experience and supported by expert advice and research, here are some crucial tips for post-treatment skincare after derma rolling:
#1 Avoid Make-Up
As the skin will be sensitive after derma rolling, avoid using makeup for at least 24 hours after treatment.
In fact, makeup can clog exposed pores, leading to breakouts, irritation, and even infections.
To avoid this, keep away from makeup brushes, particularly those that have been previously used.
To learn more, read my guide: "Can you wear makeup after microneedling?"
#2 Stay Away From The Sun
See the sun as your enemy during this time, and sunscreen your best friend.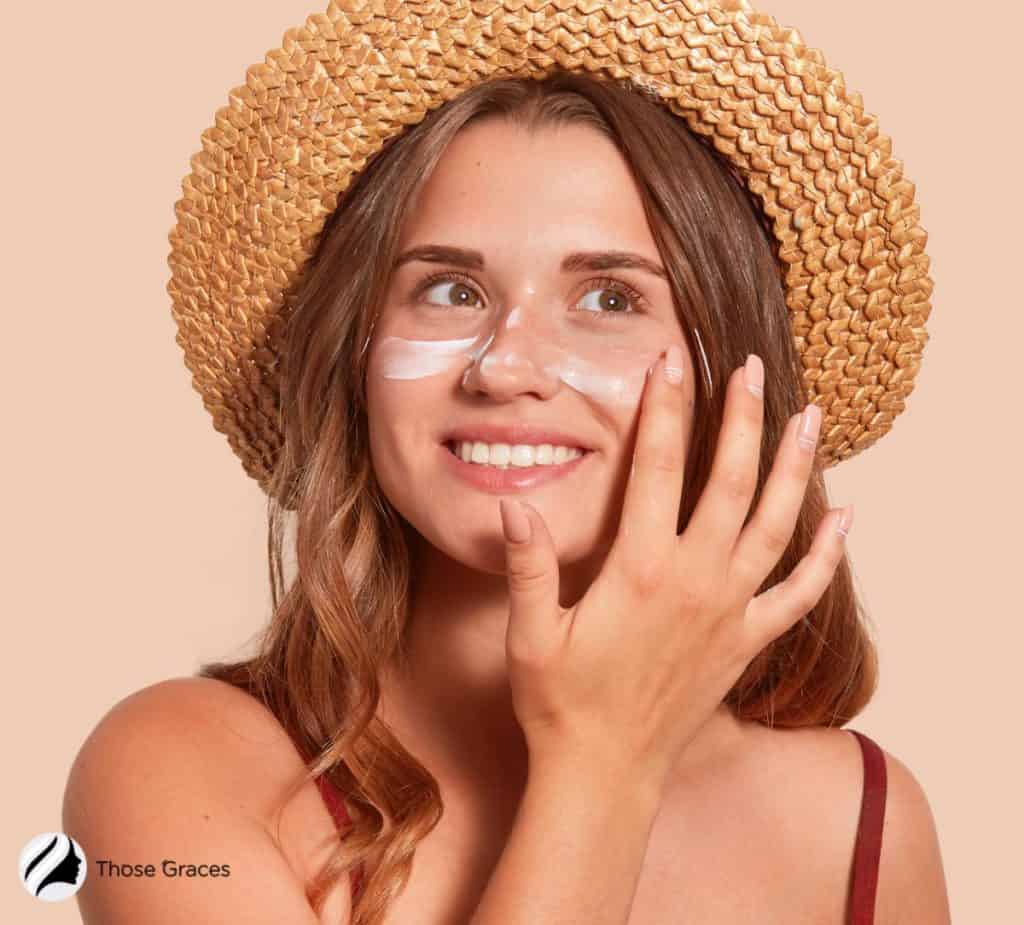 Iriarte et al. (2017) reported that "MN combination therapy also has favorable results in melasma when combined with daily sunscreen use" (p. 293) [4].
Avoid the sun for prolonged hours, and if you must, apply a sunscreen of SPF 25 or more that contains peptides and moisturize your skin [4].
Olay Moisturizer Cream with Sunscreen will be a good option, a healthy skincare product to use regularly.
#3 Toners and Exfoliators
It would be best to avoid using Alcohol-based toners and avoid exfoliators for some time after treatment.
You won't like to torture your skin, will you?
#4 Hot Tubs And Gym
For best results, avoid hot tubs, saunas, sunbeds, or other activities that might cause sweating and dehydration, like intense workouts for at least 72 hours.
#5 Don't Touch Your Face
Try not to touch your skin frequently, especially before washing your hands, to minimize the risk of irritation or infection.
Washing Your Face After Dermarolling (5 Easy Steps)
Be very gentle when washing your face after derma rolling to avoid further irritation. Here are five steps that help me a lot: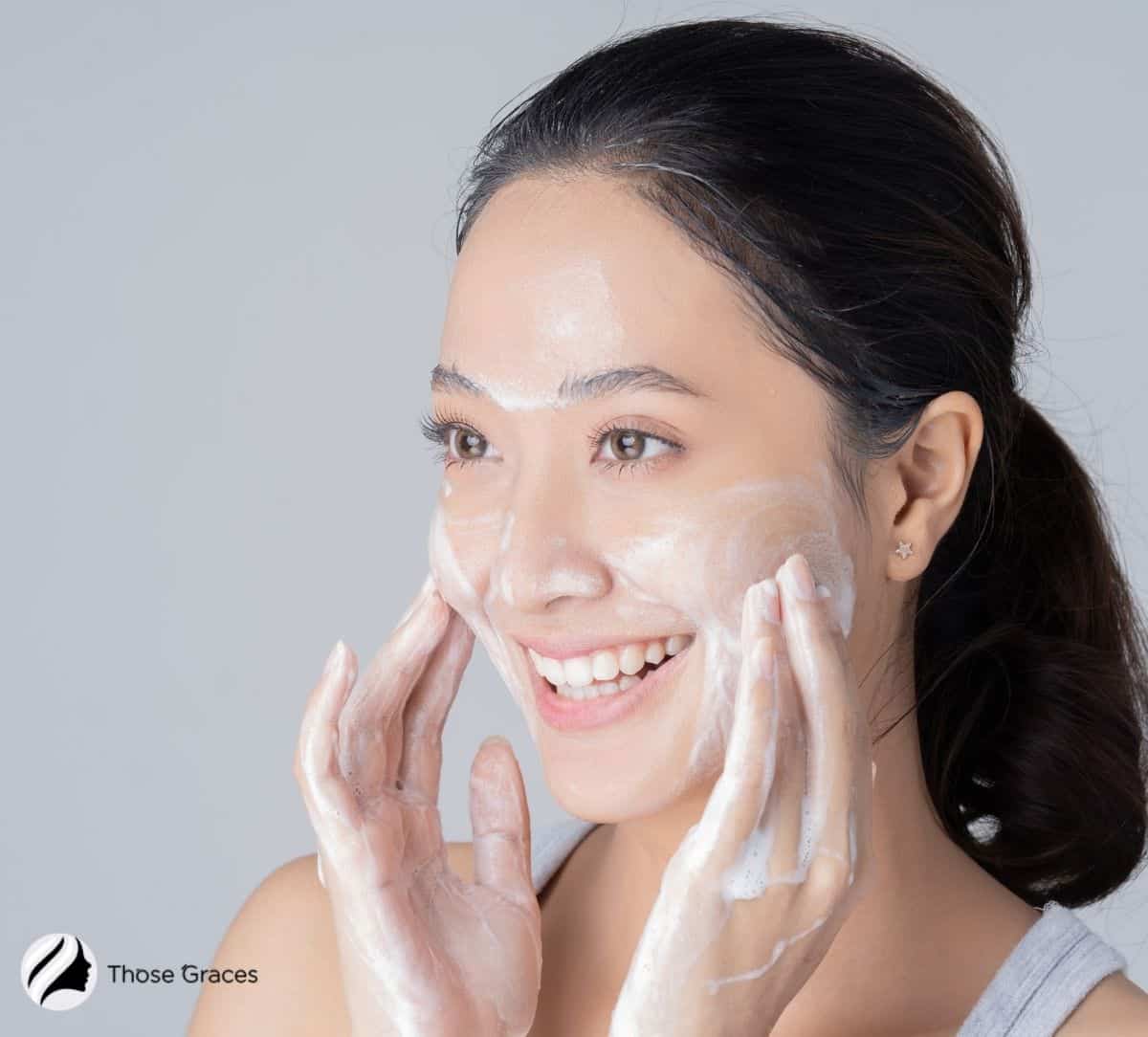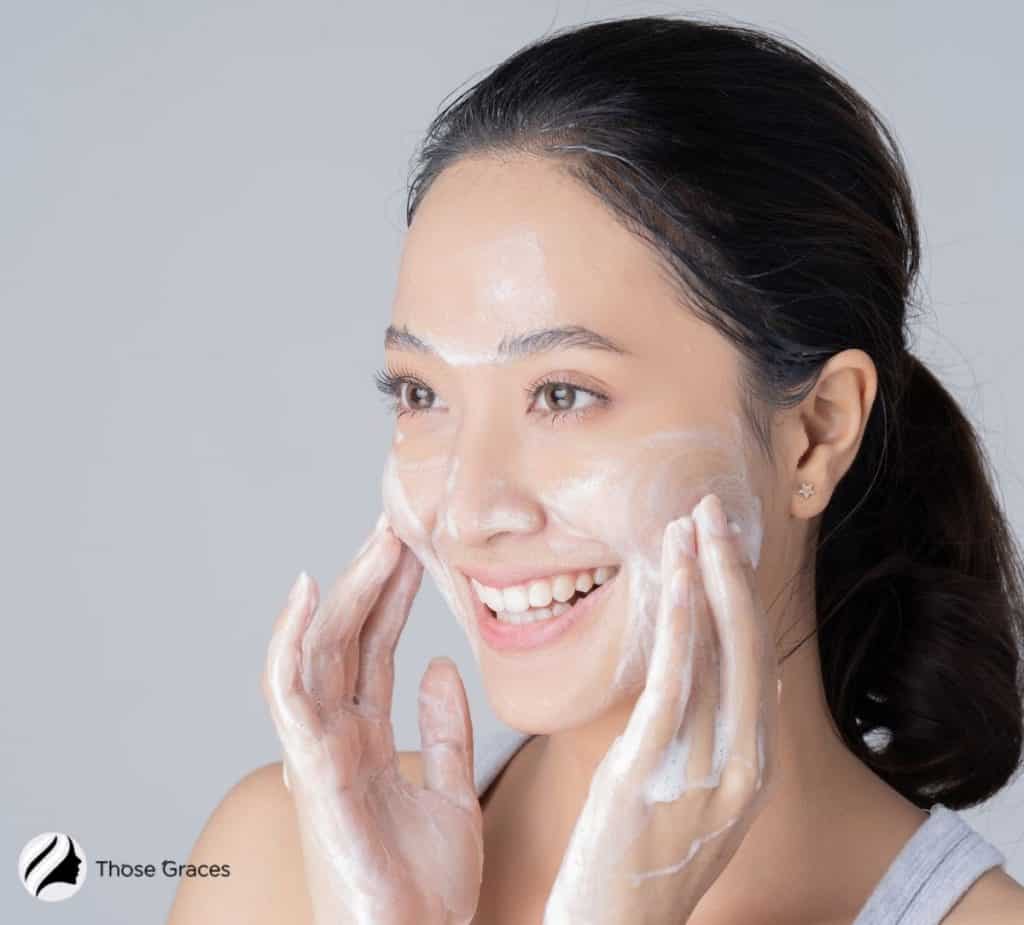 Avoid using hot or cold water. Instead, use lukewarm water to clean your face the day following treatment.
If you want a cleanser, opt for a gentle cleanser such as SkinCeuticals Gentle Cleanser to easily remove blood traces and debris.
Do not rub your skin. Instead, lightly dab your face with a clean face cloth or towel (like Polyte Premium Hypoallergenic Facial Cleansing Cloth) and avoid using cleansing brushes for at least a week after your treatment.
Make sure to cleanse your hands before touching or washing your face.
Maintain this hygiene routine for at least 72 hours, especially if you have sensitive skin.
To get that sparkling glow after washing your face, check out my next section…
Skin Care Products You Will Need After Dermarolling
When it's time to wash your face after derma rolling, using the right products to support your skin's healing process is essential, especially if you have sensitive skin.
Here are some tips on what products to use after washing your face and how to maintain proper hydration:
Cooling Face Masks:
You can apply a cooling face mask like the Ligart Cooling Lightweight Face Mask. It provides relief and comfort, especially if you have sensitive skin or need to be active during the day.
Hyaluronic Acid-Based Serums:
Apply a hyaluronic acid-based serum, like Cosmedica Skincare Hyaluronic Acid Serum, to accelerate the healing process and alleviate irritation. These serums soothe your skin and enhance its natural recovery.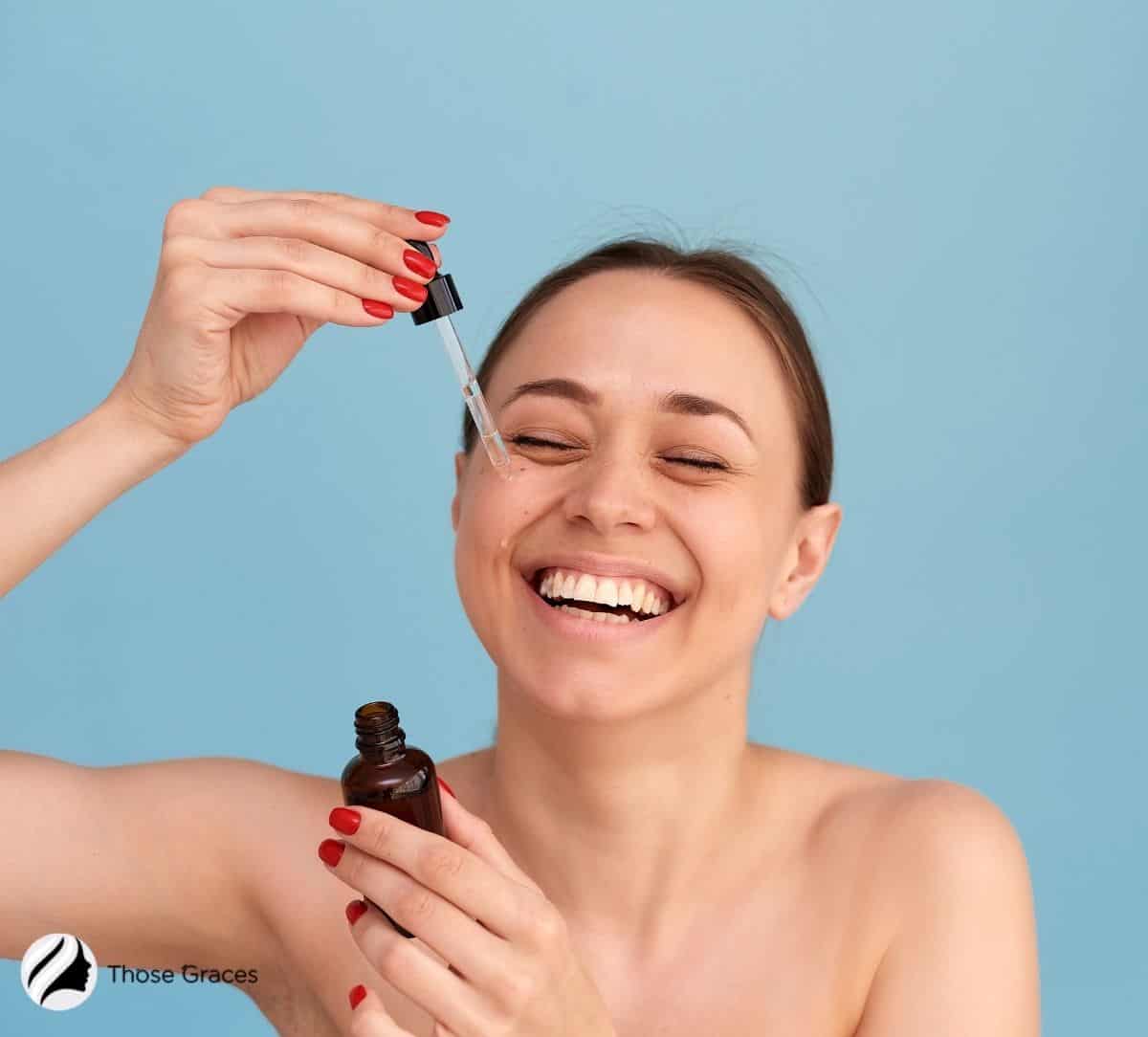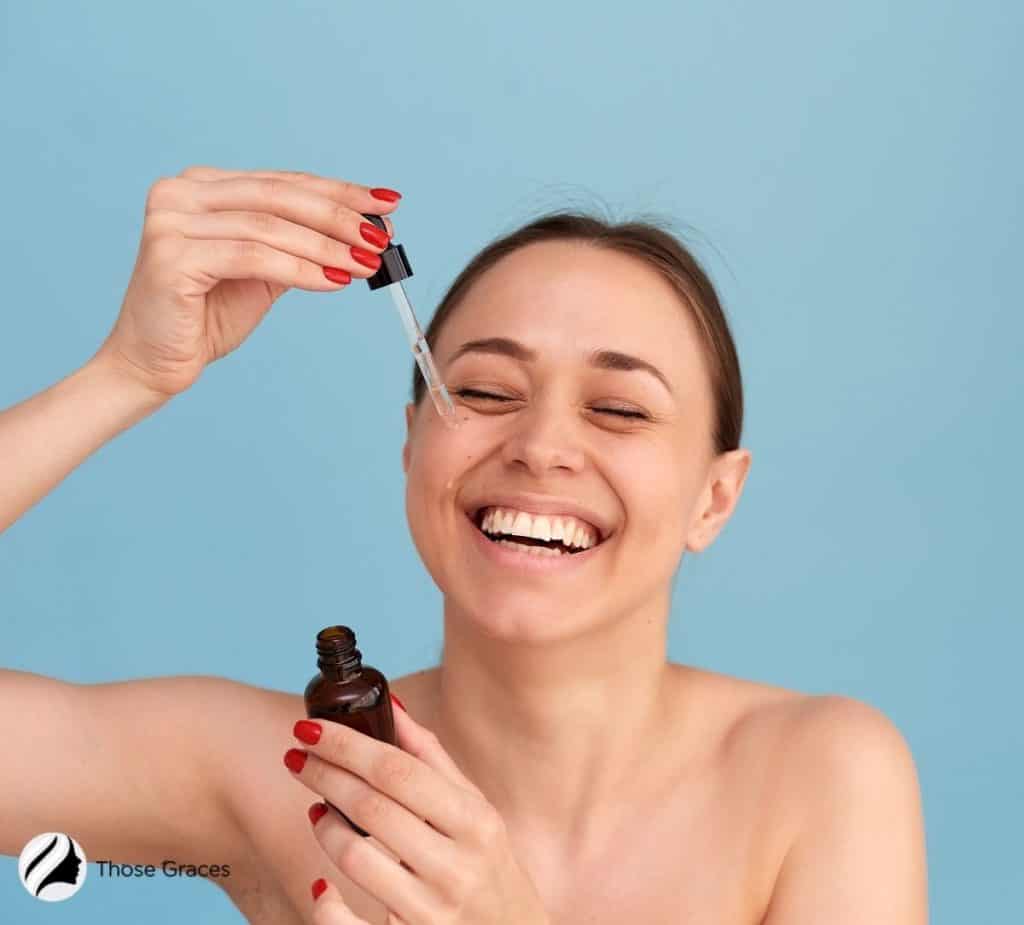 Facial Sprays:
Keep your skin hydrated with facial sprays like Mario Badescu Facial Spray. Regularly misting your face can help speed healing, especially when your skin feels dry post-treatment.
Stay Hydrated:
Drink plenty of water to maintain your skin's hydration from within. Make sure to consume an adequate amount of water throughout the day to support your skin's healing process.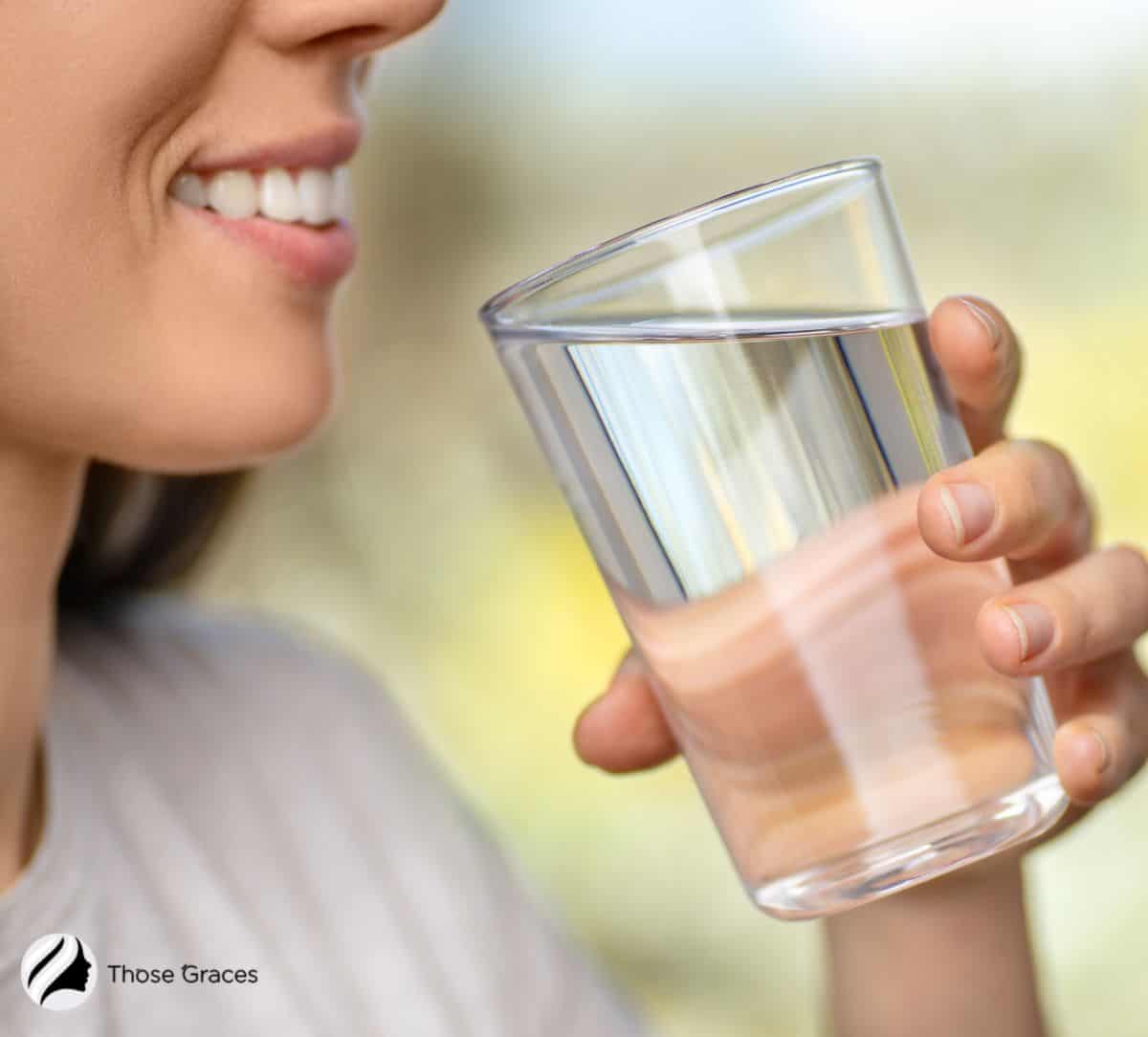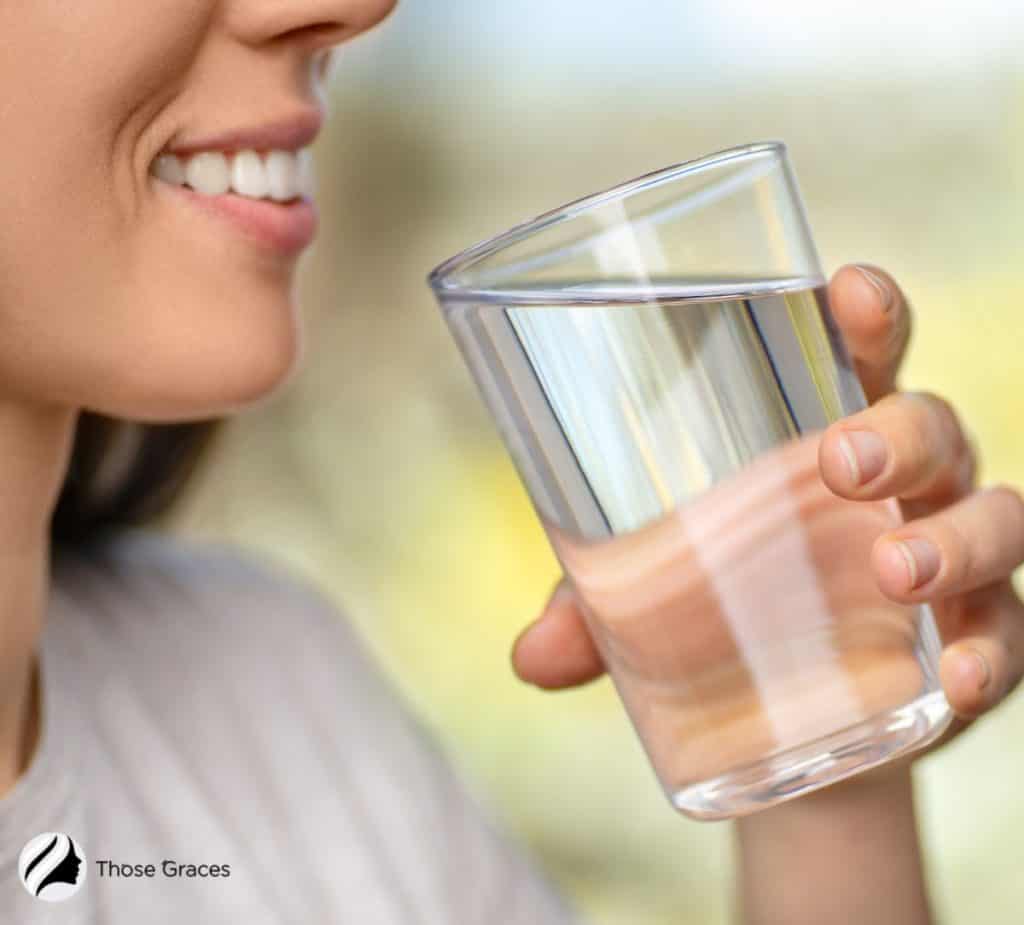 With these skincare products and tips in mind, let me show you how to wash your face after derma rolling…
What To Expect After Dermarolling
After derma rolling, your skin may feel tight and warm, mildly red or pink.
Redness usually persists for around 24 hours but can last up to a week in extreme cases.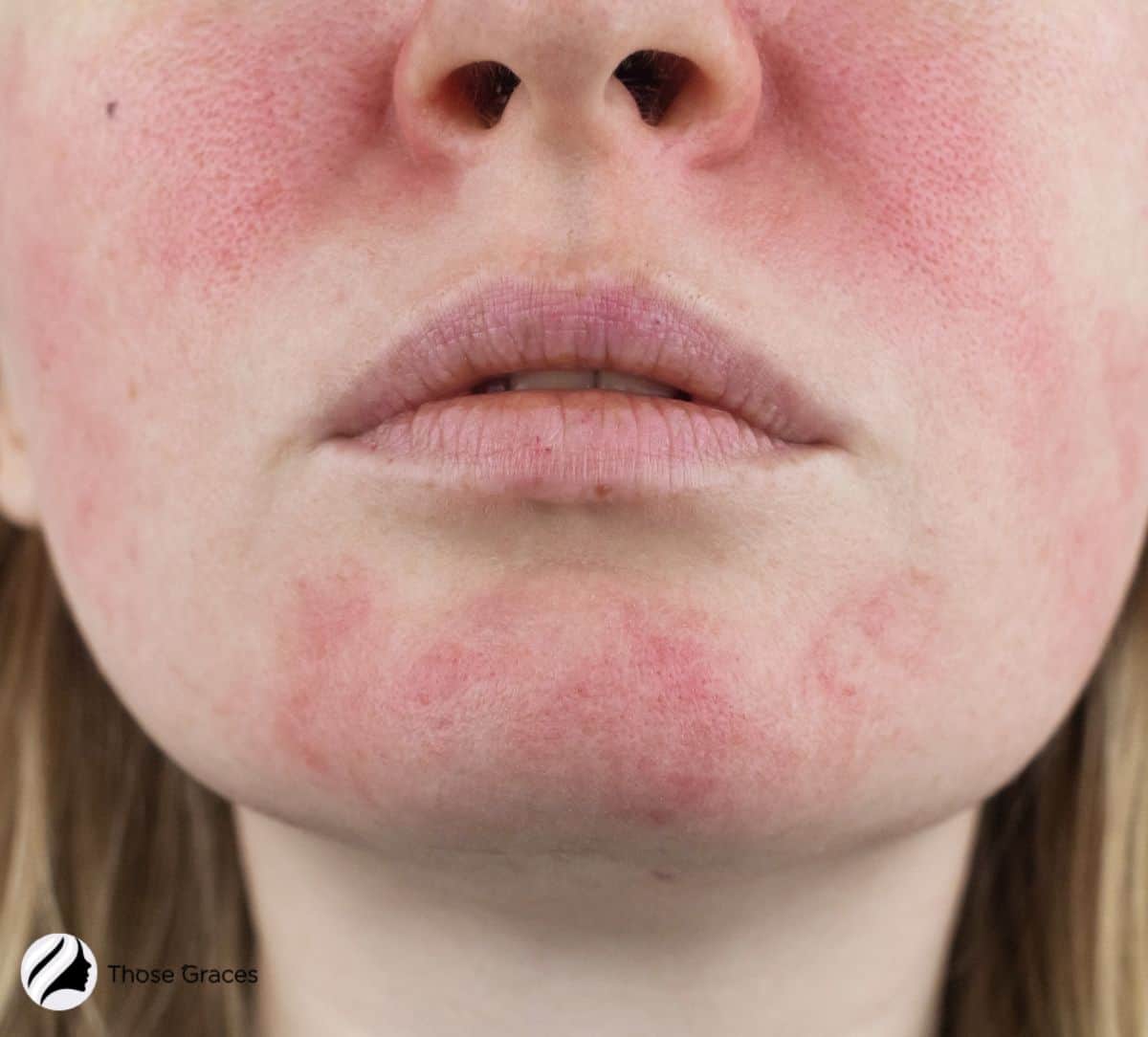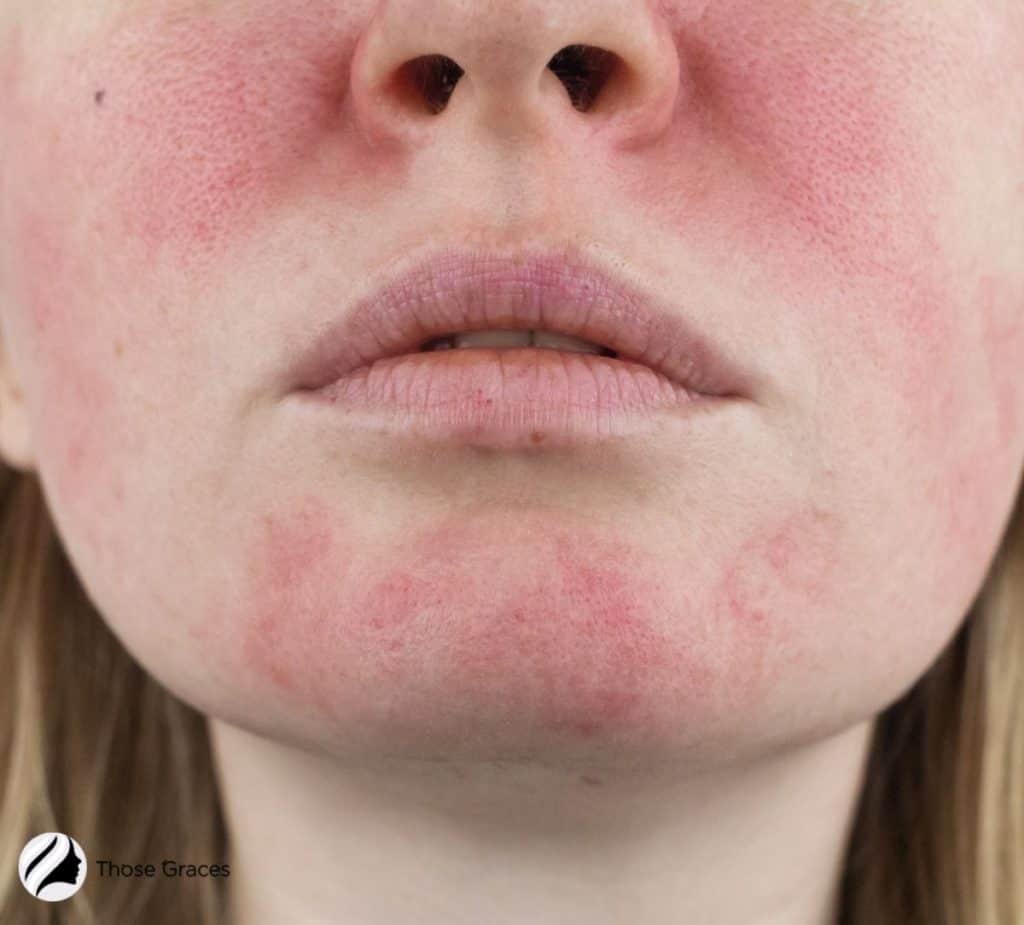 You may also experience swelling, skin peeling, bumps, dry skin, and breakouts during the 48 hours after the procedure.
In fact, derma rolling is generally a low-risk technique, but infections can occur if the equipment isn't properly sterilized.
According to a comprehensive review by Tina S. Alster and Paul M. Graham, derma rolling is considered "a safe, minimally invasive, and effective esthetic treatment for several different dermatologic conditions including acne and other scars, rhytides, and striae" (Alster & Graham, 2018) [5].
If you experience fevers over 100.4°F, nausea, hives, or green discharge, seek medical attention immediately.
It's crucial to care for your skin properly after derma rolling, but should you wash your face immediately after the procedure? The answer is no, and here's why…
Why Waiting to Wash Your Face Matters
Hold off on washing your face right after derma rolling to dodge unwanted side effects like itching, rashes, and skin infections.
Your skin needs time to heal from the microneedling procedure, and washing too soon may expose it to potential infections, especially with unsterilized tap water.
According to Dr. Amanda Doyle, M.D., FAAD, a board-certified dermatologist at the Russak Dermatology Clinic in New York City, "If, however, the technician applied SPF afterward or you feel uncomfortably tight or itchy, [she] recommends washing your face using only bland cleansers and emollients that are fragrance and oil-free" (Doyle, n.d.) [6].
To get the best results from derma rolling, give your skin enough time to heal and regenerate. Follow our pre and post-care tips for a mindful face-washing routine.
Does Washing Your Face After Dermarolling Hurt?
Washing your face after derma rolling may be uncomfortable, especially if your skin remains sensitive from the treatment [8].
The discomfort can intensify if you use harsh cleansers or scrub your face vigorously.
Opt for lukewarm water and a gentle cleanser to prevent additional irritation.
Don't forget to follow proper micro needling aftercare instructions to ensure your experience is comfortable and successful.
FAQs
1. Is Dermarolling safe for all skin types?
Yes. Dermarolling is generally safe for most skin types, but those with active acne, eczema, or rosacea should consult a dermatologist before the procedure.
Proper sterilization of equipment and aftercare are crucial to avoid complications.
2. Can I use Dermarolling to treat stretch marks and hair loss?
Yes, dermarolling can be effective for treating stretch marks and promoting hair growth.
It stimulates collagen production in the skin, improving the appearance of stretch marks, and increases blood circulation to hair follicles, encouraging hair growth.
Conclusion
If you had the same question about washing your face after derma rolling, I hope the above tips have answered them.
Dermarolling is a great skincare technique. Whether you want to reduce acne scarring or get glowing skin, the aftercare treatment will significantly affect the outcome.
So be sure to take note of the tips and take care of your skin, and it will indeed thank you for being clear and spotless and award you with smooth skin.
Do you have any more tips on derma rolling? Drop them in the comment box.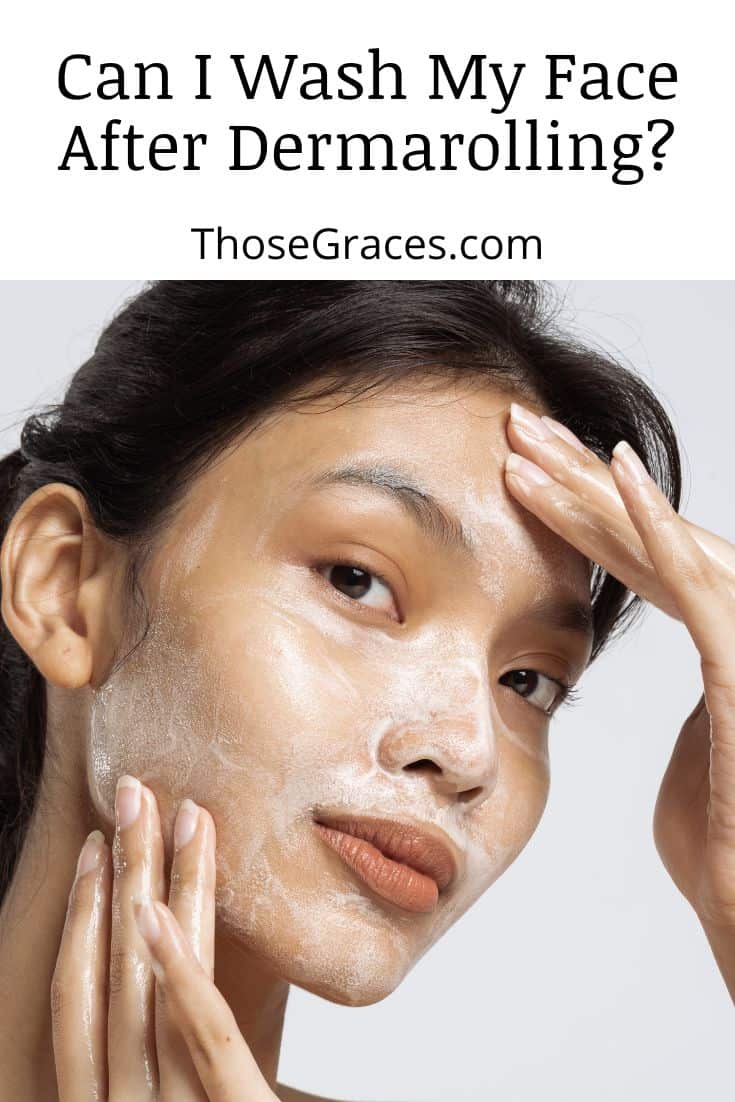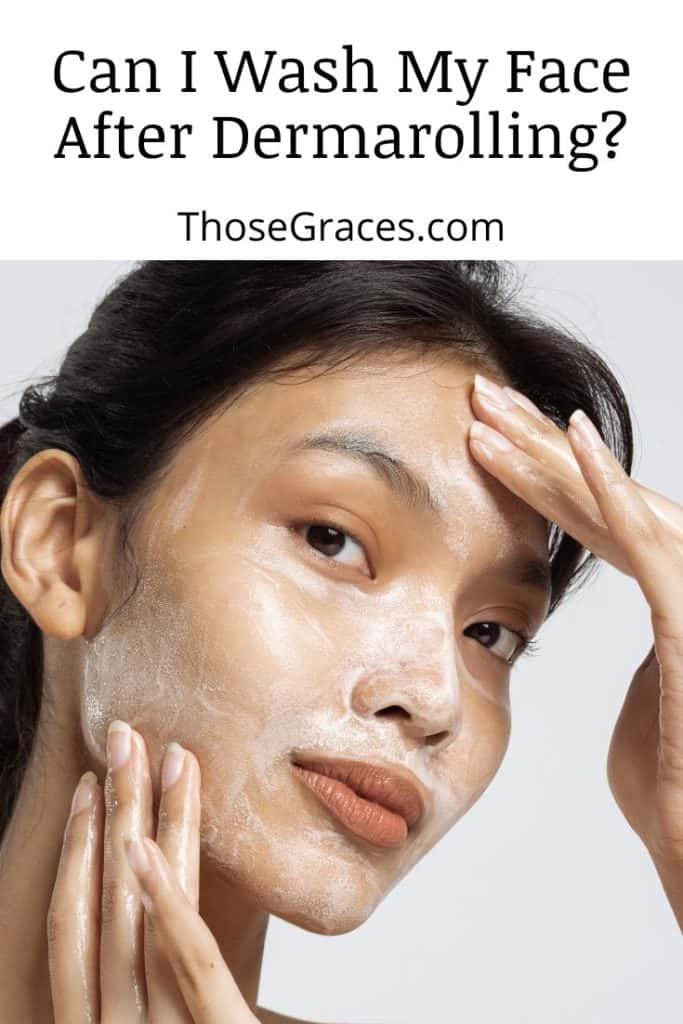 Resources
1. Yadav S, Singh A. Microneedling: Advances and widening horizons. Indian Dermatology Online Journal [Internet]. 2016;7:244. Available from: https://www.ncbi.nlm.nih.gov/pmc/articles/PMC4976400/
2. Konstantinovsky M. Microneedling at Home: How Often Should You Do It For Benefits? [Internet]. Healthline. 2019. Available from: https://www.healthline.com/health/beauty-skin-care/microneedling-at-home#bottom-line
3. Disinfection & Sterilization Guidelines [Internet]. cdc.gov. 2019. Available from: https://www.cdc.gov/infectioncontrol/guidelines/disinfection/index.html
4. Iriarte C, Awosika O, Rengifo-Pardo M, Ehrlich A. Review of applications of microneedling in dermatology. Clinical, Cosmetic and Investigational Dermatology [Internet]. 2017;Volume 10:289–98. Available from: https://www.dovepress.com/review-of-applications-of-microneedling-in-dermatology-peer-reviewed-fulltext-article-CCID
5. Ts A, Pm G. Microneedling: A Review and Practical Guide [Internet]. Dermatologic surgery : official publication for American Society for Dermatologic Surgery [et al.]. 2018. Available from: https://pubmed.ncbi.nlm.nih.gov/28796657/
6. LEVANDOWSKI B. The Expert's Guide to Microneedling Aftercare [Internet]. Byrdie. 2023 [cited 2023 Apr 30]. Available from: https://www.byrdie.com/can-you-wash-your-face-after-microneedling-5525440
7. Sharkey L. Do Derma Rollers Really Work? [Internet]. Healthline. 2020 [cited 2023 Apr 29]. Available from: https://www.healthline.com/health/beauty-skin-care/do-derma-rollers-work
8. Sania. Do I Wash My Face After Dermarolling? [Internet]. Derma Roller Shop. 2020 [cited 2023 Apr 30]. Available from: https://www.dermarollershop.com/blog/do-i-wash-my-face-after-dermarolling