Are you looking to amp up your skincare process by pairing it with the best serum for micro-needling?
Well, well. You're at the right place, then!
After years of inducing micro-injuries and sealing them with serums, I know what serum to use with the derma roller.
And I'm not selfish, so of course, I am sharing it all with you.
Read on!
This post contains affiliate links. We earn a commission if you purchase after clicking on our links.
Here's a quick summary and comparison of the best type of serums to use with at-home microneedling:
| Type of Serum | Benefits | Recommended Products |
| --- | --- | --- |
| Hyaluronic Acid | Replenishes skin moisture, diminishes wrinkles, and enhances plumpness. | The Ordinary Hyaluronic Acid 2%, Glow Recipe Plum Plump Hyaluronic Serum |
| Niacinamide | Minimizes pore appearance and redness, builds keratin, and retains skin moisture. | The INKEY LIST Niacinamide, Dr. Dennis Gross Skincare Stress Rescue Super Serum with Niacinamide |
| Peptides | Aids in collagen production and wound healing, counteracting wrinkles, fine lines, and age spots. | The Ordinary 'Buffet', Drunk Elephant Protini Powerpeptide Resurf Serum |
| Ceramides | Helps maintain the skin barrier and retain moisture and hydration, protecting the skin from external factors. | CeraVe Hydrating Hyaluronic Acid Serum, Elizabeth Arden Advanced Ceramide Capsules |
| Epidermal Growth Factors (EGF) | Stimulates skin growth at the cellular level, promotes wound repair, and helps reverse skin aging. | BIOEFFECT EGF Serum |
Remember, the best serum for you depends on your skin type and concern. It's always important to test a small area before applying a serum widely to prevent possible skin irritation.
5 Best Type Of Serums To Use With At-Home Microneedling
There are several serums to use with micro-needling at home. The best serum for micro-needling depends on the skin type and concern.
Dr. Abigail Waldman, instructor of dermatology at Harvard Medical School, says, "Serums are a really good way to get extra anti-aging effects, more than your typical moisturizer and sunscreen." (2)
However, not all serums are created equally, and you have to be extra careful while applying products with higher dosages of active ingredients, especially if these have powerful ingredients.
Dr. Maryam M. Asgari, associate professor in the Department of Dermatology at Harvard Medical School, says: "Powerful ingredients can irritate sensitive skin. Always test a small area before you apply a skin serum widely." (2)
So, what serum should I use after micro-needling? Okay, okay. I'm getting to that. Here are some of the best serums you can include in your skincare routine and roller.
1. Hyaluronic Acid
Daily external injury, in addition to the normal aging process, causes moisture loss in the skin. The key molecule involved in skin moisture is hyaluronic acid (HA) (3) which has a unique capacity to retain water.
Applying hyaluronic acid means you are effectively adding back some moisture to the skin, keeping it plump and fresh.
Even without using a roller, HA has been known to help diminish the appearance of wrinkles and other signs of aging.
When you puncture your skin with your roller, the product will go deeper and do more for your face. No wonder many dermatologists prefer hyaluronic acid serums during micro-needlings.
I love the Ordinary Hyaluronic Acid 2%, which is incredibly affordable at only $8 and packs quite a punch.
If you want something more luxurious, the Glow Recipe Plum Plump Hyaluronic Serum combines HA with three antioxidant-rich plums for some added antioxidant benefits.
Check out this video tutorial:
2. Niacinamide
Niacinamide, also known as nicotinamide, is a form of vitamin B3. Introducing niacinamide to the skin has several benefits, such as minimized pore appearance and redness.
It also effectively helps build keratin in your skin, keeping it healthy and firm while helping retain moisture. This gentle ingredient can be used both morning and night for incredible results.
So why wouldn't you add this to your micro-needling session?
Duh! Not only will it help clear hyperpigmentation, but also even out your skin tone.
Okay, okay! I am a big fan of niacinamide and can't hide my love from the world anymore. Just please include a niacinamide serum, okay? That's it.
The INKEY LIST Niacinamide is one of the best serums on a budget. It packs 10% Niacinamide and even 1% Hyaluronic acid to keep the skin looking good.
I recently discovered Dr. Dennis Gross and its super awesome products. I fell in love with the Skincare Stress Rescue Super Serum with Niacinamide, combining my favorite ingredient with ashwagandha.
Yes, it's expensive, but the price is justified. Believe me!
Watch this video to learn more:
3. Peptides
Peptides are molecules made of short chains of amino acids. They are the building blocks of proteins.
Dr. Susan Massick, a board-certified dermatologist at the Ohio State University, says, "Amino acids are the building blocks of proteins, so peptides are a generic term for small chains of these amino acids." (4)
It does sound quite complicated, doesn't it? Let's just say: that it helps your skin build collagen.
Collagen breaks down in the skin as we get older. And then all your skin troubles start piling up: wrinkles, fine lines, age spots, and whatnot!
Step in: peptides. Products with peptides are not cheap, but the benefits you reap are worth all your hard-earned money. Copper peptides, in particular, have been loved for their ability to aid in wound healing.
Since your roller creates micro-injuries in your face, you can aid the healing process and the building of new collagen with a good peptide serum.
Even The Ordinary, which generally supplies skincare products at an affordable price, charges higher for the 'Buffet', a multi-technology peptide serum. This much-loved serum is popular for its ability to help in collagen production.
But, if you've got some extra cash lying around (and isn't that the dream?), I suggest you get the Drunk Elephant Protini Powerpeptide Resurf Serum which is the absolute bomb.
Check out this video from Dr. Dray:
4. Ceramides
Do you suffer from dry skin that feels tight and uncomfortable? Then, you probably need ceramides in your skincare routine.
Shereene Idriss, a board-certified dermatologist, says, "Ceramides are fatty acids in the skin that help to maintain the skin barrier and retain moisture and hydration." (5)
Ceramides help in hydration boosting by holding the skin cells together on the skin's upper layer. This helps keep the skin looking plump and moisturized.
They also help the skin from external factors such as pollution and weather. If your skin feels overly tight during the cold season or after a hot shower, products with ceramides can help.
CeraVe, a popular and affordable brand, makes a hydrating Hyaluronic Acid Serum that is enriched with 3 essential ceramides. It works great on all skin types and gives you a radiant glow.
Personally, I've been using the Elizabeth Arden Advanced Ceramide Capsules, which come in capsules, meaning I can travel with them as well. It is a bit greasy, but my dry skin laps it up.
5. Epidermal Growth Factors
Epidermal Growth Factor (rhEGF) is a promising skin antiaging agent that successfully promotes skin wound repair, and it has been investigated in the past decade for these purposes. (6)
EGF has been known to support the regeneration of skin wounds through intradermal and topical application. Most clinical trials have also proven effective inversion of skin aging with EGF.
Dr. Hadley King, a dermatologist, says, "EGF are signaling proteins that bind to receptors on cell surfaces, sending instructions to repair, replicate and rejuvenate."
EGF stimulates skin growth from the cellular level itself, helping produce collagen and aiding as a healing ingredient.
EGF is quite new in the skincare scene, and there aren't too many skin care products that deliver this polypeptide to the general public, save a few.
BIOEFFECT makes an EGF serum that is quite expensive, to be blunt about it but is worth every penny. I had the chance to try it out and absolutely loved how my skin felt after applying it.
Paired with my derma roller, I could see instant results, and my wrinkles looked way less prominent than they used to be.
Should I Use a Serum With a Derma Roller?
A big resounding YES! If you're using a micro-needling tool religiously, it means you're looking to promote the growth of healthy cells and skin rejuvenation.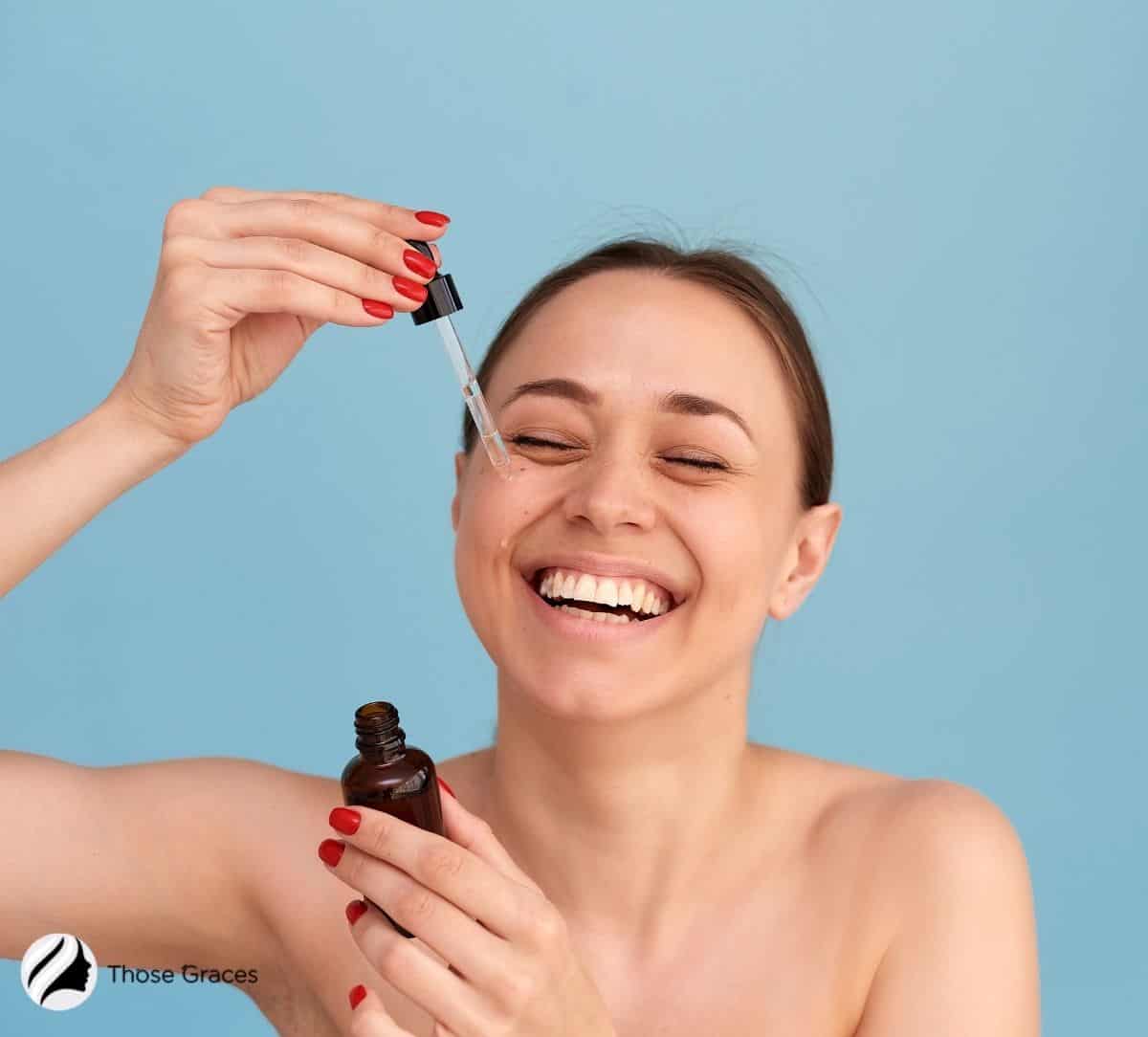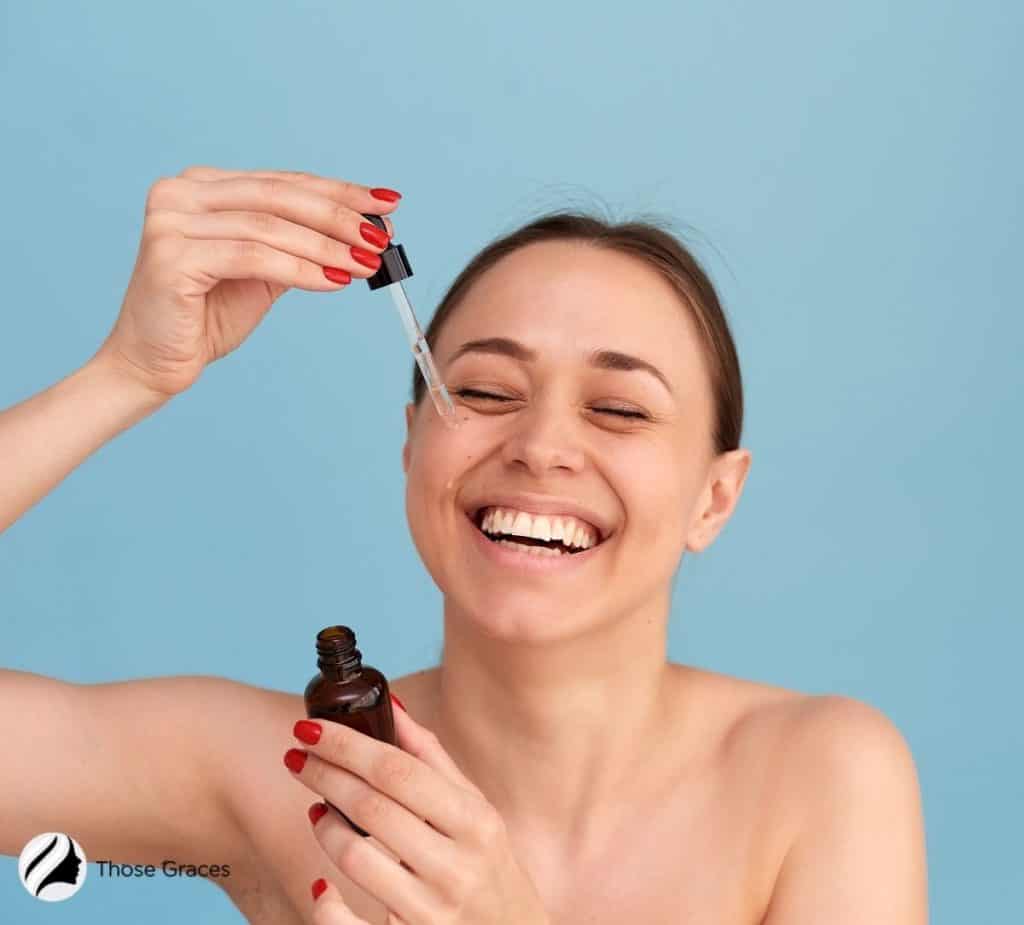 Pairing the micro-needling session with serums has done wonders for my dry skin: keeping the appearance of wrinkles at bay and giving me an overall healthy look.
I love using my at-home derma roller, and it has changed my skin texture for the better. I love it so much I could marry my derma roller!
Do you want to amp up your skin treatments with serums? That's exactly what a serum does for you while paired with your derma roller.
Dr. Joshua Zeichner of Zeichner Dermatology says, "Pair gentle but appropriate topical products with the micro-needling procedure to address your skin needs properly." (1)
Whether you're looking to fight uneven skin tone or dull skin, many facial serums pair well with at-home micro-needling.
Serums To Use With A Derma Roller: Other Considerations!
Let's look at some other important considerations you need to know about using a serum with your derma roller.
Do You Put a Serum On Before Microneedling?
Some people use a serum on their face and neck or other targeted body parts BEFORE micro-needling pens, and that is absolutely fine.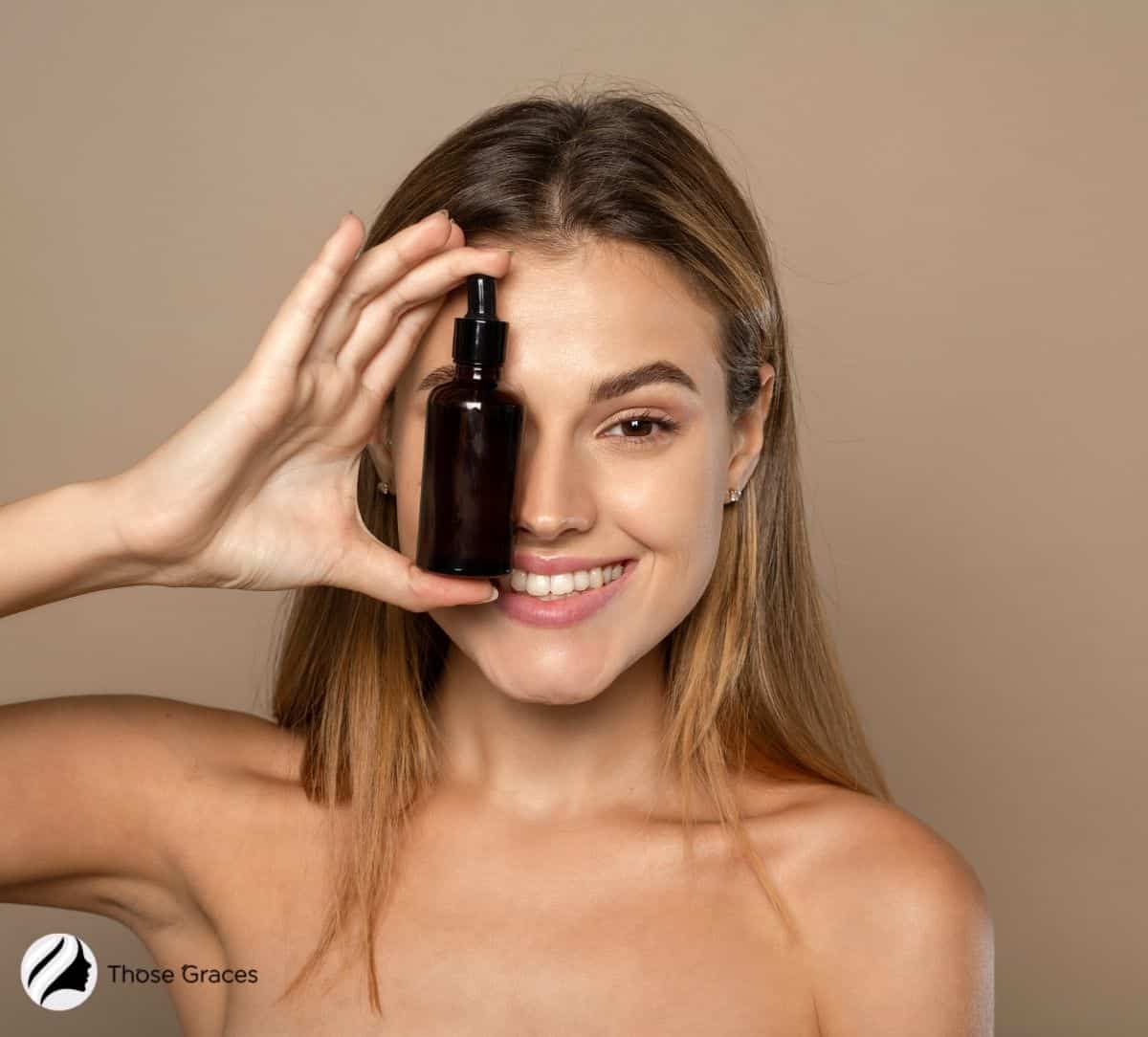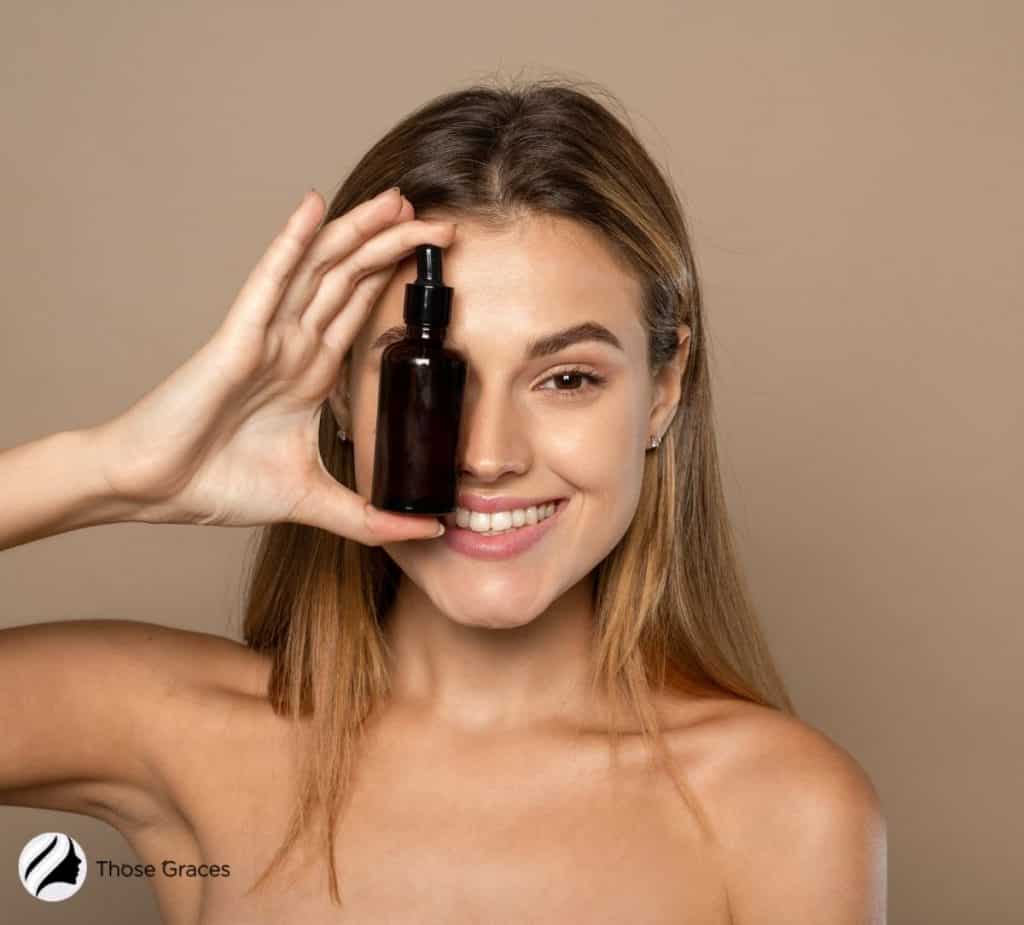 If your skin is used to the pain caused by a microneedle and you don't need a numbing cream before you go in with your roller, you can substitute the cream for a serum.
Your face may not require a numbing cream if you use a needle length below 0.3mm. However, you may need a numbing cream if you're using any higher.
A serum before the process may also help the needle glide better onto the skin. Whichever method you choose, before or after, your skin will reap the benefits of using a serum along with the micro-needling device.
Can I Use Vitamin C Serum After Micro-needling?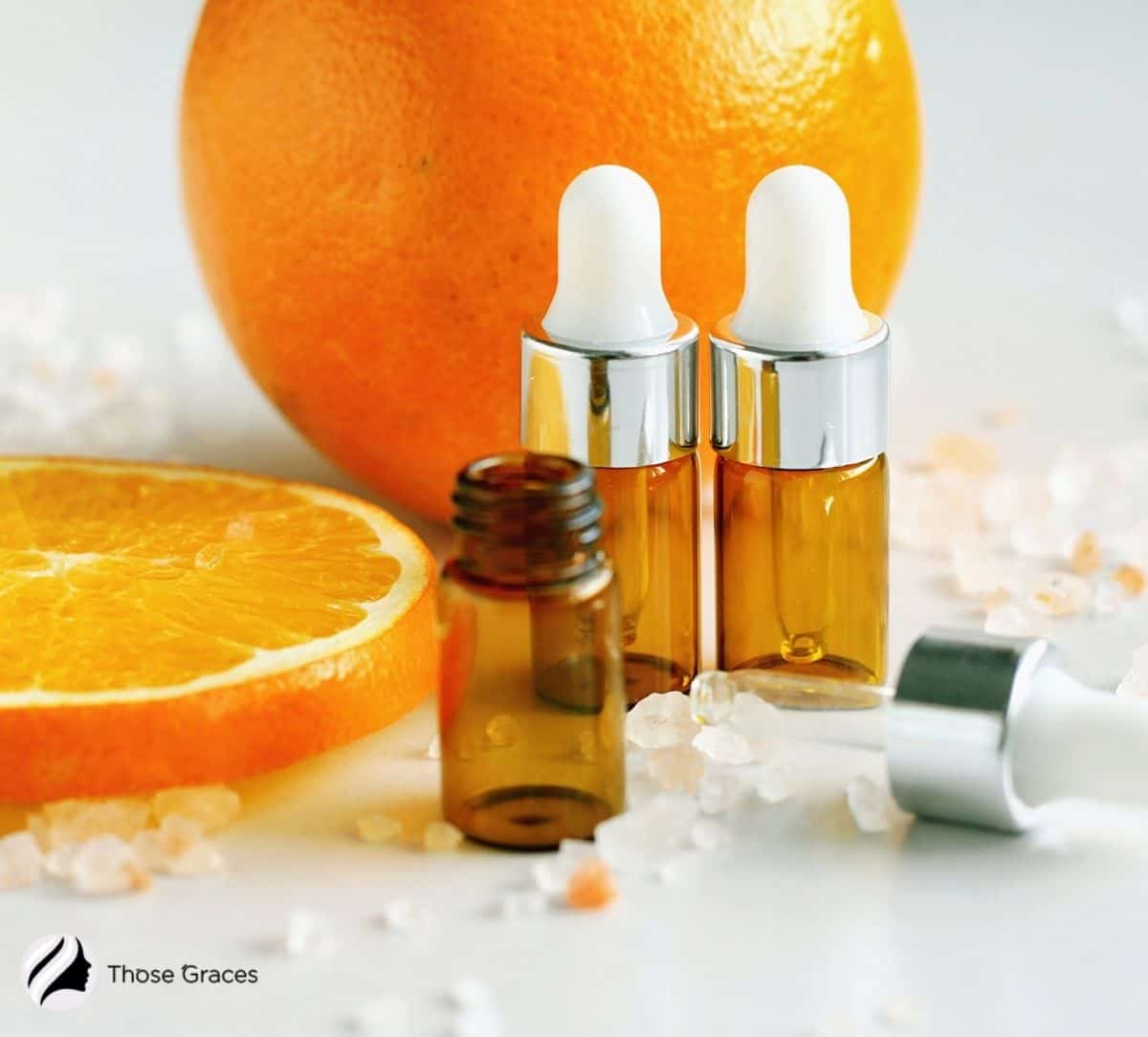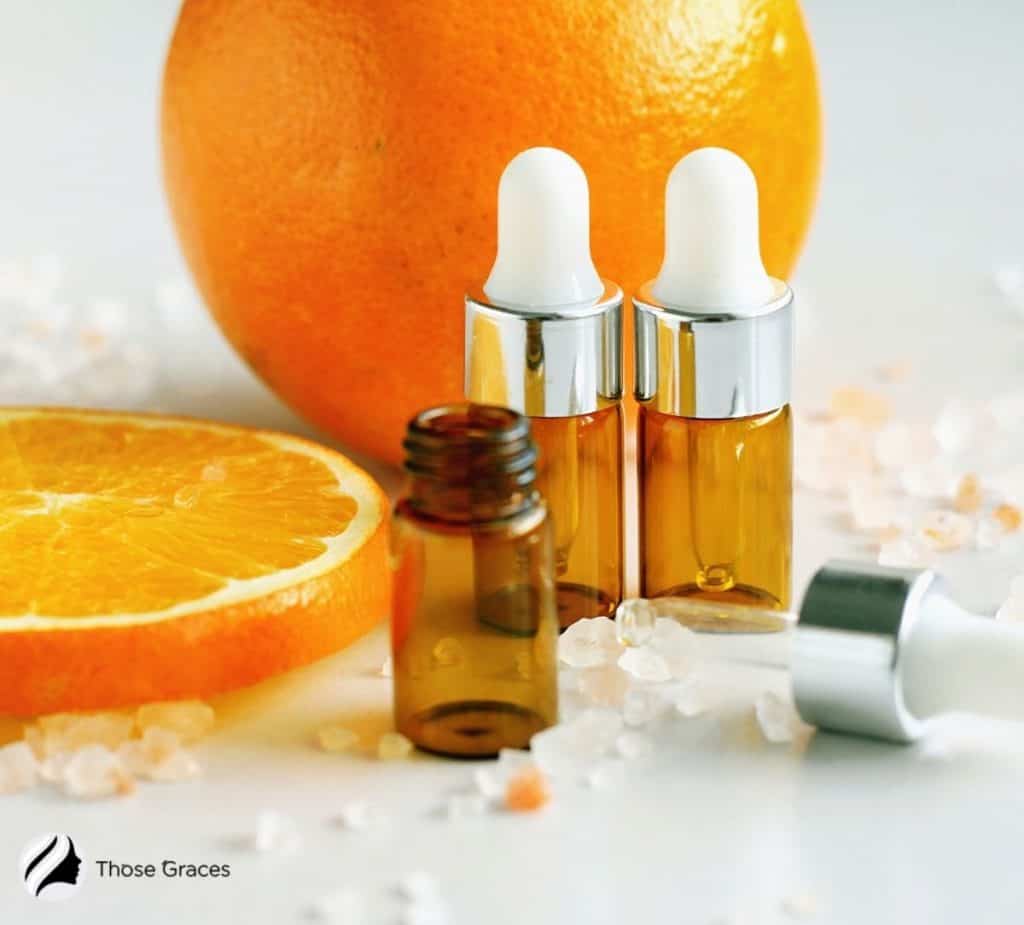 Most dermatologists will recommend waiting at least 48 hours after a micro-needling session to reintroduce Vitamin C serum to your skincare routine.
The active ingredients in vitamin C serum are potent and go past the deeper layers of your skin. This means the micro-tears will take longer to heal. It might also irritate.
But there is an exception to this rule if you're using a serum with mild vitamin C levels. C serum containing Sodium Ascorbyl Phosphate is a milder form of the C serum, which isn't as harsh on the skin.
What Else Should You Avoid?
Before starting this combination, take note of what else you should avoid.
1. Makeup
You may experience redness with a microneedle and be tempted to cover it up with makeup. But, it may not be a good idea to do so.
Basically, you don't want to overload your already damaged skin with makeup. Let it heal for 2-3 days, if possible, to help with the speedy healing.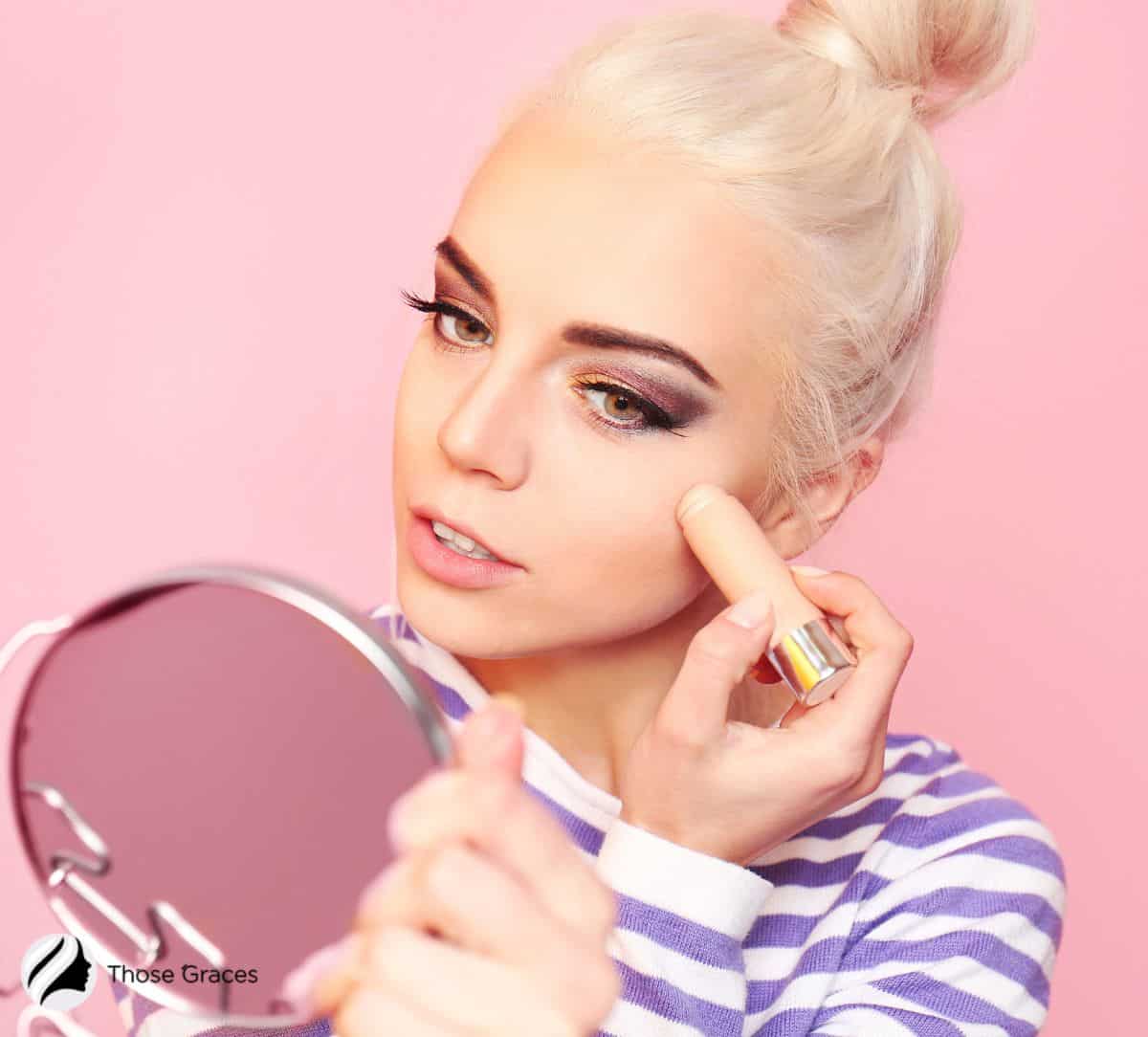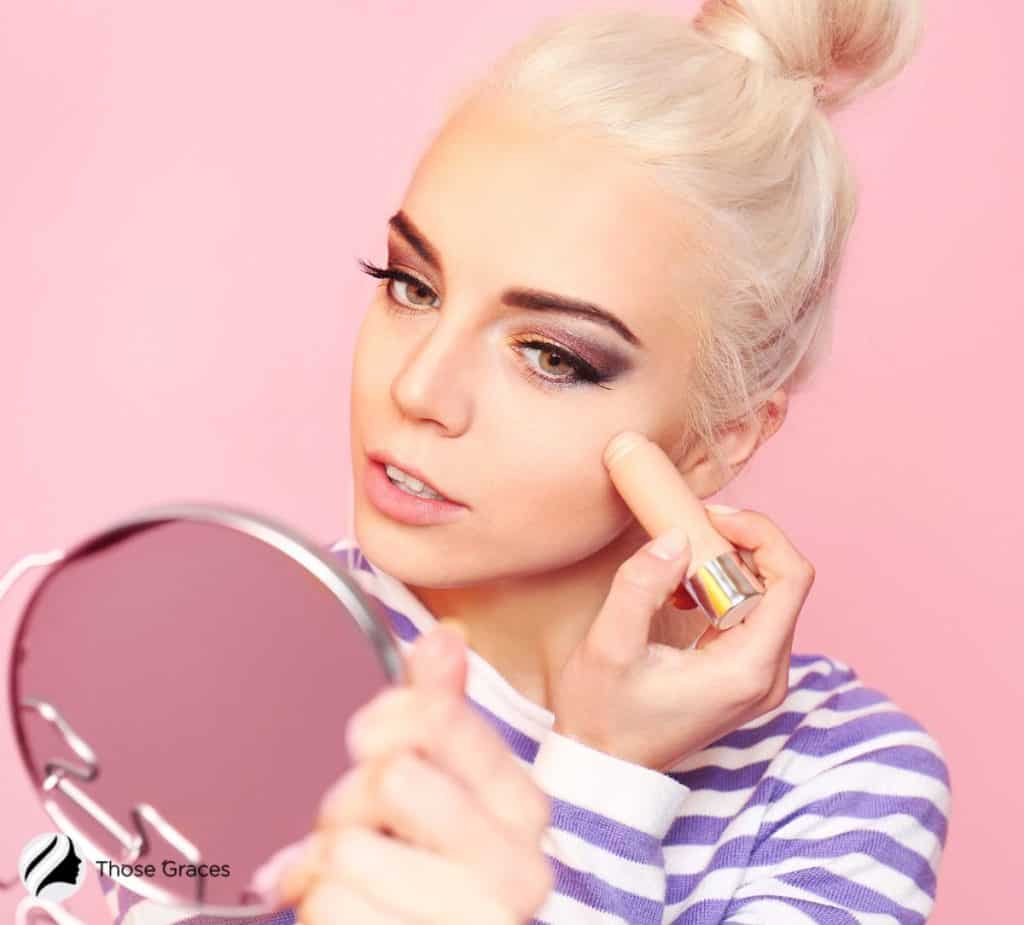 Read my article "When can I wear makeup after microneedling?" to learn more.
2. Retinols
Retinols are the real skin MVPs, but when applied post-micro-needling, it may spell disaster with a capital D.
Retinols are harsh, to say the least. The harsh ingredients effectively remove the uppermost layers of your skin and boost your collagen production. But so does micro-needling.
Meaning that you don't need double the effect right away. Let your skin heal for at least 4 days before reintroducing such reactive ingredients.
3. AHAs and BHAs
You don't want to include exfoliating skincare products after your rolling session. This means no glycolic acid, alpha-hydroxy acids, or even toners with alcohol on them.
AHAs and BHAs help resurface the skin by exfoliating the top layers, which can be quite harsh, especially if you've just undergone the derma-rolling process.
Rule of thumb? Wait 48 hours before doing what you usually do to your skin.
Here are some more do's and don'ts of micro-needling aftercare:
READ MORE: Can You Microneedle After Botox?
FAQs
Can You Use Niacinamide And Hyaluronic Acid Together?
Yes. You can layer hyaluronic acid and niacinamide together in your skin care. Start with hyaluronic acid, wait a few minutes, and then apply niacinamide.
What Is Best To Apply After Derma Rolling?
You can jumpstart your natural healing process by applying virgin coconut oil to moisturize and hydrate your face. Witch hazel is also a good product to use after the derma roller.
Can I Use Rosehip Oil After Dermarolling?
You can use rosehip oil, but there are better alternatives available. Some users report clogging after using rosehip oil which may induce acne and blocked pores.
Do Derma Rollers Actually Work?
Yes. Derma rollers have been known to be extremely effective against skin concerns such as fine lines, wrinkles, acne scars, and hyperpigmentation.
Conclusion
Now you're all caught up with the best serum for micro-needling and are ready to reap the benefits of combining this process with serum ingredients.
The goal is to promote healthy cells and keep the skin firm and elastic. Isn't this why we go through all the trauma of inducing deliberate skin injuries?
Using a derma roller can be quite painful, especially if you have an incredibly low pain threshold, as I do. But I suck it up and do it anyway! Because I know the skin texture that awaits me when I'm done.
Pain is good! No pain, no gain. See you in the next article.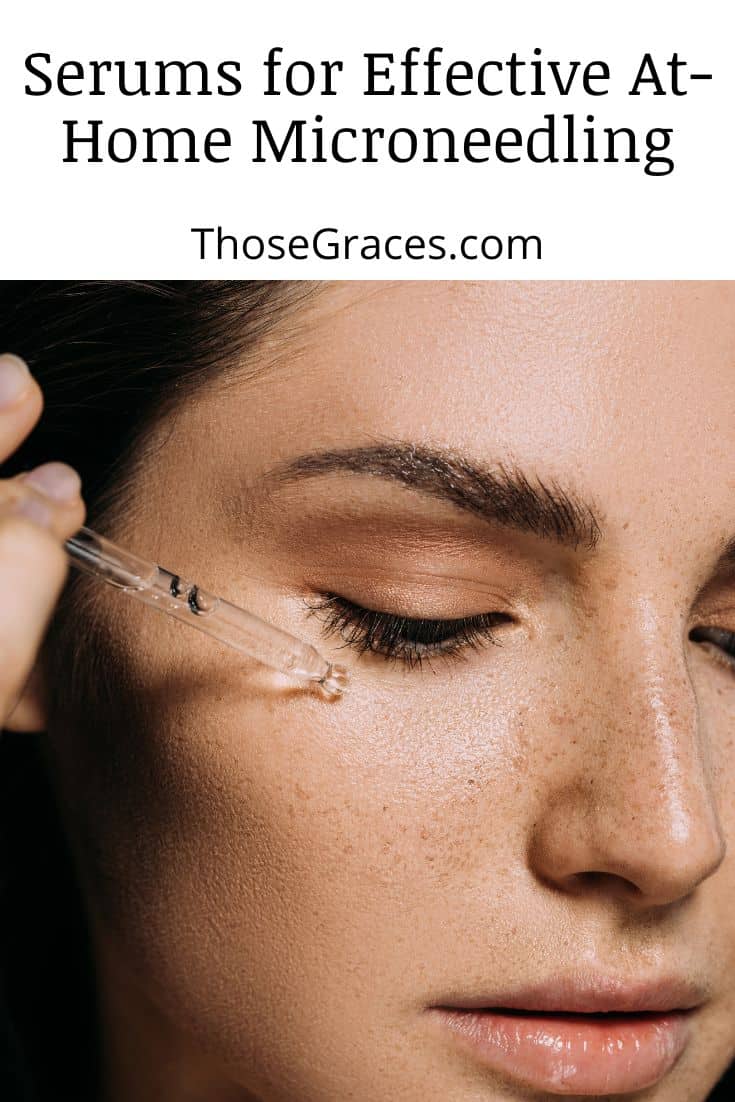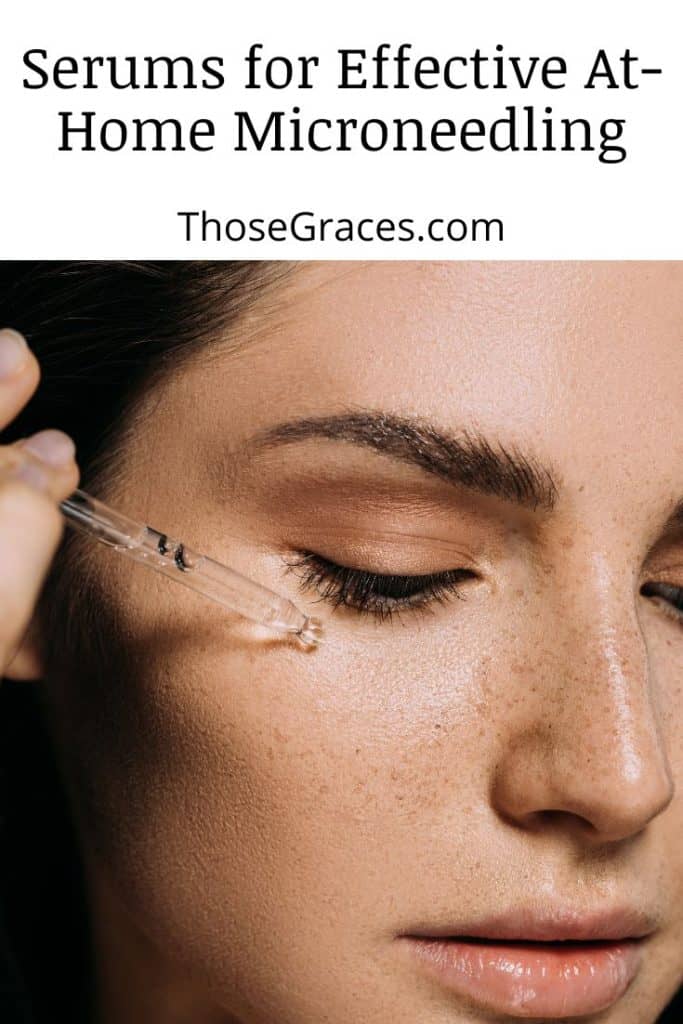 Resources:
1. Nast C. How to Use a Derma Roller — The Right Way [Internet]. Teen Vogue. 2020 [cited 2022 Jun 22]. Available from: https://www.teenvogue.com/story/how-to-use-a-derma-roller
2. Bilodeau K. Skin serum: What it can and can't do [Internet]. Harvard Health. 2018. Available from: https://www.health.harvard.edu/blog/skin-serum-what-it-can-and-cant-do-2018061214029
3. Papakonstantinou E, Roth M, Karakiulakis G. Hyaluronic acid: A key molecule in skin aging. Dermato-Endocrinology [Internet]. 2012;4:253–8. Available from: https://www.ncbi.nlm.nih.gov/pmc/articles/PMC3583886/
4. What exactly are peptides? A dermatologist explains the common skin care ingredient [Internet]. TODAY.com. [cited 2022 Jun 22]. Available from: https://www.today.com/shop/peptides-cream-serums-t241538
5. Nast C. 15 Best Ceramide Skin-Care Products to Repair Dry Skin [Internet]. Allure. 2018 [cited 2022 Jun 22]. Available from: https://www.allure.com/gallery/best-ceramide-skin-care-products
6. Miller-Kobisher B, Suárez-Vega DV, Velazco de Maldonado GJ. Epidermal Growth Factor in Aesthetics and Regenerative Medicine: Systematic Review. Journal of cutaneous and aesthetic surgery [Internet]. Wolters Kluwer – Medknow; 2021 [cited 2022 Jun 22];14:137–46. Available from: https://www.ncbi.nlm.nih.gov/pmc/articles/PMC8423211/