If you're looking for some amazing olive oil hair masks to buy or DIY, you're in the right place!
Olive oil is one of the best options if you want to deep moisturize your skin or hair.
I personally discovered it when I started bleaching my hair, and haven't used anything else since then.
Let's take a look at how you can make your own olive oil hair mask, and where you can buy some if you don't have the time to do so.
You may also love: 5 Super Simple & Affordable DIY At-Home Hair Mask Ideas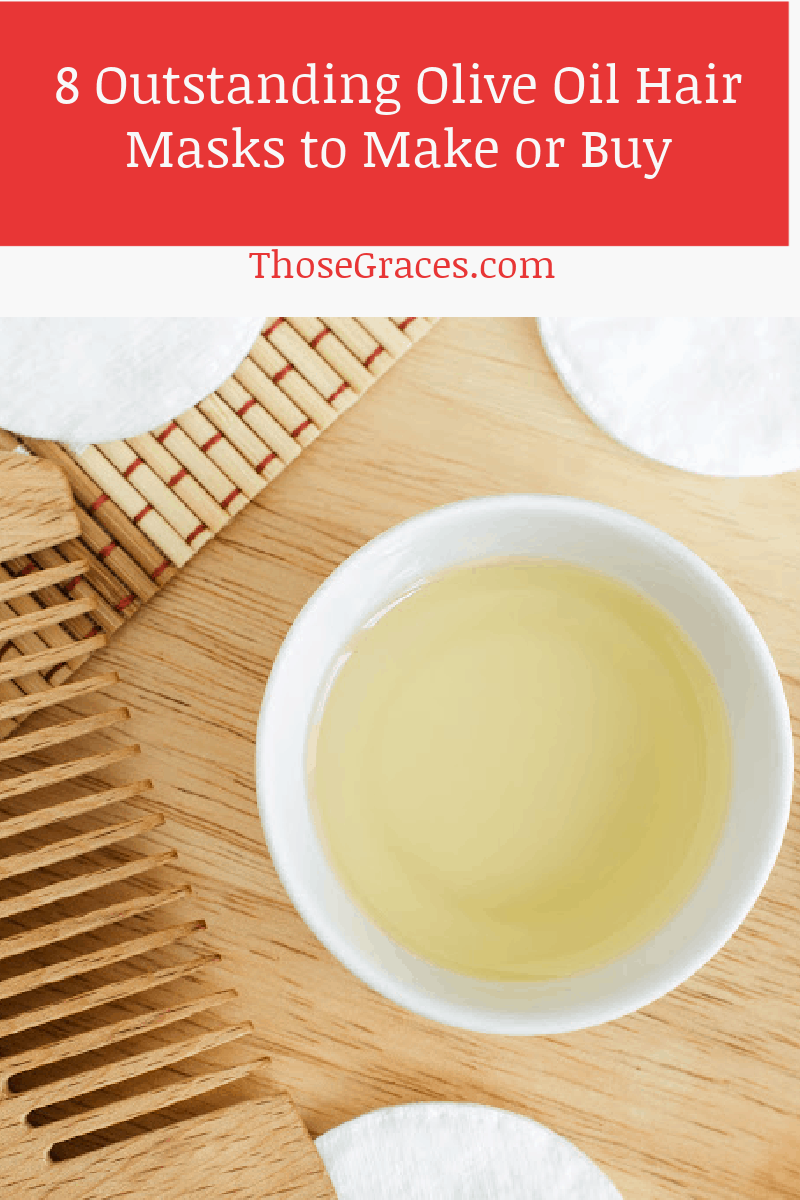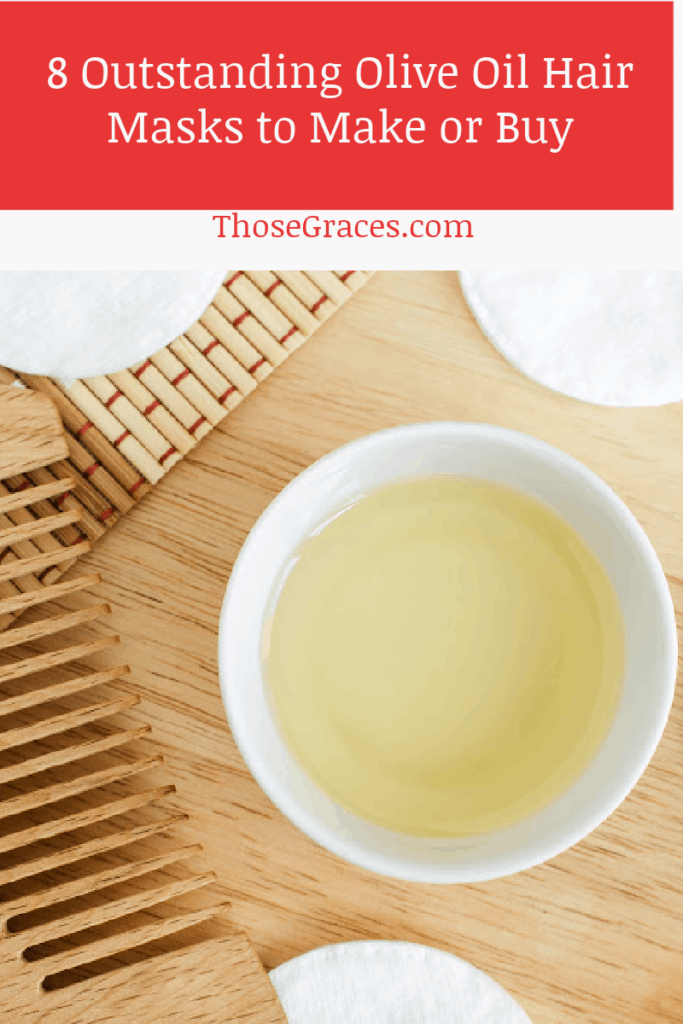 DIY Olive Oil Hair Masks
Olive oil is one of the oldest and best ingredients ever used in skincare.
Since it was discovered, thousands of years ago, people have been looking for ways to use it as much as possible.
Nowadays, olive oil is known to be amazing for cooking, but it's also amazing for hair.
Let's start with some super easy DIY olive oil masks to make at home.
If you're still not convinced that you can pull it off yourself, we'll look at some you can buy in a few minutes.
FYI, this post contains affiliate links. If you make a purchase through these links, we earn a small commission at no extra charge to you.
1. Olive Oil and Honey Hair Mask
Olive oil and honey are both incredible moisturizers.
If your hair is very dry, or has been through a lot of bleaching and styling lately, you can try this one.
Just mix half a cup of olive oil with two teaspoons of honey, and apply it to your hair.
After 20 minutes, wash it off, and continue your normal routine.
Check out the video below for more tips on making this mask.
2. Olive Oil and Baking Soda Hair Mask
This is the perfect mask if you're dealing with oily hair and dandruff.
Even though olive oil moisturizes your hair and scalp, baking soda will absorb the extra oils on your scalp, balancing the situation.
For this mask, you need half a cup of olive oil and 2 tablespoons of baking soda.
Leave it in your hair for 15 minutes at most, and then thoroughly wash your hair.
Make sure there's no baking soda left, as it can dry your scalp more than you'd like.
You can also follow the tutorial in the video below for this one!
3. Olive oil and Avocado Hair Mask
The olive oil and avocado combo is ideal if you need something to moisturize and repair your hair at the same time.
The nutrients in avocado will stimulate your hair follicles promoting hair growth, and the olive oil will maintain it healthy.
For this one, you need half an avocado and 4 tablespoons of olive oil.
Leave it in your hair for about 20 minutes, and then simply wash it as you'd normally do.
If you'd like to add honey to the mix, check out the video below for a tutorial.
Related: Avocado Hair Masks
4. Olive Oil & Rosemary Mask for Hair Growth
If you want your hair to grow faster, thicker, or just healthier, then a rosemary and olive oil mask is a great option!
Rosemary helps stimulate your follicles, promotes circulation, and more- all of which can lead to a healthier head of hair!
For this mask, you'll just need a half a cup of olive oil and a drop or two of rosemary essential oil.
Add the essential oil to the olive oil and shake or stir to combine. Then, just rub it into your hair- paying close attention to your scalp.
Leave it on for at least 20 minutes, then rinse clean in the shower before shampooing.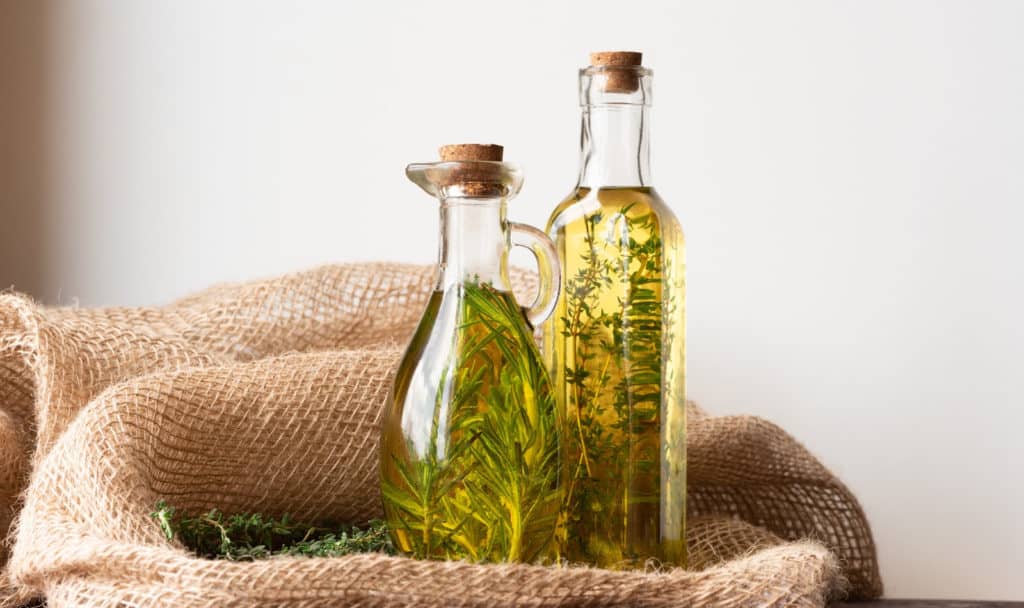 5. Refreshing Olive Oil & Peppermint Mask
Peppermint is also good for stimulating hair follicles, but that's not why I love this one so much.
If you suffer from headaches- or even just brain fog- you'll totally fall in love with this mask.
It's just such a refreshing and uplifting scent, and really helps relieve tension headaches.
The steps for this one are identical to the rosemary mask, except you'll use peppermint oil instead.
FYI, those last two make amazing gift ideas, since you can mix them up ahead of time!
You can even use fresh rosemary or mint to infuse the oil. Check out the video below to see how.
Yes, it's for cooking, but the recipe and steps are the same as for olive oil hair masks.
Olive Oil Hair Masks to Buy
If you're really just not in the mood to make your own olive oil hair masks, then here are a few wonderful options to buy.
Palmer's Olive Oil Formula
I fell in love with Palmer's products about two years ago, and whenever I find something new in stores, I try it and fall in love again.
This olive oil formula is incredible to moisturize your hair and scalp, and you'll be really happy you tried it.
Ors Olive and Coconut Oil
Olive oil is incredible by itself, but if you also add coconut oil, you get the best moisturizing and regenerative combo.
This hair mask can revert years of bleaching, and you can use it whenever you need to.
Ancient Greek Remedy Oil Formula
This one by Ancient Greek Remedy is something you can keep around all the time, for whenever you need deep moisturizing.
It's good for skin, hair, and nails, and besides olive oil, it's also infused with almond, grapeseed, and lavender oils for maximum results.
Sale
Organic Blend of Olive, Lavender, Almond and Grapeseed oils with Vitamin E. Day and night Moisturizer for Skin, Dry Hair, Face, Scalp, Foot, Cuticle and Nail Care. Natural Body oil for Men and Women
DAY & NIGHT MOISTURIZER - Ancient Greek Remedy Oil is a blend of Cold Pressed Olive, Organic Sweet Almond, Grapeseed, Vitamin E & Lavender Essential Oil. VEGAN, NON-GMO, GLUTEN & PARABEN FREE! 4 OZ The perfect moisturizer for your Face, body, hair, scalp, nails, cuticles, hands, feet & heels needs. **risk-free**, order now, and if for any reason you are not 100% satisfied, simply send us an email, and we will send you a full refund of your money. No need to send the bottle back!
SKIN & HAIR MOISTURIZER FOR MEN AND WOMEN - ​The all-natural formula is full of potent antioxidants and is ultra-effective day and night facial moisturizers made for all skin types, including combination skin, uneven dry skin, and oily complexions. Our blend is fantastic for all hair types includes curly, wavy, afro, and works wonders on thin, brittle, dry, damaged hair. Dry, itchy, flaky scalp? Try our blend and see results within 14 days.
THE DIFFERENCE in skin care treatment: Compared to other body oils, Ancient Greek Remedy oil is strikingly better. In addition to the powerful antiaging properties of this facial moisturizer. Men & women have reported this hydrating Face and body oil has helped smooth & hydrate skin, shrink pores, clear up acne, prevent breakouts, and minimize the appearance of acne scars. This gives your skin a healthy, radiant, healthy, and glowing appearance.
Highest quality ingredients: Our daily skin moisturizer is the perfect solution for even the most sensitive skin types. Its unique plant-based formula feels wonderful on the skin, making it a safe and effective alternative to water-based moisturizers. It's also safe for kids and baby skincare. A safe and natural alternative for daily facial lotion and night facial cream, which may contain chemicals. Suitable for all skin types and referred by our customers as the best body moisturizer
100% CUSTOMER SATISFACTION & MONEY BACK GUARANTEE: Try us risk-free! Order now, and if, for any reason, you decide that this face and body moisturizer is not for you, send us a simple email and receive a 100% money-back refund, no questions asked & no need to send the bottle back! This product is intended for topical cosmetic application only.
In order to repair and moisturize your hair, you definitely need an olive oil hair mask. Of course, you can pair it with any other ingredient, and see the results!
Related: 5 Easy DIY Egg Whites Hair Mask Recipes
What are your favorite olive oil hair masks to make or buy? Share below!