Let's tumble down the rabbit hole of the ultimate hair battle: Tape-in vs Keratin Hair Extensions!
As a bona fide hair junkie, I've tested both game-changing products in my tresses, and oh, the stories they could tell!
Let's embark on this glamorous journey as we untangle the knots and brush out the facts.
We'll discover which one is your mane's new best friend – a hairsational adventure awaits!
Tape-in Hair Extensions
Tape-in extensions are one of the popular options used by experts.
These use panels of hair attached by trained professionals to the client's hair using medical-grade glue and adhesive strips. (2)
Many use quality hair — human hair — that can be styled using heated tools.
They come in different hair textures, including coarse and thicker hair. They come in a wide range of choices that match your hair color.
This type of extension is comfortable and relatively painless.
Tape extensions can last up to six weeks (2). Glue remover takes them out when you need to replace them. This is done painlessly without resulting in much hair damage.
Join Glamzilla on an exciting journey in this video:
Keratin Extensions
Keratin extensions are also known as keratin fusion extensions. The attachment method is through beads of keratin glue at the tips of a piece of extension hair.
This is placed approximately 1/2 inch away from the root using a heating element. This is done in a hair salon, preferably by someone who has experience with putting in extensions.
Since these are made of natural hair, they can be maintained and styled in the usual manner.
This means that these can be straightened using a hair iron, curled, or even colored in the same way you would your hair.
Care should be taken, though, when styling these types of extensions since excessive heat can melt the keratin bonds and cause your extension to fall off.
Immerse yourself in this informative video exploring the ins and outs of Keratin Hot Fusion Hair Extensions – from application to fascinating facts:
How To Choose Between Tape-in or Keratin Extensions
Like most things under the sun, tape-in and keratin extensions have pros and cons, so you may want to discuss which hair extensions will be best for you with an extensions specialist.
You may need to know some things about these two types of extensions to help you choose and make the right decision.
1. Appointment Time
The average application time for tape-in extensions is around 40-60 minutes compared to keratin extensions which take around 4-5 hours to apply.
Keratin extensions use a strand-by-strand method, so you'll need much extra time to complete these.
Remember that washing your hair or getting it wet from excessive sweating is not allowed for keratin extensions until 48 hours after application so the bonds get fully cured.
2. How Long Can You Use Them?
If you plan to keep your extensions long, choose keratin styles.
Tape-in extensions can last for around 4-6 weeks, while keratin extensions can stay on your head for more extended periods — up to six months!
This would be great for those with shorter hair since they will need a more extended period to grow these out.
3. Reusability
Keratin extensions may be used for extended periods, but these can be used only once.
Tape hair extensions are ideal for regular hair extension users since these can be set aside for future use.
4. Hair Health
One of the problems with hair extensions is that they can cause hair damage when used for extended periods. For people with fine hair, this may even lead to tension alopecia.
For those with thin hair, keratin extensions may keep your natural hair healthier than tape-in extensions.
5. Hair Type
If you have extremely fine hair or suffer from hair loss, you cannot use keratin bond extensions.
The adhesive tape strips tend to show in clients with extremely thin hair when the tape-in method is used.
Keratin bond extensions, too, give a fuller look for those with thin hair, and they can provide better coverage.
For those with dense hair, either of the two hair extension methods can be used.
This video will help you learn which type of hair extensions are best for you:
6. Your Budget
Hair extension procedures can be costly.
Although there are cheap hair extensions that use synthetic hair that may fit well within your budget, quality extensions will always produce a better result.
The cost of extensions tends to increase depending on the quality. Extensions which make use of real hair are more pricey.
Between these two extension methods, in the tape-in vs. keratin hair extensions debate, keratin bond extensions cost more.
Like tape-in extensions, Keratin bond extensions can be used only once.
Hair maintenance appointments are needed regardless of the type of extension used to keep your normal hair as healthy as possible.
Considering these as part of the hair extension cost is also important. After all, proper maintenance is needed to keep these strands of extensions in good form.
If you're looking for ways to boost volume post-keratin treatment, check out "How to Get Volume After Keratin Treatment," and for an in-depth understanding of keratin hair extensions, don't miss the balanced perspective in "Keratin Hair Extensions Pros and Cons."
FAQs
Are Tapes Damaging To Hair?
Tape hair extensions can cause damage. However, these are still considered to be the least damaging hair extensions.
Are Tapes Or Bonds Better For Your Hair?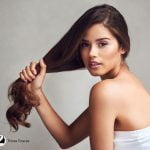 Keratin bonds are a better type of extension, especially for thin hair.
How Long Does Tape In Hair Last?
Tape-in hair extensions can last from four to six weeks.
Conclusion
In the grand spectacle of hair enhancement, Tape-in and Keratin Hair Extensions have brought an extraordinary flair.
My experiences show that each has unique advantages and considerations. But the true victor depends on your hair needs, lifestyle, and preference.
After running my hands through these two and weighing their merits and trade-offs, my hair has never looked or felt better.
Ultimately, the choice is yours: the quick-fix tape-ins that provide effortless glam or the long-lasting keratin bonds that promise natural allure?
So, lovelies, are you ready to take your locks to the next level? Tape-in or Keratin: which will be your crowning glory?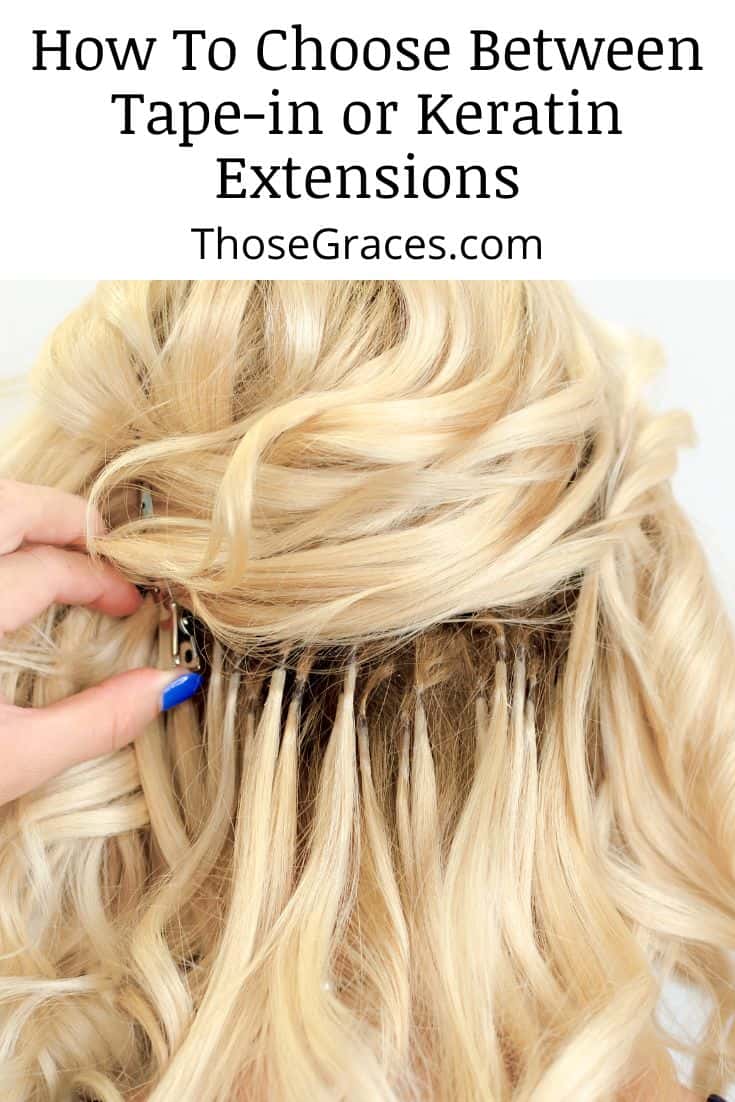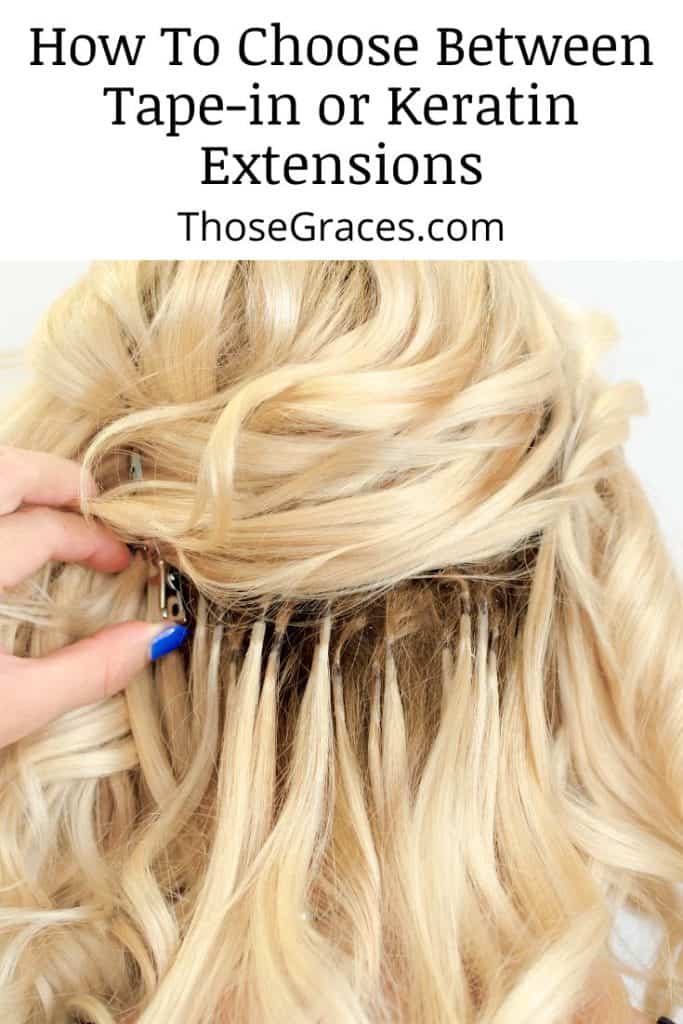 Resources
1. Bilodeau K. Thinning hair in women: Why it happens and what helps [Internet]. Harvard Health Blog. 2020. Available from: https://www.health.harvard.edu/blog/thinning-hair-in-women-why-it-happens-and-what-helps-2020032719267
2. Everything You Need to Know About Tape-In Extensions [Internet]. ELLE. 2021 [cited 2022 Sep 23]. Available from: https://www.elle.com/runway/a37222201/best-tape-in-hair-extensions/
3. Nast C. I Tried Tape-In Extensions for the First Time [Internet]. Allure. 2022 [cited 2022 Sep 23]. Available from: https://www.allure.com/story/tape-in-hair-extensions-review