Like me, you have bushy, curly hair and dream of sleek locks, but when looking at options, wonder what the side effects of keratin treatment are.
The Brazilian Blowout no doubt gives fantastic semi-permanent results to wavy hair, but there are some serious risks you need to consider before using it as a treatment to get straight hair.
I decided to research and speak to my hair stylist to find out more before trying a Brazilian keratin treatment.
Here's what I discovered and wanted to share.
3 Potential Side Effects of Keratin Hair Treatments
Keratin hair treatments do a great job of transforming frizzy hair into sleek, smooth hair.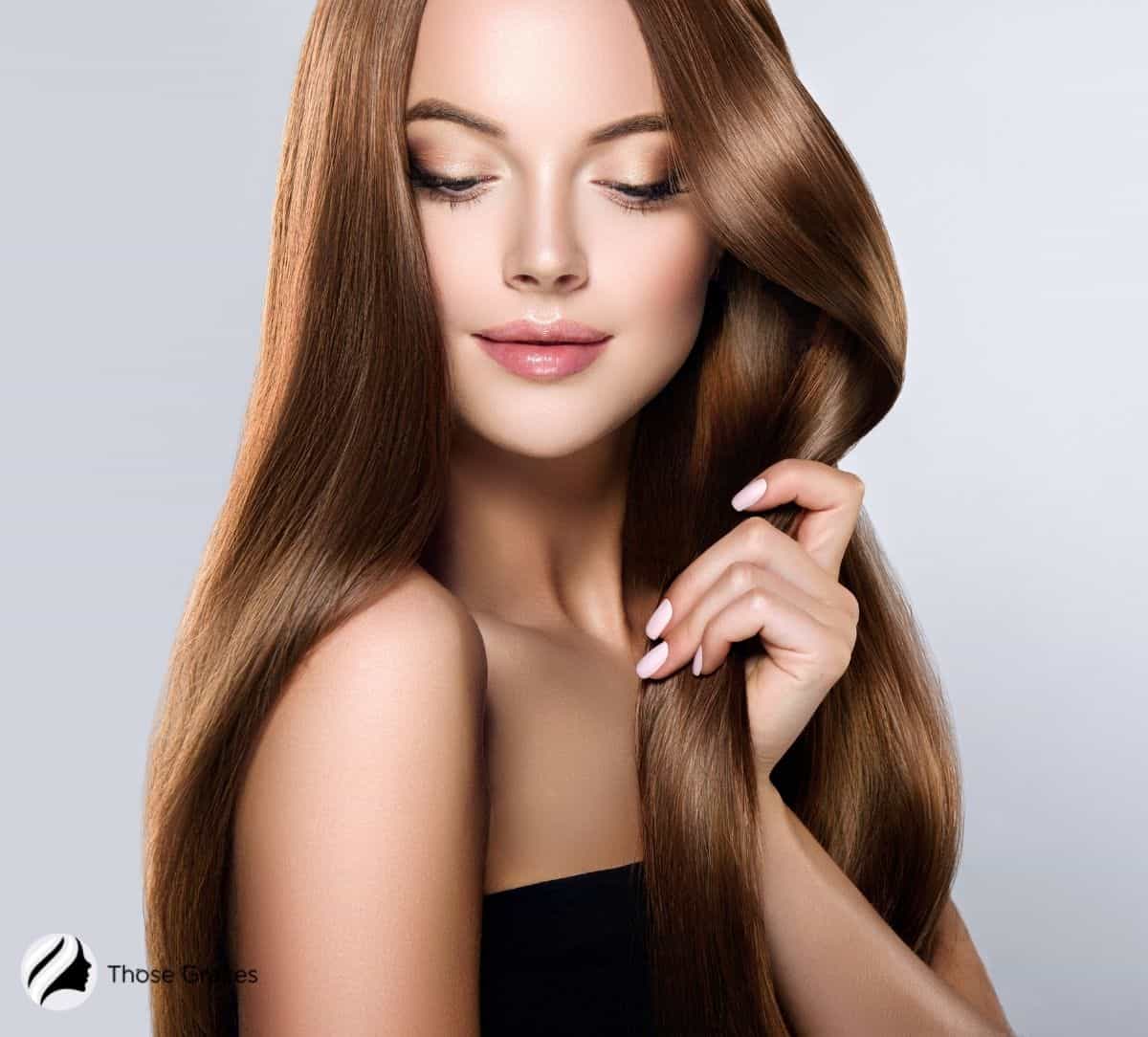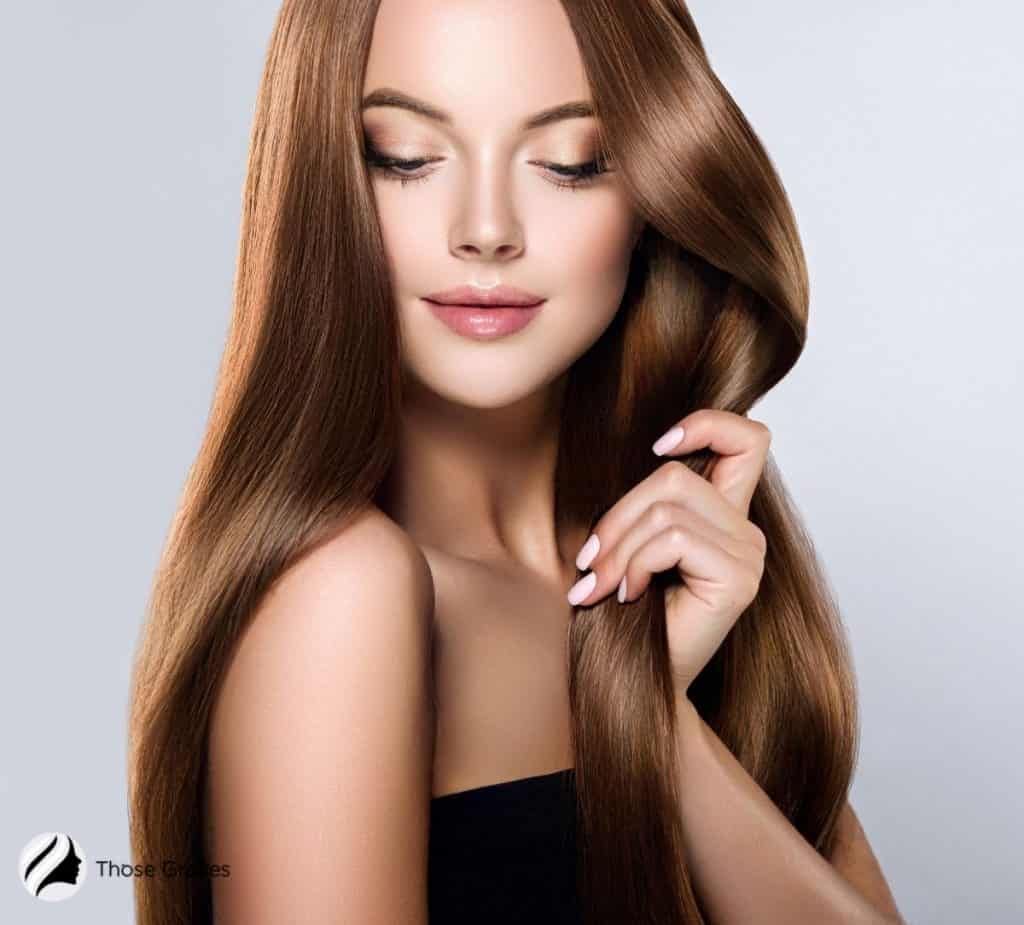 However, the 3 main risks are the most serious, and it is a good idea to know these before taking the next step to make your hair smooth.
1. Keratin Treatment Can Increase Cancer Risk
Many keratin treatments used for hair smoothing incorporate a chemical called Formaldehyde.
Formaldehyde is a colorless, strong-smelling gas that helps eliminate annoying frizz from your hair while keeping them smooth and straight for months.
However, it is a carcinogen, according to the American Cancer Society. [1]
It was declared a "probable human carcinogen." by the U.S. Environmental Protection Agency. [1]
This means that exposure to formaldehyde is thought to cause or help cancer grow.
Learn more about what formaldehyde is here:
Through chemical treatments such as keratin hair treatments, you get formaldehyde exposure when the treatment solution releases a gas into the air.
This means that the process you and salon workers breathe in. Eek!
Your skin can also absorb this harmful chemical.
These adverse effects are why some stylists will not use this option as a treatment for hair.
2. It Can Cause Severe Allergic Reactions and Other Potential Health Risks
In addition to being a carcinogen, formaldehyde is also known to trigger other health side effects and severe allergic reactions that can be pretty uncomfortable.
A bad reaction can include itchy skin, coughing, sneezing, and mood swings; this chemical can turn your world upside down.
Many users and salon stylists have faced difficulty breathing, eye irritation, and nosebleeds after using keratin hair treatments.
Some of the most noticeable allergic reactions from formaldehyde you should know about are:
Runny nose
Itchy, burning eyes
Coughing, wheezing, sneezing
Chest tightness
Itchy skin, skin rash
Scalp irritations and burns
Headaches and nausea
Mood Swings
Nose and throat irritation
Because of the health risks, in 2016, the Environmental Working Group and Women's Voices for the Earth (EWG) sued the Food and Drug Administration (FDA) for not regulating formaldehyde use in beauty and hair products. [2]
EWG claimed that the FDA was well aware of the health hazards of formaldehyde products for at least 10 years, but they failed to regulate it.
3. It Can Increase Hair Breakage and Hair Damage
Heat styling is one of the main steps taken during keratin treatment.
This step helps the chemical process and straightens the hair shaft. It is also the cause of one of the most significant treatment side effects.
Heat damage can still occur even if it is done with the best keratin hair straightener or flat iron.
You need to be careful how this step is carried out. If you apply too much heat or over-straighten, hoping to lock the treatment in, you can end up with severe hair breakage, which no one wants!
Additionally, when the heat is applied to the hair, it increases exposure to formaldehyde as more is released into the surrounding environment.
Additionally, since the formaldehyde causes scalp irritation, your scalp becomes sensitive, which weakens the hair root leading to extreme hair loss. Yikes!
Check out this video for more details about the dangers of hair-smoothing treatments like keratin. I found it helpful:
If you're concerned about the potential impact of keratin on hair loss, I recommend reading my article that addresses the question, "Does Keratin Cause Hair Loss?"
How to Avoid The Dangerous Side Effects and Damage of Keratin Treatment
If you still want to use this hair smoothing solution to get straight hair after learning about the side effects of keratin treatment, it is important to know what you can do to lessen the risks.
I learned that you can still get a Brazilian Blowout that doesn't use formaldehyde. Phew! I thought, straighter hair, here I come!
Look for a salon that offers formaldehyde-free products. Instead, ask your stylist to use glyoxylic acid on your hair, which is much safer but ensures the same smoothing and straightening results as formaldehyde.
Another salon treatment you can try instead of Brazilian Keratin is the Keratin Complex. I tried this myself, and it gave me manageable hair! I was so happy with my beautiful hair.
This procedure uses formulas from a classic smoothing treatment to repair damaged hair and make it silky, smooth, and frizz-free.
However, this treatment doesn't straighten your hair; therefore, you are not exposed to any dangerous effects caused by formaldehyde.
If you prefer a home salon keratin treatment, follow the same criteria.
INVERTO REVOLUTION Complex Brazilian Keratin Formaldehyde Free Hair Blowout Treatment is among the most popular home hair straightening products.
It contains no formaldehyde solution, which is much less risky to your health.
Watch Out For Hidden Formaldehyde
You also need to keep an eye out for chemicals that are considered formaldehyde donors and try to avoid them. These include sodium hydroxide and Diazolidinyl urea.
Finally, check that it is free not only of formaldehyde but also of guanidine, methylene glycol, and thio.
Watch out for formaldehyde hiding in products, even those labeled 'formaldehyde free', as other chemicals can release it.
A study published in the Journal of the American Academy of Dermatology of the brands tested, "
6 had formaldehyde levels that ranged from 0.96% to 1.4%, i.e., five times higher than the recommended level; these included 5 brands labeled formaldehyde-free." [4]
For more toxic chemicals to watch out for in hair products, take a minute to watch this video.
FAQs
What is the healthiest keratin treatment?
The healthiest keratin treatment will help hair strength by infusing keratin into the hair cuticles. Products that use Cysteine or glyoxylic acid.
Does keratin improve hair growth?
Keratins are structural proteins that occur naturally in your hair and can improve the structure of hair when it is sealed into the outer layer, which can enhance growth.
However, you need to balance this out with potential hair damage that can occur during a salon treatment.
Are keratin treatments safe?
Modern keratin treatments are safe so long as they do not contain formaldehyde and other dangerous chemicals.
This includes avoiding methylene glycol, "which releases formaldehyde when it is heated during the treatment process" [3].
Choose carefully, as knowing if the chemicals are safe is not always easy.
Conclusion
I hope this has helped you better understand the side effects of keratin treatment. Doing research certainly opened my eyes!
Thankfully, there are safer alternatives you can use to make your hair smoother with keratin.
Do you have a favorite type of keratin treatment? I'd love to hear all about it!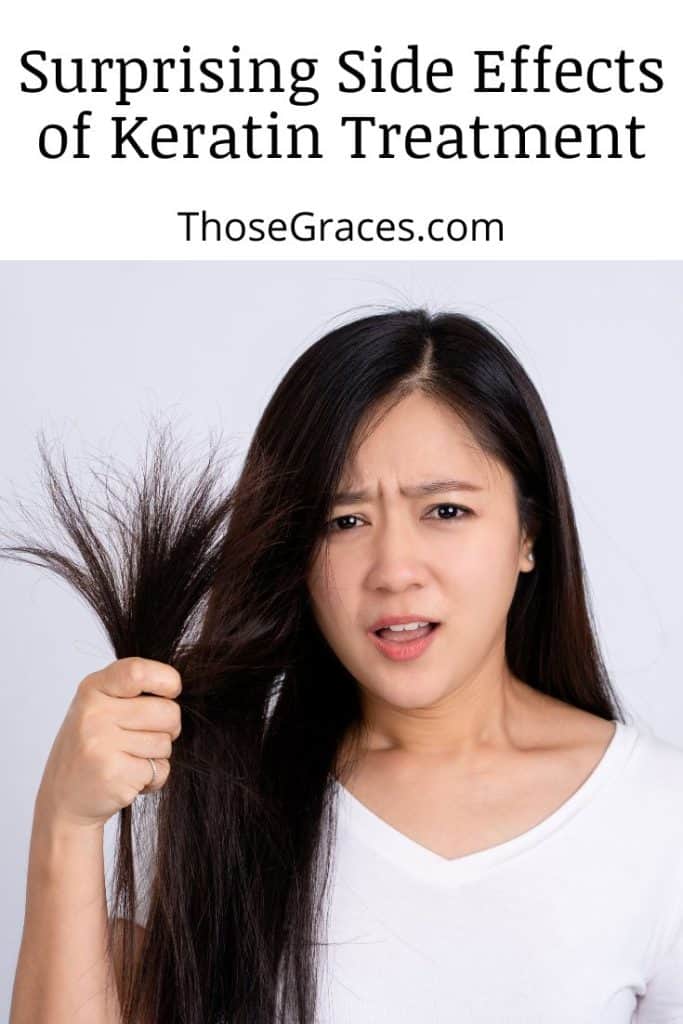 Resources
1. Formaldehyde [Internet]. www.cancer.org. [cited 2022 Sep 3]. Available from: https://www.cancer.org/healthy/cancer-causes/chemicals/formaldehyde.html#:~:text=The%20EPA%20has%20classified%20formaldehyde
2. Environmental Groups Sue FDA to Take Formaldehyde Out of Salons | Environmental Working Group [Internet]. www.ewg.org. [cited 2022 Sep 3]. Available from: https://www.ewg.org/news-insights/news-release/environmental-groups-sue-fda-take-formaldehyde-out-salons
3. What's the Deal with Keratin Treatments? [Internet]. National Center for Health Research. 2015. Available from: https://www.center4research.org/whats-deal-keratin-treatments/
4. Elevated formaldehyde concentration in "Brazilian keratin type" hair-straightening products: A cross-sectional study. Journal of the American Academy of Dermatology [Internet]. 2014 [cited 2021 Aug 12];70:276–80. Available from: https://www.sciencedirect.com/science/article/abs/pii/S0190962213011353