SEO: 12 short hairstyles for round faces and celebrities who wear it
Meta: How to find the best stunning short women hairstyles for round faces to try in 2023
Have you ever seen comments from beauty experts criticizing people with short hair and round faces?
If yes, then the most common remark you've come across must be: "Round face is never a fair pair with short hair."
Well, that is a lie.
The right style, whether it is a choppy pixie, bob haircut, lob cut with side swept bangs, or natural hair textures, will highlight your face, making you look younger and your jawline slimmer.
Below are 12 great ideas on each short hairstyle, their suitability to different types of hair, the ways your favorite celebrities wear them to look flawless on the red carpet, and with the secret tips from their stylists.
So, stick around!
Key Takeaways
Refresh your look with our 12 inspiring picks of short hairstyles. If you have curly hair, straight hair, or want baby bangs with soft waves, we've got you covered!
The best short hairstyle is one that will compliment your round face, but at the same time choose a flattering style that will suit your lifestyle.
If you are going for color, choose a tone that corresponds with your facial features and frames your round face perfectly without looking dull.
Let's have a quick glance at all the 12 short hairstyles for round faces that we're going to discuss.
| Name of the Hairstyle | Appearance | Who is it for? | Celebrities who wear it |
| --- | --- | --- | --- |
| Messy Pixie | Spikey Mess on top; either one-length or short on sides or back | Women aged 20-30 years. Women with striking boyish charm. | Audrey Hepburn Mia Farrow Katy Perry Miley Cyrus Ginnifer Goodwin |
| Cropped Pixie | Practically Primmed on top with sleekness. | Women aged 20-40 years. Round face with a slightly angular Jawline | Ginnifer Goodwin Michelle Williams |
| Pixie with Full Bangs | Layered short hair topped with bangs. | Women aged 20-40 years. Women with heart-shaped faces. Women with big foreheads. | Ginnifer Goodwin Michelle Williams |
| Blunt Bob | Prim-parted from the middle or from the sides | Women aged over 40, 50, or 60. Easier-to-maintain. | Cameron Diaz Drew Barrymore |
| Soft Tousled Bob | Flattering tousled curls on the sides | Women aged 20-40 years. Women with fuller cheeks. | Miranda Kerr |
| Razor-Cut Bob | Sharp middle or side-parted shafts | Teens, or women in their '20s and '30s For confident party looks | Evan Rachel Wood Irina Shayk Bella Hadid |
| Mild Wave Bob | Casually splayed waves | Women from all age groups. Thin hair lacking volume. Women with a double chin or wearing glasses. | Kaia Gerber Emma Stone Kirsten Dunst |
| Graduated Bob | Layered shafts tapered from the back | Women from all age groups. Thin hair lacking volume. Women with a double chin or wearing glasses. | Victoria Beckham Taylor Swift |
| Lob with Full Bangs | Layered shafts tapered from the back | Women aged between 20-50 years. Women with thicker tresses and broad forehead | Mila Kunis Maisie Williams |
| Side Swept Lob | Swept lobs on sideways | Women in their '20s, '30s, or '40s. Women wanting to take attention away from the round face. | Selena Gomez Natalie Portman |
| Textured Lob | One-length textured lobs | Women in their '20s, '30s, or '40s. Medium to coarse, mid-length hair. Women wanting to make their face look longer | Jennifer Lawrence Lucy Hale |
| Tapered Afro | Conservative frohawk curls tapered from sideways | Women from all age groups. Natural African American curls. | Taraji Henson |
12 Chic Short Haircuts for Round Face Shapes
1. Messy Pixie
I love the pixie haircut! It's a great hairstyle that suits women with a genuine boyish charm.
It's a bold and edgy look that can make you feel confident and stylish. Plus, it's low maintenance and easy to style, which is perfect for busy women on the go.
Whether you're looking for a new haircut or just curious about the pixie style, it's worth trying out!
The style became popular in the mid-fifties when the charming short-haired actress Audrey Hepburn first deployed it in her movie Roman Holiday.
And later on, supermodel Twiggy and actress Mia Farrow kept the style rolling throughout the '60s.
In modern days, Katy Perry, Miley Cyrus, Cara Delevingne are among celebrities who often adorn their round faces with messy pixies.
Since round faces boast fuller cheeks, "It adds height to your style like Ginnifer Goodwin's, and it instantly helps propagate your facial profile," according to stylist Olivia Flores[1], a pro educator of Amika.
She also suggests "fake" thicker roots using a volumizing dry shampoo like Cake Beauty the Do-Gooder to give your messy pixie an instant grip and lift with a lasting effect.
If you happen to be the tomboy-in-heart with a round face, the messy pixie hairstyle would be worth trying out to shake things up.
2. Cropped Pixie
While pixies are renowned for their striking looks, they provide short-haired women with round faces and a sleek and prim appearance.
This hairstyle is highly practical for individuals with round faces and a slightly angular jawline.
It not only complements their facial features but also demands less time and financial investment, all while providing a heightened sense of expressiveness.
Look at Ginnifer Goodwin's classic pixie look,
where she defines auburn hair on her cropped pixie.
Or maybe you'd like to try Michelle William's look, which is pretty straightforward yet infallibly gorgeous for her round face.
Stylist Marjan [2] is a great admirer of the cropped pixie. She says,
"A side-sweep in your front will keep this cut delicate, and the cropped sides and back will lengthen through your neck. Either way, it's great on your angular jawlines."
She recommends cropping both the back and the sides using the 'scissor over a comb' method for soft ends.
3. Pixie With Full Bangs
This form of pixie is made up of pointed, layered short hair that takes a magical turn when you top it off with curtain bangs.
What makes this style unique is that you won't have to worry about detangling your hair if it's done correctly.
And needless to say, it graces your round face regardless of the shape of your forehead.
Remember Anne Hathaway's boyish days a few years back? She knew exactly what looks great on her.
The deftly worked-out pointed bangs gave her the heart-shaped face she desired.
And when you look at the choppy version of this style on Viola Davis's face, the face-framing layers do wonders for her face. The full bangs covered up her big forehead, flaunting the tremendous facial features of her round face.
The adaption to this style will wonderfully benefit round chubby faces to drive the attention away from large foreheads
4. Blunt Bob
Short hair and Bob-cut have long been an unbreakable combo for the classic hairstyle.
A typical bob is cut between the ear tips or the length below it, which sets it above the shoulder line.
The style never lost its appeal and fits with every possible age group.
The blunt bobs are known for the most classic looks that involve primer and easier-to-maintain hair shafts.
This easy-to-maintain short haircut is well suited for those women over 50.
The blunt bobs that Cameron Diaz and Drew Barrymore wear can be translated into the most impressive short hairstyle.
Stylists like Ounanian and Gabrielle call it the "epitome of chic, lowly side-parting hair".
They recommend working on the mid-section of hair with a flat iron to give it a wavy movement for a more natural volume look.
5. Soft Tousled Bob
While soft curls complement nearly all hair types, they add an extra touch of flattery to short hair. More specifically, when a soft bob just frames a round face perfectly.
The style is perfect for women in the age group of 20-40 years.
Take a look at Miranda Kerr's tousled bobs on her round face.
Her Celeb Hairstylist, George Papanikolas, suggests keeping the curls below your chin line for adding width around the right places[4].
And he also recommends Moroccanoil Luminous Hairspray or similar stronghold sprays for longer-lasting effects.
6. Razor Cut Bob
Razor-cut bobs look sleek and sharp, and it lucidly adds a unique dimension of elegance to the appearance of short-haired women with round face.
Middle-parting or parted on one side, this hairstyle gives you the most confident "party look".
While it's mostly preferred by teens and girls in their twenties, many celebrities in their late thirties love to wear it in various contexts.
Most notable among them is Evan Rachel Wood, whose striking razor ends look breathtaking every time she appears both on and off-screen.
And don't forget the stunning looks of Irina Shayk and Bella Hadid.
"It's essential to focus on what you're trying to accentuate"[5]
says Jon Reyman, celebrity hairstylist and Dyson global stylist. "If it's cut below the chin line, it will naturally draw your eyes downward and toward your jawline."
7. Mild Wave Bob
Adopted by so many Hollywood celebrities that many started calling it the "Drama Cut."
For short, thin hair that lacks volume, mild waves are the perfect option for a round face.
And the style is widely admired for its universal suitability across women of all age groups.
The likes of Kaia Gerber and her stylist Guido Palau, suggest using a thicker-barreled curling iron for mere touchups to achieve mild waves.
Emma Stone and Keira Knightley have been gracing this hairstyle around Hollywood with confidence.
This style can be an excellent choice if you have a double chin or for those who wear glasses.
According to stylist Cervando Maldonado, you may be better off with more added volume like Kirsten Dunst if that's the case for you.
8. Graduated Bob
Graduated bobs are tapered from the back while still containing layers.
It adds movement and dimension to your hair, making a round face look livelier and more glamorous.
It's well suited for women aged over 40.
Think of the elegant bounces on Victoria Beckham's graduated bob. It matches perfectly with her round, tender face.
And remember Taylor Swift's enchanting look when she ditched her tousles for a bit fuller graduated bob? Captivating!
Stylist Reyman says,
"The graduated bob precisely matches those wanting a casual and more low-maintenance style. It retains your below-chin length of hair, but it does cut the back a tad shorter." He adds, "Get your stylist to taper the hair from slightly down the nape for the natural look on both straight and wavy hair."
9. Lob With Full Bang
This haircut is a hairstyle for short hair that tends to be slightly on the longer side with the ends just above the shoulder line.
It's considered particularly ideal for those women who like to make their faces look less round.
Both sleek and messy bangs have been gracing the appearance of short-haired celebrities for decades.
You may just want to play with the lobs like Mila Kunis, whose bangs are cut through the sides and the back of her espresso bob.
Her layered bangs are divided into sections that elegantly frame her eyes, creating a captivating appearance.
Or maybe you'd like to go as carefree as Game of Throne's Maisie Williams, who prefers to leave her lobs bouncing by her fuller round cheeks.
It's especially ideal for those with short hair, who like to adapt to a messier lob, but not for those with hair shorter than ear level.
Well-renowned celebrity hairstylist Jon Reyman says,
"Mila Kunis's bangs have a bit of airiness to them, which naturally breaks up a rounder face shape."[6]
10. Side Swept Lob
Just as the name goes, you can simplistically achieve this style by sweeping them sideways.
It's mostly an adapted style for women in their 20 and 30.
Take note of Selena Gomez, who draws all the attention away from her round face with this hairstyle while her lower chin draws down her eyes to elongate.
Natalie Portman's nonchalant blondes give this tremendous outcome more credence who has mastered the look with her slightly longer shafts.
So, what are the expert tips for this haircut?
Justine Marjan says,
"Ask for a length that hits anywhere between an inch below your chin to your collarbone and for layers to focus toward the ends and less around the face,[7]"
For a round face, the iris, arch, or edge of the eyebrow is usually a good gauge for where you might want to part your hair, she adds.
11. Textured Lob
For hair thickness somewhere between medium and coarse, a one-length textured lob can ideally be a solution for their round face.
Especially for those not-too-short and not-too-long hair lengths.
It's kept a few inches down the chin to make a round face look longer.
Women of all ages can adapt to this hairstyle to look perfect in a wide range of contexts.
You may have noticed how Jennifer Lawrence sweeps her bangs to create angles on her round face. It has been her signature look for the past couple of years.
Lucy Hale has got an almost identical cut. The only difference is she likes keeping the ends flicked inward while Jennifer prefers them flaunting outward.
"It's the modern version of Debby lob," remarks hairstylist Gareth Bromell.
He adds,
"If you like to get this effortlessly undone hairstyle, I would recommend using the Salty Dog salt spray by Evo, for it'll help you maintain a dryer texture for the ultimate suitability[8]."
12. Tapered Afro
For round faces with natural African American curls, the tapered afro hairdo is an ideal option.
Especially when you don't want to part with the hair length.
This conservative frohawk slightly tapers to create a smooth transition that directs the eyes toward your long, textured locks.
Adding matching hair color makes will your hairstyle pop.
Stylist Reyman is a fan of Taraji Henson's tapered afro look.
He says,
"It helps her create an appearance that is something less wide.[9]"
He suggests using a hydrating curl cream like Moroccanoil Curl Defining Cream for both definition and a perfect moisture level.
FAQs
What hairstyles should round faces avoid?
Hairstyles for round faces should aim to create the illusion of a more elongated and balanced face shape. Styles such as chin-length bobs can accentuate the roundness of your face. Consider longer bob styles that graze the collarbone or longer. It's always a good idea to consult with a professional hairstylist who can provide tailored advice based on your individual features and preferences.
What hairstyle can I get to hide my round face?
Opt for longer haircuts that go beyond your chin, as longer hair can help elongate your face.
Consider layered cuts and styles that add texture and volume at the crown, helping to create the illusion of height.
Side-swept bangs can help break up the symmetry of a round face and create angles.
Remember that the goal is not to completely hide your round face, but rather to use hairstyles to enhance your features and create a more balanced appearance.
Are bangs good for a round face?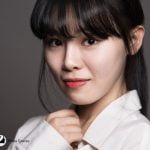 Yes, bangs can be suitable for round faces, but it's important to choose the right type of bangs that flatter your face shape. Confidence is key—wear the hairstyle that makes you feel comfortable and beautiful.
On a Final Note
All the hairstyles I've discussed above are pretty much the baselines of short hairstyles for round faces.
Dozens of variations can evolve from them.
You can easily identify a few on your own as you stay updated with current trends and continue your efforts to experiment with new styles.
In the end, the goal is to create balance and enhance your natural beauty.
Share your thoughts on the hairstyles in the comment box below.
Sources