Wondering how to apply self-tanner with a mitt? Self-tanners help you get a beautiful color that lasts about 7 to 10 days, which means you have to be much more careful since it's going to last a week.
You have to exfoliate first, moisturize dry areas, and make sure there are no dark patches for a flawless finish.
I've dabbled with tanner mitt applicators for a while, and I'm glad to share it all with you in this comprehensive guide. Read on for a golden glow!
Key Insights
Always apply self-tanner on freshly exfoliated skin.
Do not wash off the product for at least 12 hours.
You can use rubber gloves, socks, or even your hands if you don't have a tanner mitt.
It's safe to get a fake tan once every week.
How To Apply A Self-tanner With a Mitt?
Let's start with the basics. A self-tanner comes in many forms, including lotions, gels, mousses, sprays, wipes, creams, and powders.
Many topical self-tanners have dihydroxyacetone (DHA). DHA is a sugar molecule from plants that react chemically with the amino acids in the stratum corneum to produce pigment when applied to the skin. (1)
Dr. Sabin Wizemann, a senior chemist, says,
"The active ingredient in most self-tanners is dihydroxyacetone or DHA, which has been allowed by the FDA for external use." (2)
Once DHA is applied to the skin, it takes approximately two to four hours to begin the tanning process, and it can continue for 24 to 72 hours.
Now let's talk about applying a self-tanner with a mitt.
1. Prep
Take a long, hot shower and exfoliate your entire body to remove dead skin cells. Body scrubs help create the base for bronzed skin. Preceding body scrubbing can lead to unsightly patches in the skin.
2. Should You Moisturize Before Self Tanning?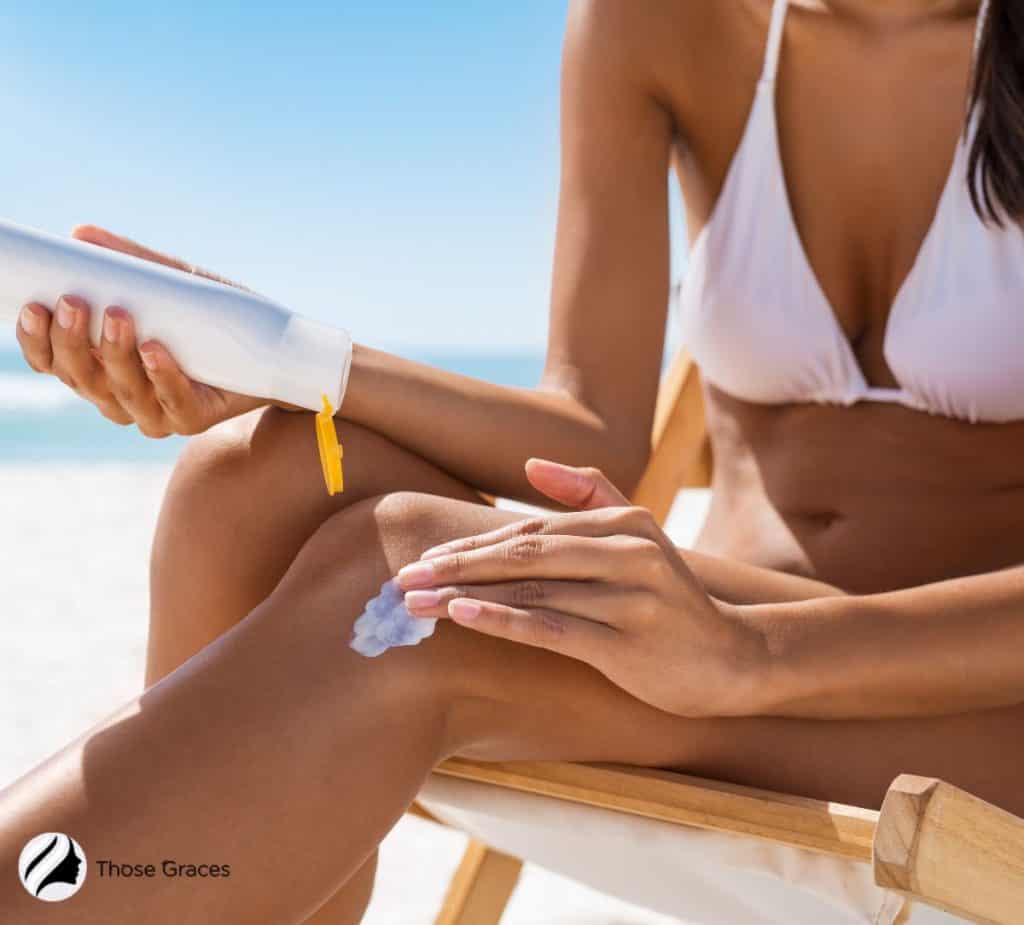 You should apply body moisturizers after showering, but not on the entire body. It's crucial to apply moisturizer on parts that tend to dry, such as your feet, ankles, palms, elbows, and knees.
Some people get dark spots and rashes from self-tanning with super dry skin or allergies, but I explain how to get rid of a rash from the self-tanner here.
Other than these areas, ensure you have dry skin before applying body self-tanners for flawless application.
3. Wear Your Tanner Mitt Applicator
Now is the time to wear your sunless tanning mitt and get a gorgeous glow with your product.
Protecting your hands is essential unless you want to end up with dark hands for a week (trust me, I've been there!)
Pump some product on your hands and get to work. Beautiful tan skin awaits.
4. Where To Apply the Self-tanner?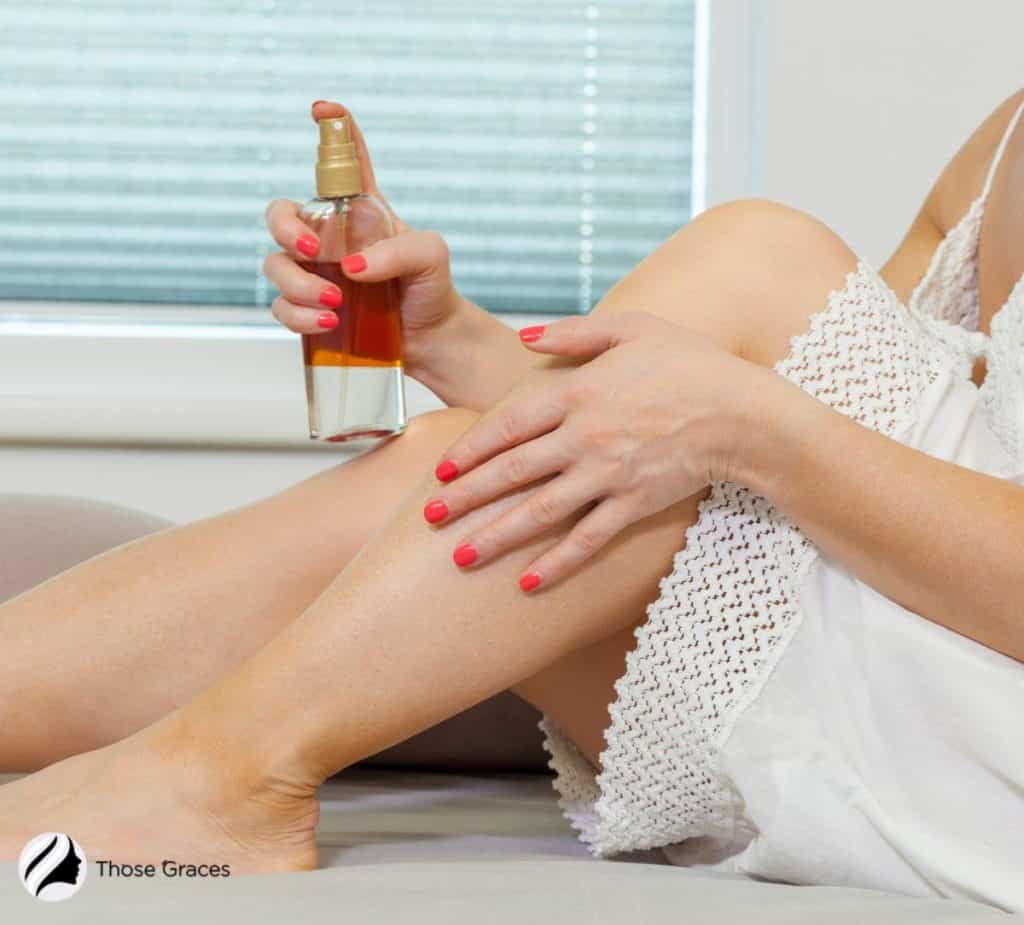 It is best to start with the legs and then gradually work upwards. If you're using a tanning spray, spritz the product on your skin and blend it with your self-tanning mitts for a natural finish.
It can be tricky to tan your back, especially if using a cream or gel product. I usually ask my partner to do it for me, but if I don't have anyone around, I find it best to use a tanning spray for my back.
I bow my head and spray the product over my shoulders. Then I bring my arm down and spray it on my lower back. Easy peasy.
Always sweep the product over your skin in circular motions to achieve a golden glow.
5. Clean up Any Mistakes
This is the time for you to clear up any additional product, especially in your joints. Use a damp towel to clean up any mistakes and excess products.
Then, sit back and let the color develop, honey! Don't shower or wash your skin for at least 12 hours to ensure a great tan.
Don't even spritz on perfume! Wait 12 hours, and you're ready to take on the world with a gorgeous glow.
Some people get dark spots and rashes from self-tanning, but I explain how to get rid of a rash from the self-tanner here.
Here's a video on using a self-tanner with a mitt.
Can You Tan Without a Mitt?
Tanning makes you look healthier, and there's research to back that. Studies show that people perceive tan skin as more attractive than non-tan skin. (3)
Most experts agree that applying a sunless tanner with a mitt is the best way to achieve a flawless tan. But if you don't have a tanner mitt, you can still use a sunless tanner for a summer glow.
So, what can I use instead of a tanning mitt? Read on as I tell you what to use instead of a tanning mitt for a perfect shade.
What To Use if You Don't Have a Tanning Mitt?
Sometimes I can't find my self-tanning mitts, so I did a few tests to find out how to apply self-tanner without a mitt.
I've done it quite a few times and with great results, which makes me believe that these are great alternatives.
While we're on the topic, have you wondered what self-tanner celebrities use? You can have a celebrity tanner too!
Here's how to make a perfect self-tanner application without a mitt.
1. Rubber Gloves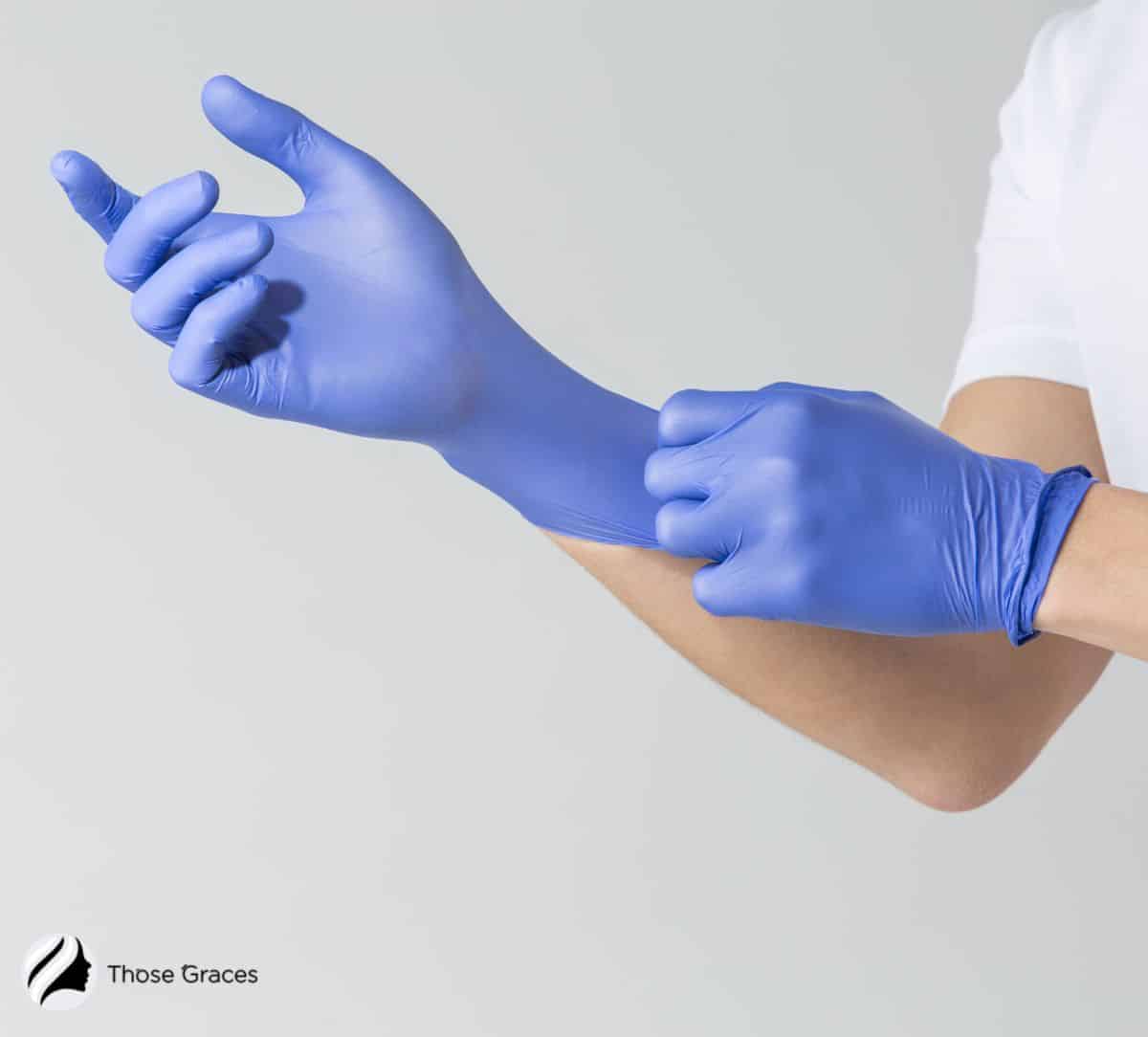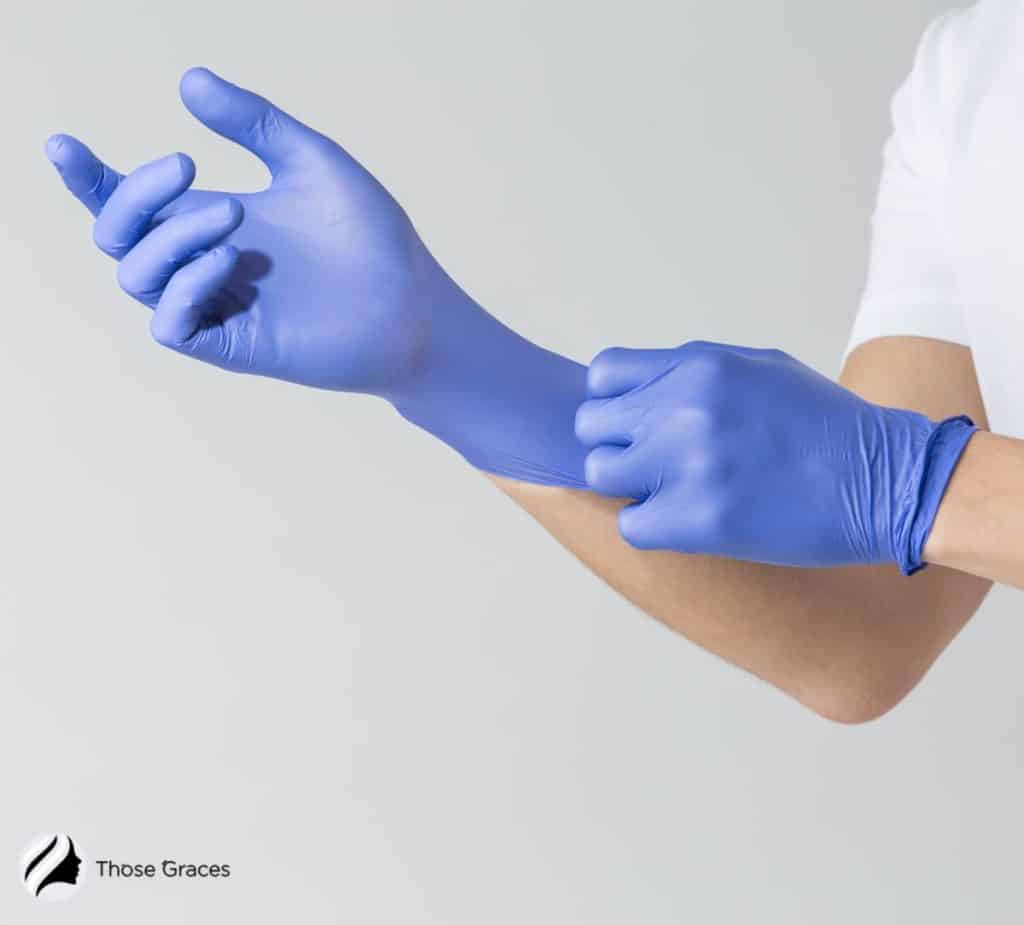 Rubber gloves in your kitchen or bathroom work just fine for applying a self-tanner.
But you must remember that these gloves don't absorb the product as the tanner mitt does, so be careful while applying the product.
While you will save some product, getting a blotchy tan with these gloves is easy, so work on small sections with little effect.
Wash off your gloves as soon as you're done.
2. Socks
This is my absolute favorite alternative to using a tanner mitt. It feels and works pretty much like a tanner mitt does and helps me get a beautiful tan every time.
The results are better than a rubber glove since the product goes much smoother on the skin. Turning your sock inside out and then working the product into the skin is best.
Socks absorb a bit of product, much as tanner mitts do, so keep that in mind while applying your tanner.
3. Hands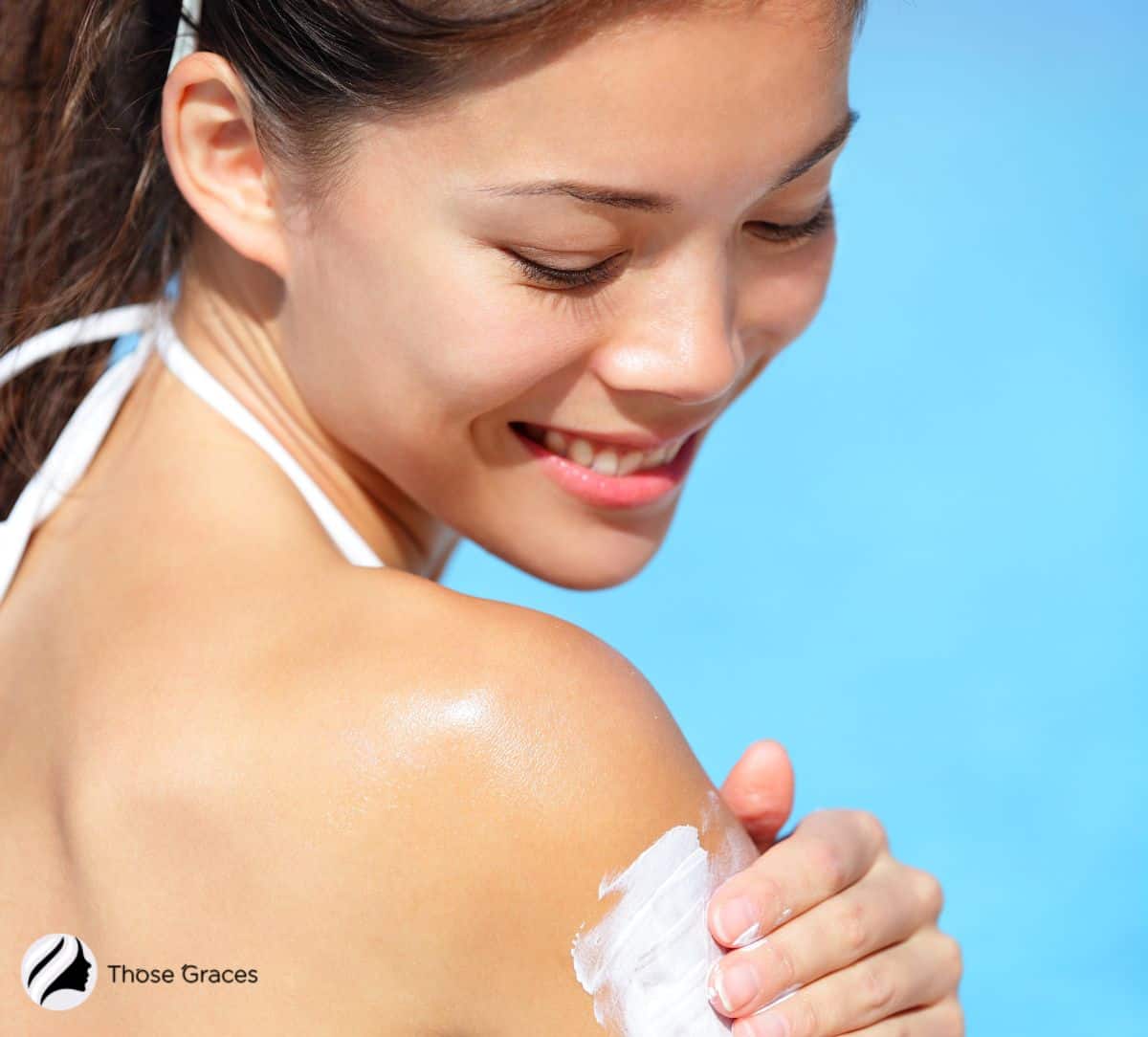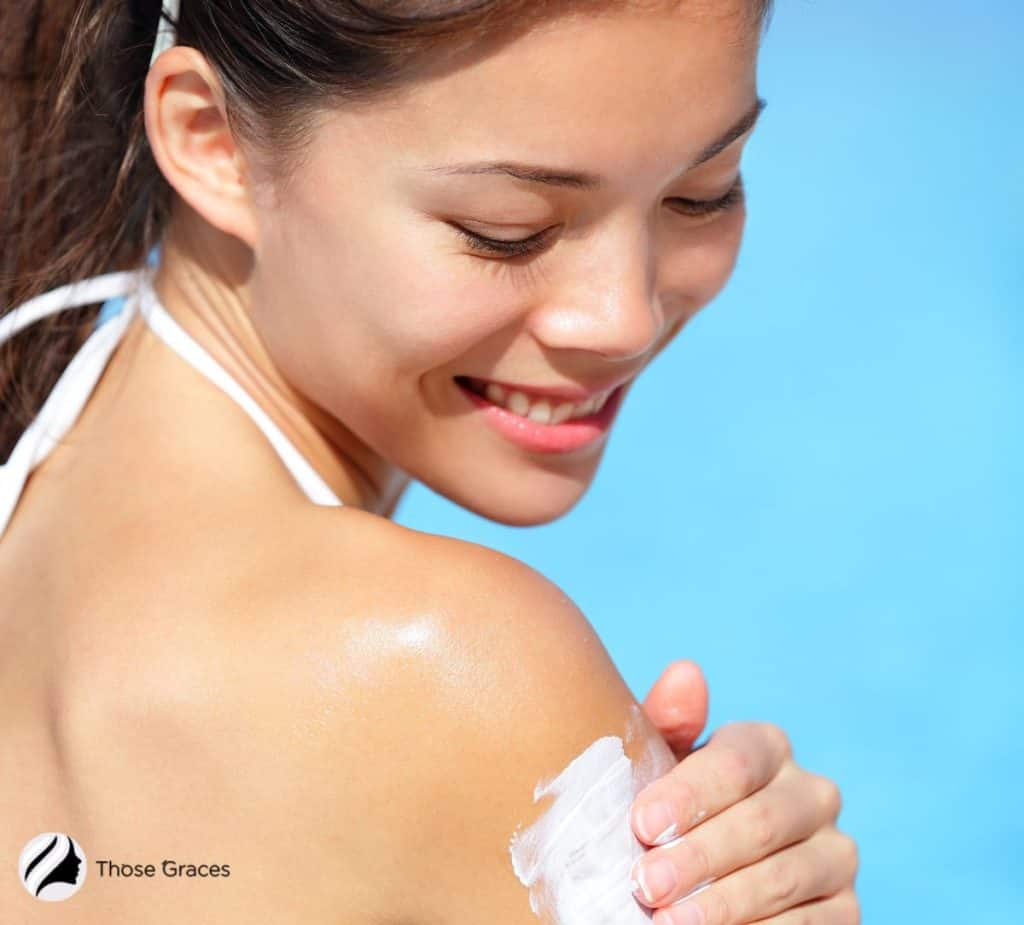 I know this is not the best alternative to applying a sunless tanner, but honestly, nothing feels as easy as using your hands on the skin. After all, it's your hands, and you have complete control.
Just pump some product into your palms and apply the product all over your body. It's as easy as that.
The most crucial step, however, is to wash your hands thoroughly after you're done tanning. And don't wait a few minutes to do it, do it right after.
I even use an exfoliator to ensure all the tan is scrubbed off before it develops on my hands and I get self-tanner stains.
How To Apply Self-tanner Without a Mitt?
Now, let's talk about how to apply a fake tan without a mitt. Is the process different from applying self-tanner with a mitt and without?
No! The process is still the same. For a quick recap, here's how it goes.
Shower and exfoliate the skin thoroughly.
Moisturize the areas that tend to get very dry, such as knees and elbows.
Pump some product out and start with the legs.
Work the product in circular motions for an even tan.
Wait 12 hours before showering or sweating.
Here's a short video on how to apply self-tanner without a mitt.
How Often To Apply Self-tanner?
Most self-tanners are safe to use, even on the face. Since tans fade off in about a week, you can make this a weekly ritual and apply a self-tanner once weekly.
If you want a darker color, you can apply it more than once a week. But tread carefully. You don't want to look too dark too fast.
I have realized that going two shades darker is the safest bet and looks most natural on me, but hey, you do you!
FAQs
How long does a sunless tanner last?
Sunless tanning product lasts about 7–10 days.
Can I use a microfiber cloth to apply the self-tanner?
Yes. Most tanner mitt applicators are made of microfiber material that guarantees a smooth application process.
Can you apply a fake tan with a damp mitt?
No. Your sunless tanning mitt applicator should be completely dry before contacting skin cells.
Can you apply a self-tanner with latex gloves?
Yes. Latex gloves are an excellent alternative to tanning mitts.
Conclusion
If you thought learning how to apply a self-tanner with a mitt would be hard, now you know it's straightforward. I love getting a sunless tan because it is the least harmful method of getting a bronzed look.
Of course, I love laying in the sun just as much as other people, but skin cancer is not a risk I am willing to take.
Instead, I pop open a bottle of my favorite sunless tanner and look like I've spent the entire weekend on the beach. And you also can!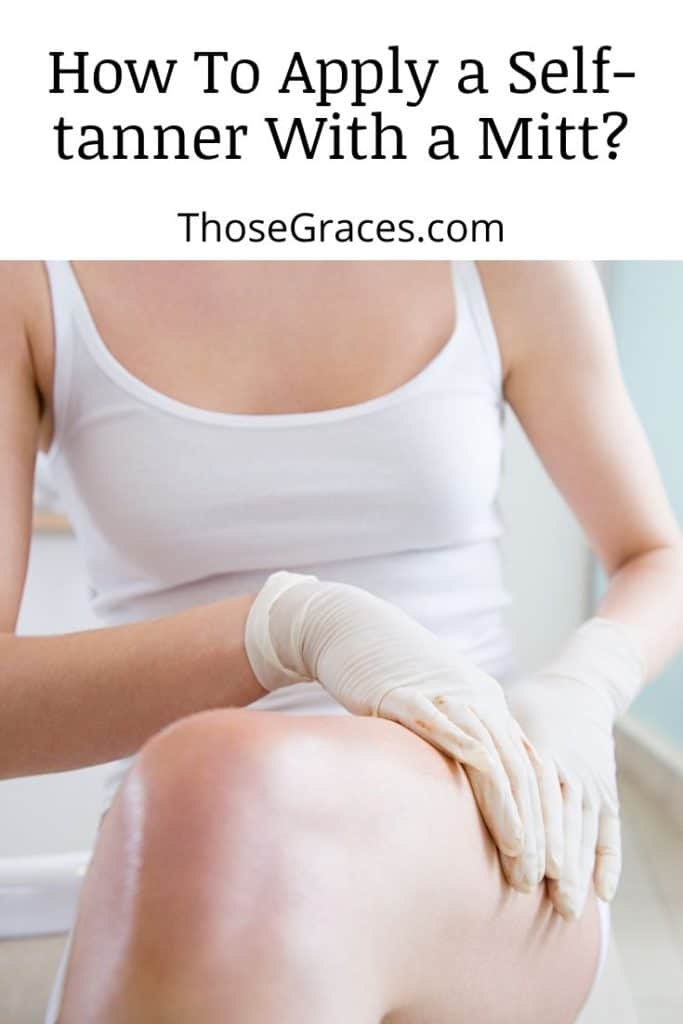 So, did you get the steps to apply self-tanner with a mitt? Don't forget to ask us in the comments section!
References
1. Garone M, Howard J, Fabrikant J. A review of common tanning methods. The Journal of clinical and aesthetic dermatology [Internet]. Matrix Medical Communications; 2015;8:43–7. Available from: https://www.ncbi.nlm.nih.gov/pmc/articles/PMC4345932/
2. Saporita N. 15 Best Self-Tanners to Get a Streak-Free, Natural Glow [Internet]. Good Housekeeping. 2017. Available from: https://www.goodhousekeeping.com/beauty/anti-aging/tips/g127/best-self-tanners/
3. McIlwain MJ. A Cross-sectional Study Examining the Correlation Between Sunless Tanning Product Use and Tanning Beliefs and Behaviors. Archives of Dermatology. 2012;148:448.