If you're looking for tips on how to make your own hair dryer holder, you're in the right spot!
I've tried so many ways to keep my favorite hair styling appliance both within reach and out of the way, which isn't easy in my teeny bathroom.
Below are my three favorite methods, all of which are easy enough to DIY with very little craft experience.
Let's jump in!
How to Make the Best Hair Dryer Holder in 3 Easy Ways
Storing your hair dryer often becomes a hassle after blow-drying your hair.
You want the appliance to stay safe and away from the moisture in your bathroom but also stay within reachable distance.
Guess what? It's not as impossible as it sounds! There are three ways to do it quickly that won't cost much (if anything). Let's start with the simplest and work our way up.
1. A Cardboard Stand
This is the most common and conventional type of DIY stand for your hair dryer. If you are a DIY newbie, I would say go for it.
Maybe you will feel confident enough to try some other haircare organizing hacks later on after the success of your cardboard holder.
What you will need:
Cardboard (something flexible enough to bend)
Scissors
Superglue
Suction cups
How to do it
Step 1: Roll the cardboard into a cylindrical tube. The tube does not need to be too long, or it will gather dust.
Make sure to measure the cylinder against the mouth of your dryer before you make the final cut.
Step 2: Cut the right size and shape and hold it in place as you stick the ends together. I have found that super glue does the job the best. You might have to wait for it to dry, but it provides a strong structure and a clean look.
Step 3: Attach the suction cup(s) to the wall. Choose a position at waist length away from the possibility of water damage.
Step 4: Make corresponding holes in your cardboard cylinder. Try to be precise in keeping a stronghold.
Step 5: Attach the suction cups and cylinder.
Additional Step: If you are worried about the cord hanging, cut a slight oblong U-shape to hold the cord.
Pro Tip: Decorate the cardboard before attaching it to the wall to look good in your bathroom.
See the video for more tips:
Curious about optimizing your drying experience? Dive into my articles on "hair dryer wattage" for the best power choices and "How to Remove The Concentrators for T3 Hair Dryers" to tweak your tool with ease!
2. Spiral Holder
A more sturdy alternative for hair dryer holders is the spiral option. It will provide all the supports while looking aesthetically pleasing if you bend the hanger right.
What you will need:
Metal cloth hanger
Pliers
Hook or suction cup
How to do it
Step 1: Start with the bending. Push the longest side of the hanger inwards towards the hook. It will divide the hanger frame into two distinct sides.
Step 2: Bend the wings inwards in a circular shape to hold your hair dryer. Do not forget to try it with the dryer to see if the gadget holds the weight well. Use pliers to get the desired shape.
Step 3: Attach a suction cup or a hook to the wall as per your needs.
Step 4: Hang the spiral by the hook, and you are done!
Check out the video for another way to do it:
3. Using a Hook
If you own a hair dryer that has a unique shape and will not fit in any conventional holder, you will have no choice but to improvise.
This will require some drilling on your part, so keep your safety goggles at the ready [3].
What you will need:
A hook
A drill and corresponding parts
Elastic bands
How to do it
Step 1: Mark the correct position. It should not be too high or too low and away from splash zones.
Step 2: Drill. Depending on your hook type, you will have to make one or two holes in your bathroom wall.
Step 3: Attach the hook.
Step 4: Make an elastic tie contraption to hang the blow dryer on the hook easily.
Loop the elastic bands together and have them wrap around the tail end of the dryer, then turn it around the hook.
You can also use something like this:
DIY Hair Dryer Holder FAQs
Which is the best way to make a hair dryer holder?
There is no one way that will be the best for all. It depends on your initiative and experience with DIY.
For example, a cardboard stand will have a shorter life than a hanger stand, but if you are comfortable making the latter, go for it!
How to attach my hair dryer to the wall?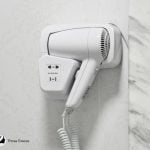 You will need support to hold your hair dryer up to the wall. The hair dryer holder will allow you to attach the dryer to the wall safely.
The main attachment will be done by a nail, hook, or a suction cup that will attach the stand to the wall, which will host your dryer.
Can you make a hair straightener holder?
If you are a DIY enthusiast like me, you know we can make anything ourselves.
Making the best hair straightener blow dryer stand will follow the same principle so you can try some of the hacks mentioned in this article. Just keep it away from water.
What to do about the dryer cord while storing?
If you are making a stand, you must accommodate the size after the dryer has the cord wrapped around it. You can also attach two hooks at a certain distance through which you can loop around the cable of the dryer.
Conclusion
Now you know all the details behind hair dryer storage. It was easy, right? I hope you feel more confident in the power of DIY now!
Any of the three tips mentioned above will help you keep your hair dryer safely stored in your bathroom, ready for use anytime you need a quick blow dry.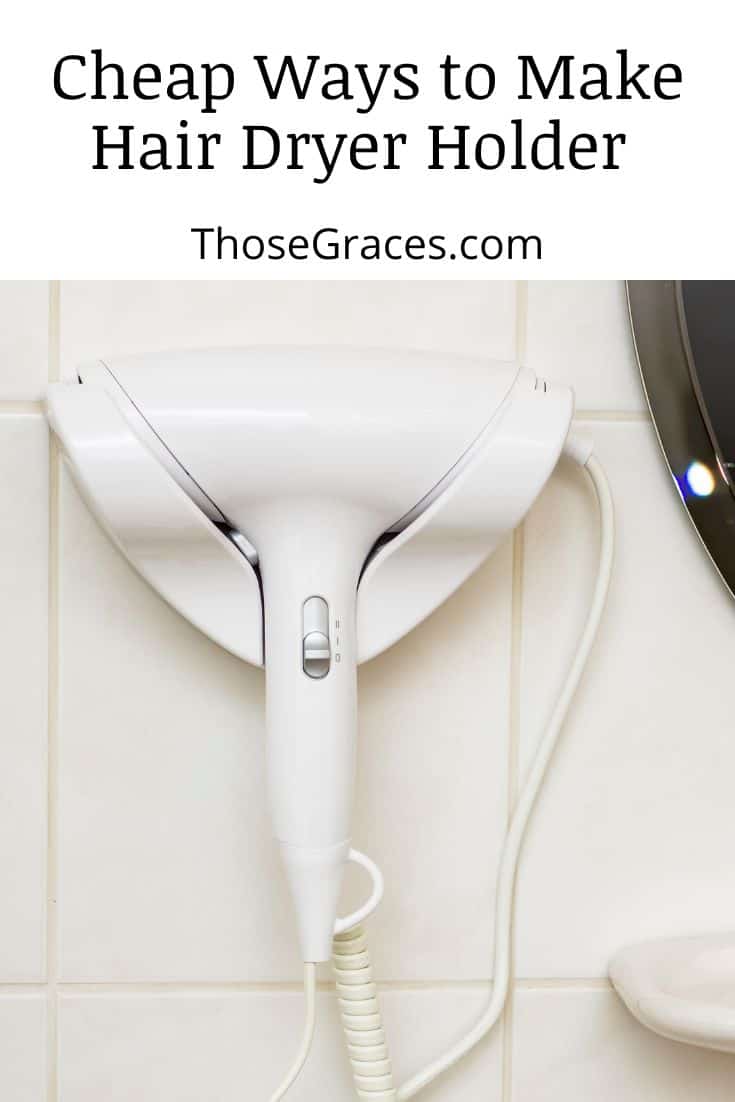 What are your favorite DIY hair dryer holder ideas? Share below!
References
1. Doityourself Staff. 7 Safety Precautions When Using Your Power Drill [Internet]. Doityourself.com. DoItYourself.com; 2010 [cited 2021 Dec 13]. Available from: https://www.doityourself.com/stry/7-safety-precautions-when-using-your-power-drill