Are you thinking to yourself, "where can I find the best permanent makeup near me?"
The permanent makeup industry is booming, and according to the Society of Permanent Cosmetic Professionals (SPCP), the number of trained technicians has increased tenfold within the past three years alone. (1)
Everyone desires to look their best at all times. And that's why I have come up with a comprehensive guide on how to find the best permanent makeup artist near me.
Key Takeaways:
Choose a makeup artist with tons of expertise.
Do not look for cheap services. Opt for quality over price.
Since permanent tattoos last a few years, you need to be careful about who you choose.
What to Look at to Choose the Best Permanent Makeup Artist?
Essentially, permanent makeup is a form of tattooing because it involves the use of a needle to insert pigments directly into the dermis of the skin. (2)
Kendra Bray, permanent makeup artist and owner of Better Brows & Beauty, says,
"Permanent makeup, semi-permanent makeup, cosmetic tattooing, and micropigmentation are all names for the same thing, which is implementing pigment into the papillary layer of the dermis." (3)
The hassle of not having to do their daily makeup is truly time-saving for all age groups.
Studies show that a desire for attractiveness is not a matter of age, and there is a positive effect on self-perception of facial makeup. (4)
When you decide on taking the permanent route to perfection, here are some things you need to bear in mind while choosing permanent makeup services.
And also, check out the best professional pmu machine while you're at it.
1. Confirm The Makeup Artists Previous Work
Social media is rife with before and after pictures of permanent makeup procedures, which you will want to check out before signing up for a consultation appointment.
Check to see how long they've been working on permanent makeup application and micro pigmentation.
Some businesses are shady and can simply copy-paste other artists' work into their social media. As customers, you must always remain vigilant and check for authenticity.
Also, be sure to check out the skin tone and skin types these artists work with. It's best to find Pmu artists that have worked on skin similar to yours.
2. Evaluate Work Quality
Just because they've been in the business for a long time doesn't mean they are perfect at what they do.
Permanent makeup procedures require artistic training as well as additional training that comes from years and years of experience.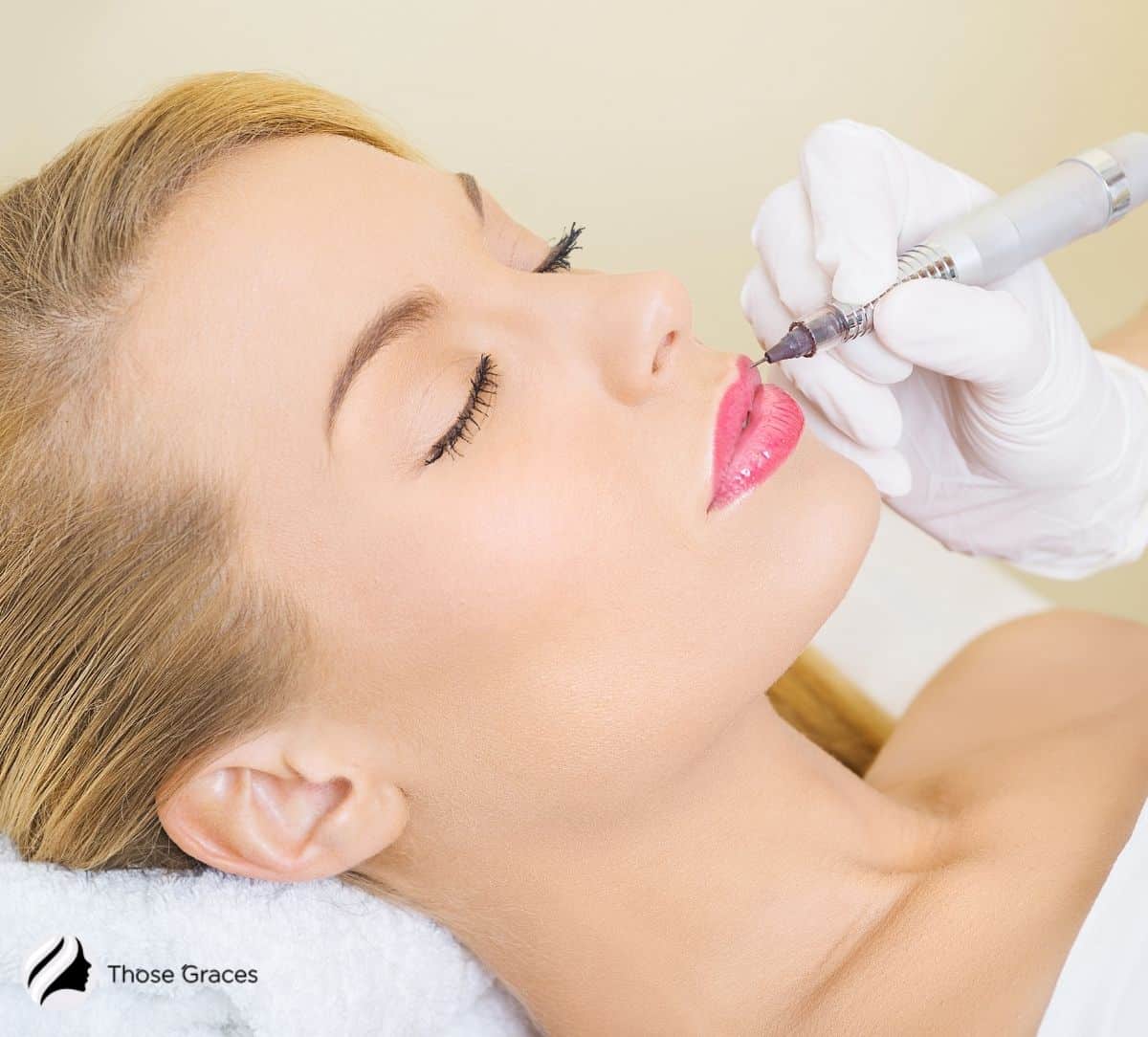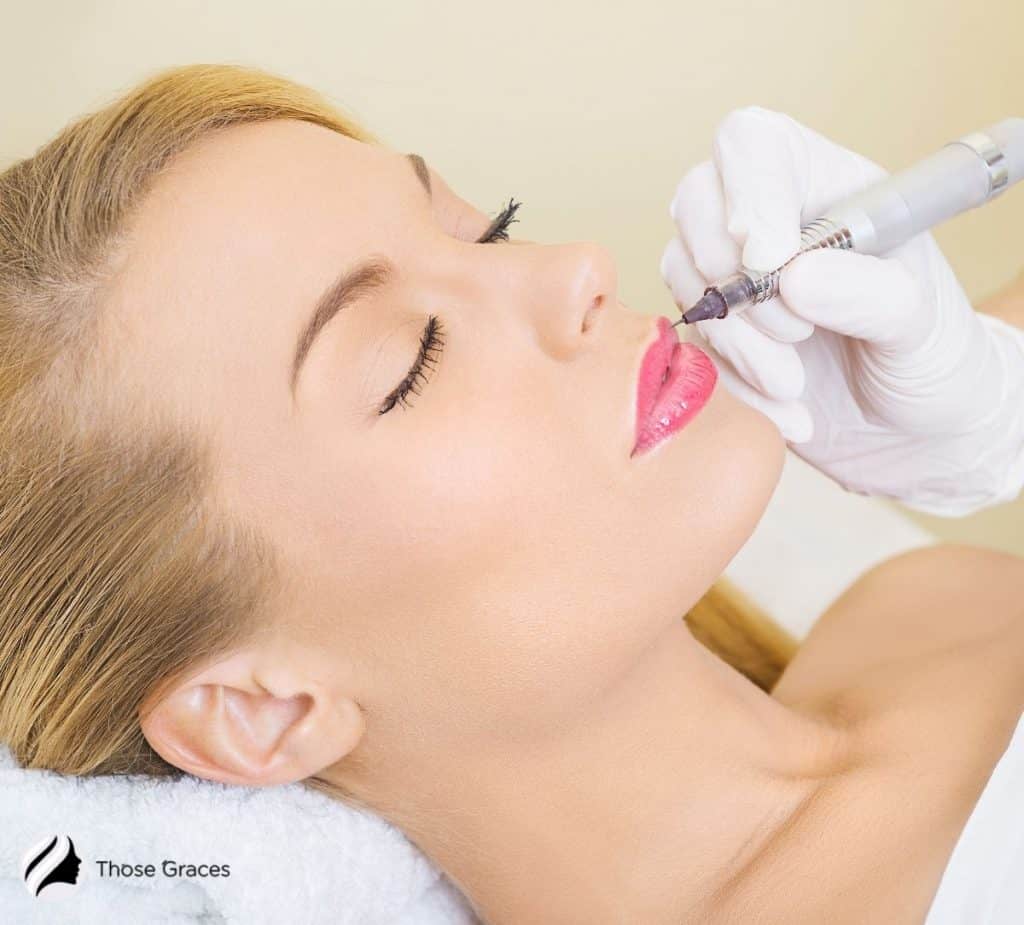 Some makeup artists have given the industry a bad name by using the same stencil for every customer. A good artist knows that the application of pigments is not a one-size-fits-all.
Every client requires a different color selection and method. Be sure to check out their overall work quality and the appearance of color on the client's skin.
3. Check Client Testimonials
One of the best ways to find a good cosmetic tattoo specialist is to look for client reviews. Potential clients must always look at product reviews first before booking their appointment.
Look for artists that make sure their clients have a comfortable experience in their studio. Also, try to find out about their variety of color options and if they offer aftercare kit items after the session is over.
New artists may not have as many reviews in their portfolios, and it is up to you to decide whether or not you want to give them a chance.
But since these are permanent cosmetic tattoos, I suggest you find one with many reviews in their portfolio.
4. Find Experts
It is pretty impossible to find an all-around permanent makeup artist who is good at everything!
Some artists may be good at lip blushing, some at freckle tattoos, and others at powder brows and lip filler. You get my gist!
Instead of finding an artist who claims to do it all, find artists who hold expertise in the chosen field of your interest.
Top-rated permanent makeup artists usually charge higher than these so-called all-rounders, but it will be worth it. After all, your skin deserves the best, doesn't it?
Dr. Seema Malik says,
"Before committing oneself to permanent makeup, the expert should make the client aware about the potential problems of having it removed later and the complications that may ensue." (5)
If your choice of an artist does not explain the procedure in detail, along with the side effects that may occur, then you need to find another.
ALSO CHECK: Best Beginner Tattoo Gun
How To Find Permanent Eyeliner Near You
Now that we have the basics covered let's talk about finding the best tattoo eyeliner near me.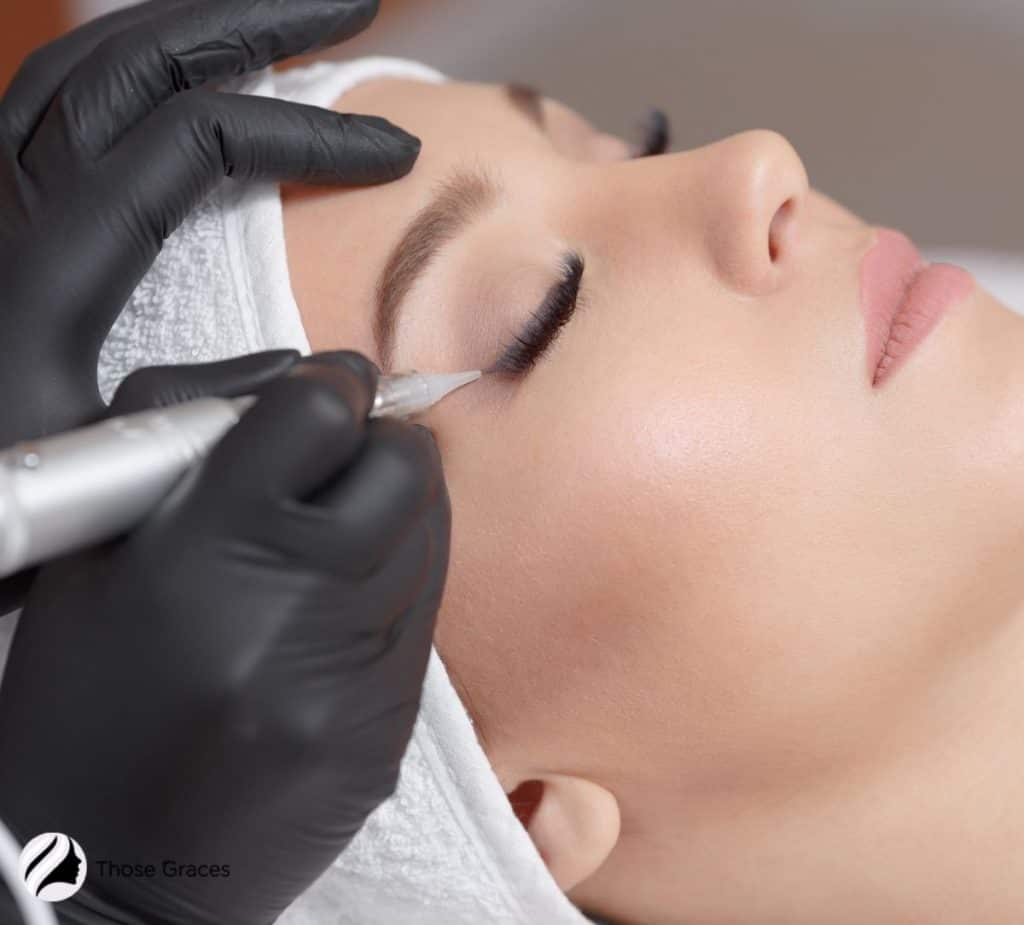 You may also be interested in reading "Is permanent eyeliner safe?" before you sign up for the best permanent makeup near me.
Brenda Ton, a permanent makeup artist, says,
"Anyone looking to have this service done needs to do their research in picking the right person. Looking at before and after photos and reading reviews of past clients is the most efficient way to do this." (6)
Finding a seasoned artist is very important unless you want to end up with patchy, uneven eyeliners.
Sure it takes only 45 minutes to get the procedure done, but the results last for up to five years. Now that is something you don't want to gamble on!
If you also have a tendency to get allergies or irritation from pigments, you must do a patch test first before the actual procedure is done.
Dr. Rachel Nazarian, a dermatologist at Schweiger Dermatology Group, says,
"If there's any concern that you might have an allergy to the ingredients in the pigment, I would recommend doing a small patch test on the individual ingredients first, which can be done with their local allergist or dermatologist."
You may be interested to watch this video on eyeliner tattoos.
Find Brow Artist Near You
Brow enhancement is one of the most sought-after body tattoos because it drastically cuts down on makeup time.
Eyebrow tattoo, aka microblading, covers up all the sparse areas and gives you a great brow shape instantly.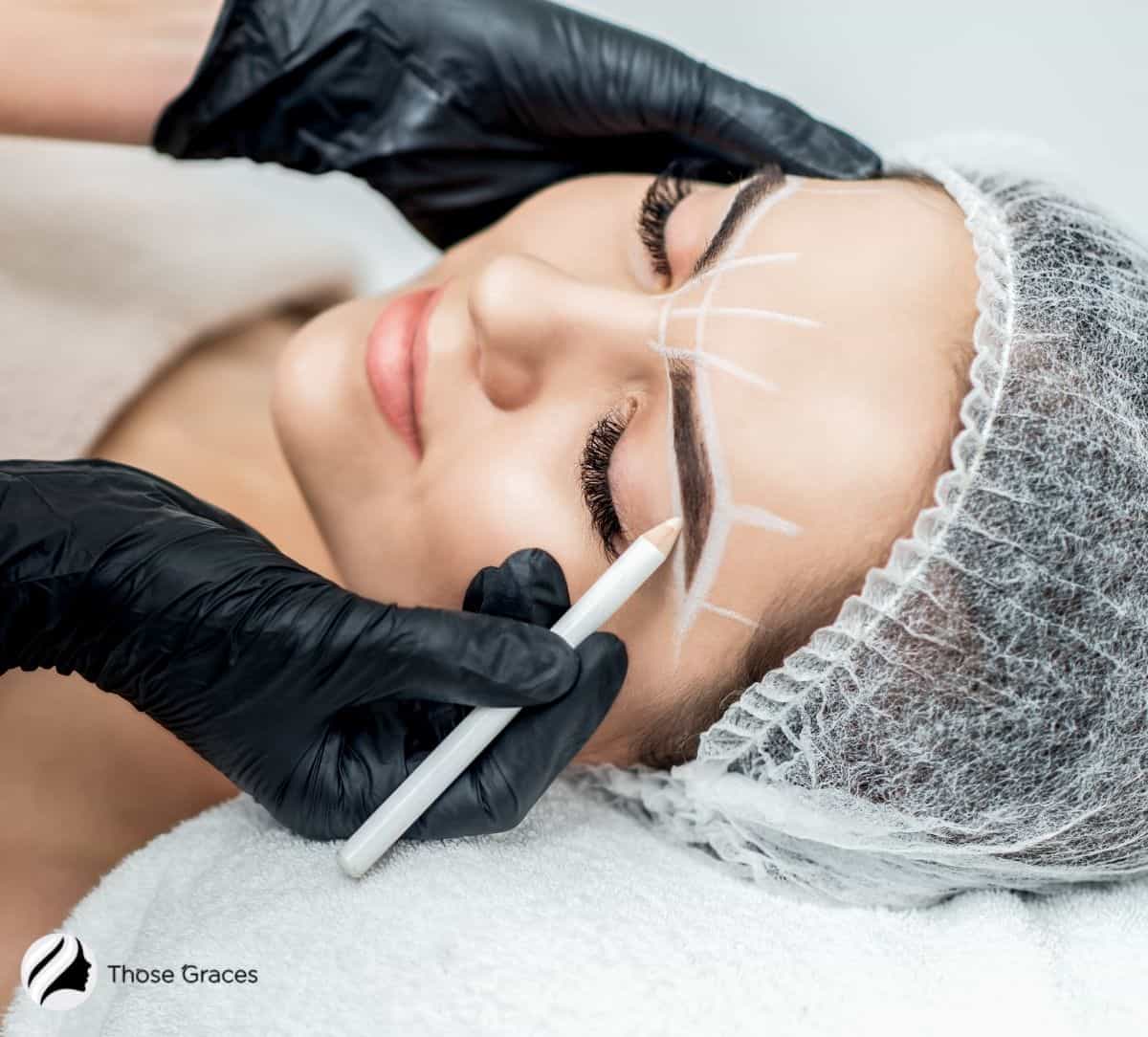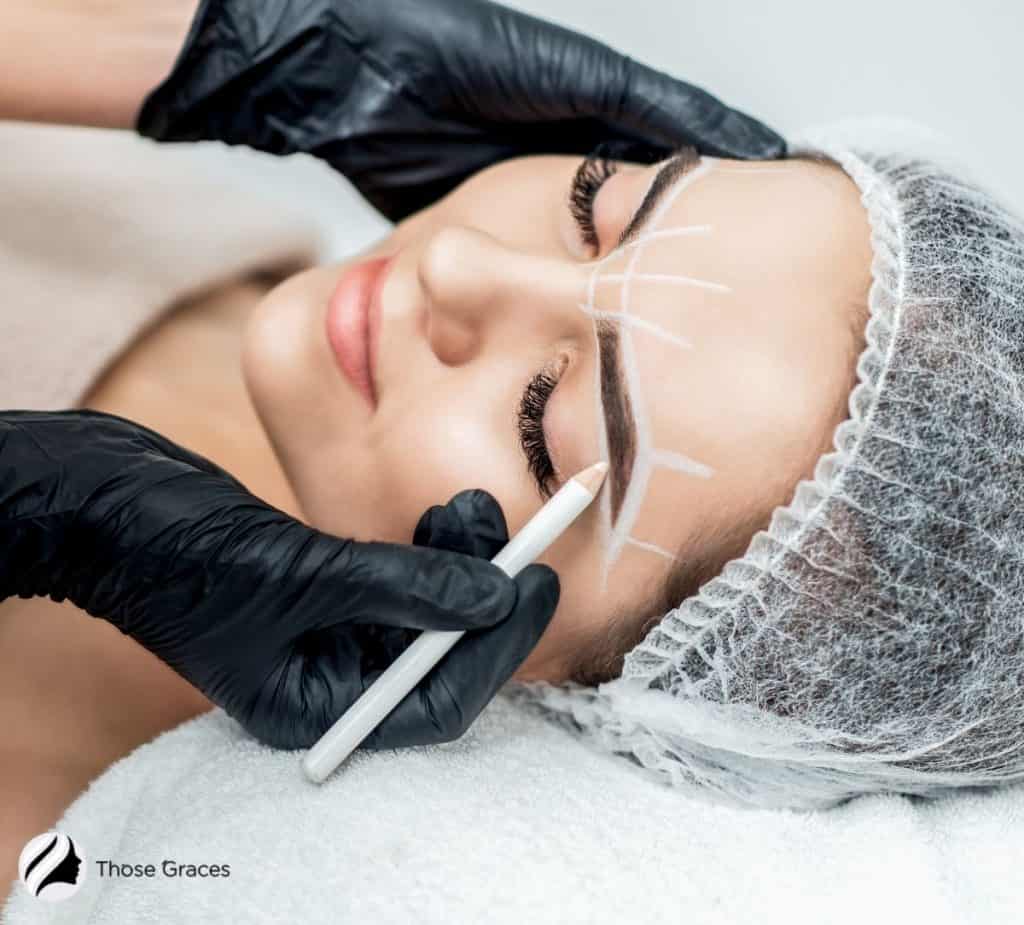 Suman Jalaf of SumanBrows Beauty Atelier says,
"The process is very precise thanks to the tool that is used, which is effectively like a pen with the nib being a sloped blade with 10-12 little needles at the end – needles that don't penetrate the skin but just delicately scratch the surface, much like a paper cut." (7)
When looking for the best brow studio, make sure that you aren't booking cookie-cutter brow artists.
These artists use the same brow shape for every face type, so all clients end up with the same eyebrow tattoo.
Our face shapes are different and require a variety of color options and brow shapes.
Find a studio that offers custom brows for their clients and a color choice of brown pigment.
Check out this video on what brow style you should choose depending on your face shape.
Find Permanent Lip Color Blushing Near You
If you crave a lip tint that won't budge, even when you sleep, then consider getting a lip blush treatment done.
And, it doesn't only help with adding color pigments to your lips, but will also heal any asymmetry that you may have in the lip lines.
This is one of those procedures in which if you don't have a seasoned artist, you can end up with blotchy-looking lips.
Paul Jarrod Frank, a celebrity dermatologist, says,
"The biggest con to lip blushing is if it's not done appropriately, it could appear fake looking." (8)
He adds that some states require artists to obtain a blood-borne pathogen certificate or a body art/esthetician license to perform the procedure.
So make sure your artist has such qualifications before booking an appointment.
Pigments of lip blushing can last three to five years on your lips. So, you want to make sure you find the best permanent lip color near me.
Check out this video by my favorite Youtuber Tina Yong on her experience with getting a lip blush tattoo.
FAQs
Is permanent makeup painful?
No. Permanent makeup procedures are often done with excellent numbing creams, so all you'll hear is a slight buzz.
How long does permanent eyeliner last?
A permanent eyeliner tattoo lasts about 8 to 18 months, after which the deposited pigment will start to fade away.
How much does permanent makeup cost?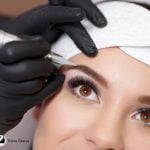 Permanent makeup treatment can cost $300 to $700, depending on the procedure you want.
Who should avoid permanent makeup?
People below the age of 18, pregnant women, and people with pacemakers or viral infections must avoid permanent makeup procedures.
Conclusion
And with that, we've come to the end of the article on finding the best permanent makeup near me.
Makeup has a positive effect on self-perception and that of others. Studies even show that people who wore makeup were perceived as healthier and more confident. (9)
And who doesn't want that? When you take the permanent route to makeup, you can cut down drastically on your makeup time.
Permanent treatments are especially helpful for people who are extremely busy, have poor eyesight, or have any other disabilities that prevent them from applying makeup.
Booking a permanent makeup session is easy and promises hassle-free looks that last up to 5 years.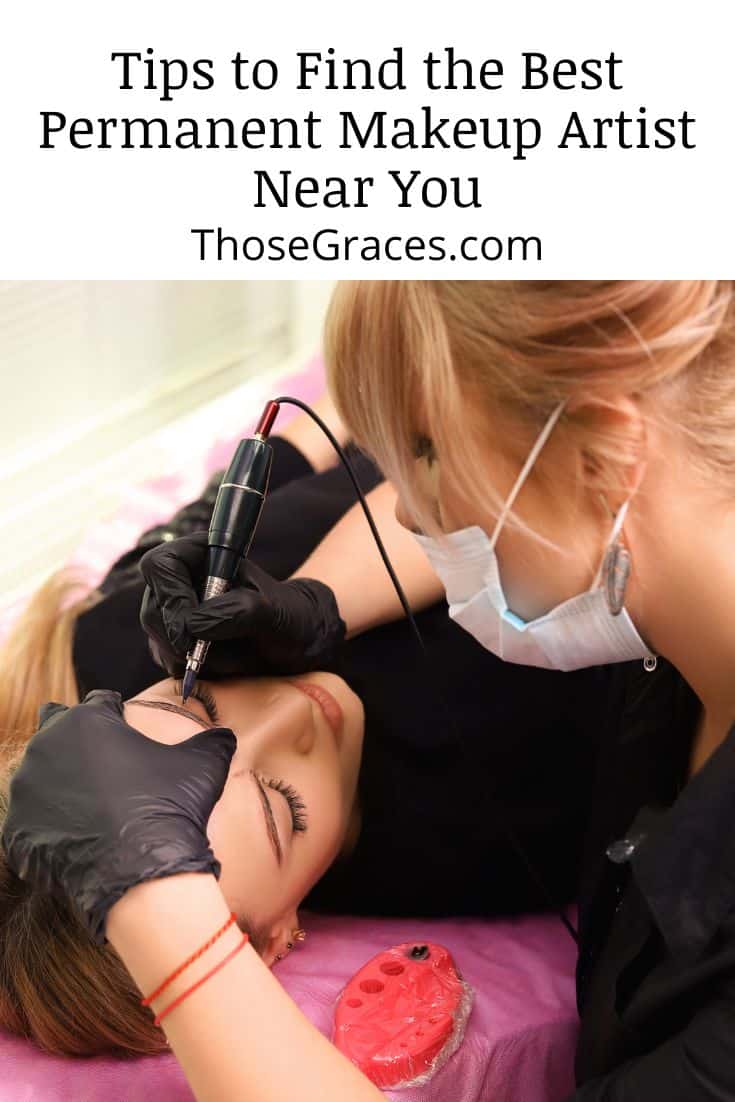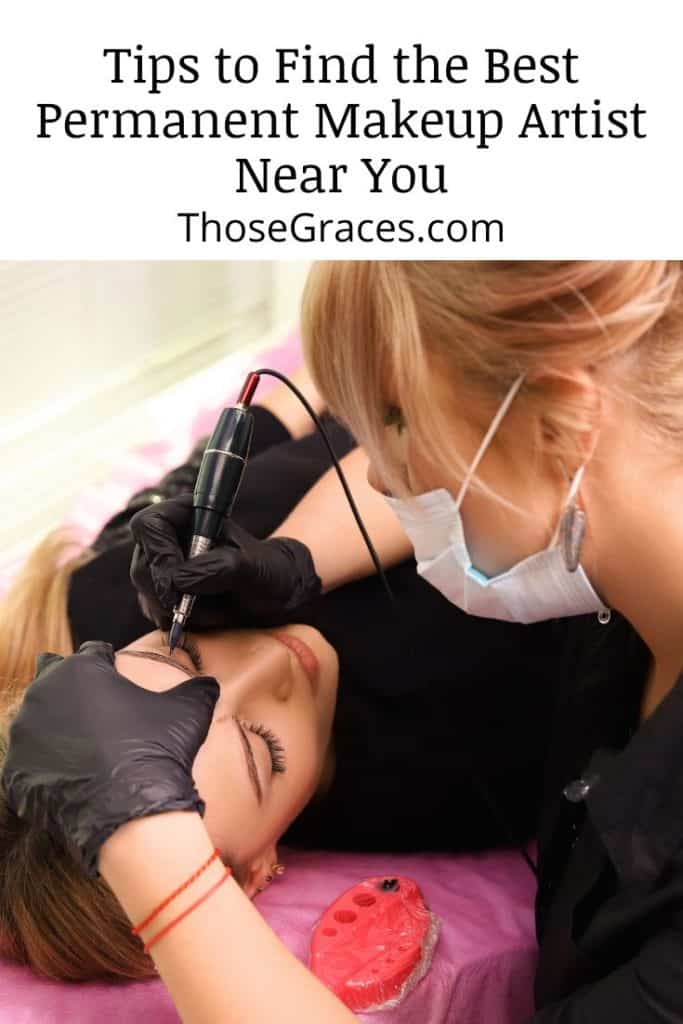 Resources:
1. The Diverse Profession of Permanent Cosmetics – Society for Permanent Cosmetic, Micropigmentation, Permanent Makeup, Microblading and Cosmetic Tattoo Professionals [Internet]. [cited 2022 Nov 8]. Available from: https://www.spcp.org/information-for-technicians/technician-articles/the-diverse-profession-of-permanent-cosmetics/
2. Tomita S, Mori K, Yamazaki H, Mori K. Complications of permanent makeup procedures for the eyebrow and eyeline. Medicine. 2021;100:e25755.
3. Cosmetic Tattooing: All Your Questions About Permanent and Semi-Permanent Makeup, Answered [Internet]. Byrdie. [cited 2022 Nov 8]. Available from: https://www.byrdie.com/permanent-vs-semi-permanent-makeup
4. Kligman AM, Graham JA. The Psychology of Appearance in the Elderly. Dermatologic Clinics [Internet]. 1986 [cited 2022 Nov 8];4:501–7. Available from: https://www.derm.theclinics.com/article/S0733-8635(18)30813-1/abstract
5. Permanent make-up: Answer to beauty woes – Times of India [Internet]. The Times of India. [cited 2022 Nov 8]. Available from: https://timesofindia.indiatimes.com/life-style/beauty/permanent-make-up-answer-to-beauty-woes/articleshow/3556050.cms
6. Eyeliner Tattoos Exist, and They're Surprisingly Very Subtle—Here's What You Need to Know [Internet]. Byrdie. Available from: https://www.byrdie.com/eyeliner-tattoo-5080459
7. Driver G. Microblading – Everything You Need To Know About The Semi-Permanent Eyebrow Treatment [Internet]. ELLE. ELLE; 2017. Available from: https://www.elle.com/uk/beauty/a31566/microblading-eyebrows/
8. What You Need to Know About Lip Blushing, the "Tattoo" for Fuller Lips [Internet]. ELLE. 2022 [cited 2022 Nov 8]. Available from: https://www.elle.com/beauty/makeup-skin-care/a28806110/lip-blushing/
9. Wollina U, Goldman A. Severe unexpected adverse effects after permanent eye makeup and their management by Q-switched Nd:YAG laser. Clinical Interventions in Aging. 2014;1305.