Looking for a detailed Aveeno Repairing Cica Foot Mask review to see if it's worth your money?
Well, today is totally your lucky day!
Below, we'll go over all the pros, cons and frequently asked questions about this trendy foot-care treatment.
Let's dive in!
What is the Aveeno Repairing Cica Foot Mask?
FYI, this post contains affiliate links. If you make a purchase through these links, we earn a small commission at no extra charge to you.
Before we jump into our review, we should probably make sure we're both talking about the same product, right?
This is the one I used, and you can find it on Amazon.
Aveeno Repairing Cica Foot Mask Review
Have you ever seen those photos of the poor children and elderly who have dirty, dry, and rough feet?
You know, they're black and calloused to the hilt and it would take years for them to be somewhat corrected?
This is from many years of going without shoes, enduring hard work, intense weather, etc.
Let me be really, brutally honest here…I am not one of those people, but they could use my feet for one of their posters.
I am not a lover of shoes and will walk barefoot wherever it's not considered taboo.
I've done this since I was able to walk, so you can imagine the beating my sad feet have had to endure over the years.
Recently, I decided (since I'm not getting any younger…so help me) I needed to counteract some of my barefoot adventures.
This meant getting some foot love and pampering going on more regularly.
After almost burning up one of those little contraptions that basically sands the callus off your feet and a little bit of lotion, things were looking better.
However, better wasn't good enough because, well, do you remember how much work they needed in the first place? I probably should have used a grinder, but I'll keep the extremes as a last resort.
In walks the Aveeno foot mask for dry, cracked feet. Whew, let me tell you, I was about to put this thing to the test.
I'm sure they weren't thinking of Grinch feet when they made it, but there I was, using it anyways.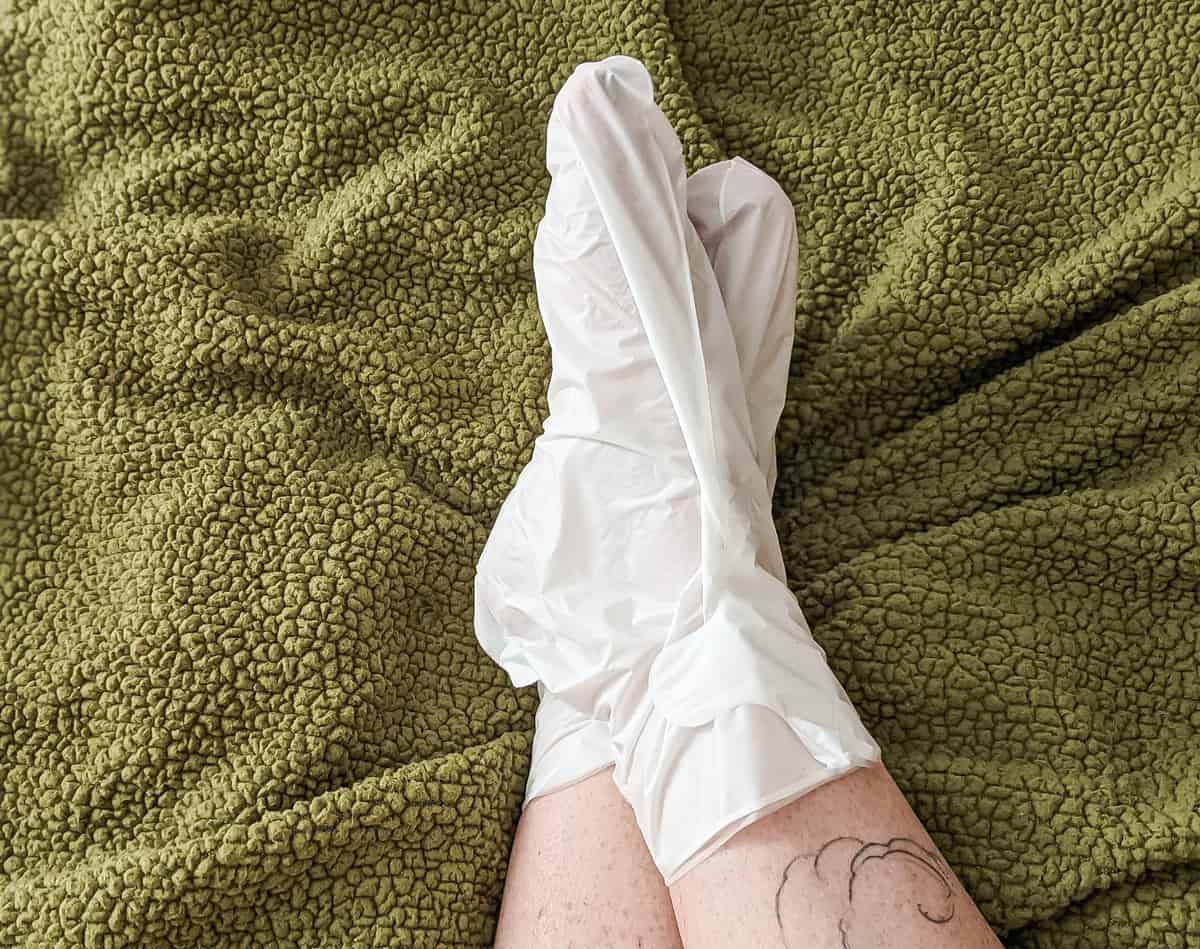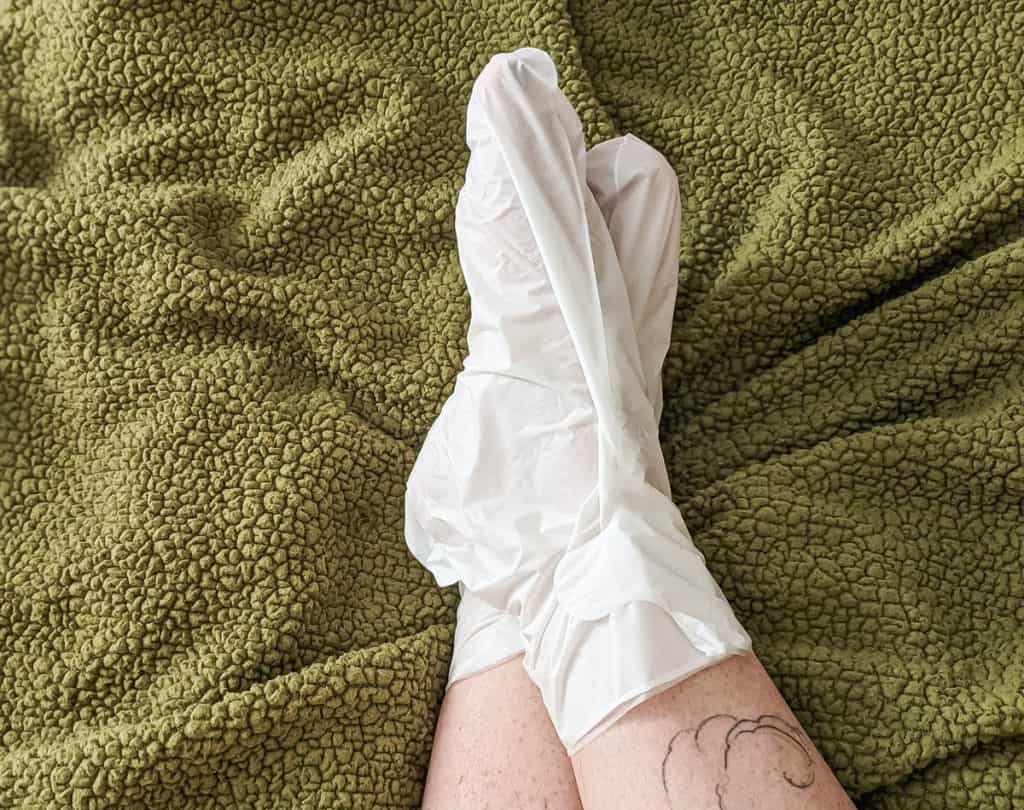 What is CICA?
First of all, what the heck is CICA, right? Why should I be moved by this proclamation of "Repairing CICA Foot Mask" slapped across the package?
Is it made out of all the softness the heavens ever created? Why should I be excited about it?
Well, CICA, come to find out, is Centella Asiatica, which is an herb found commonly in Asian medicine.
Let me put it this way, y'all, freaking TIGERS know to use it for healing after they've fought each other. You know, to heal battle wounds?!
I was like, "If it heals tiger wounds, I'm on the right track for Grinch feet."
My Opinion on the Aveeno Repairing CICA Foot Mask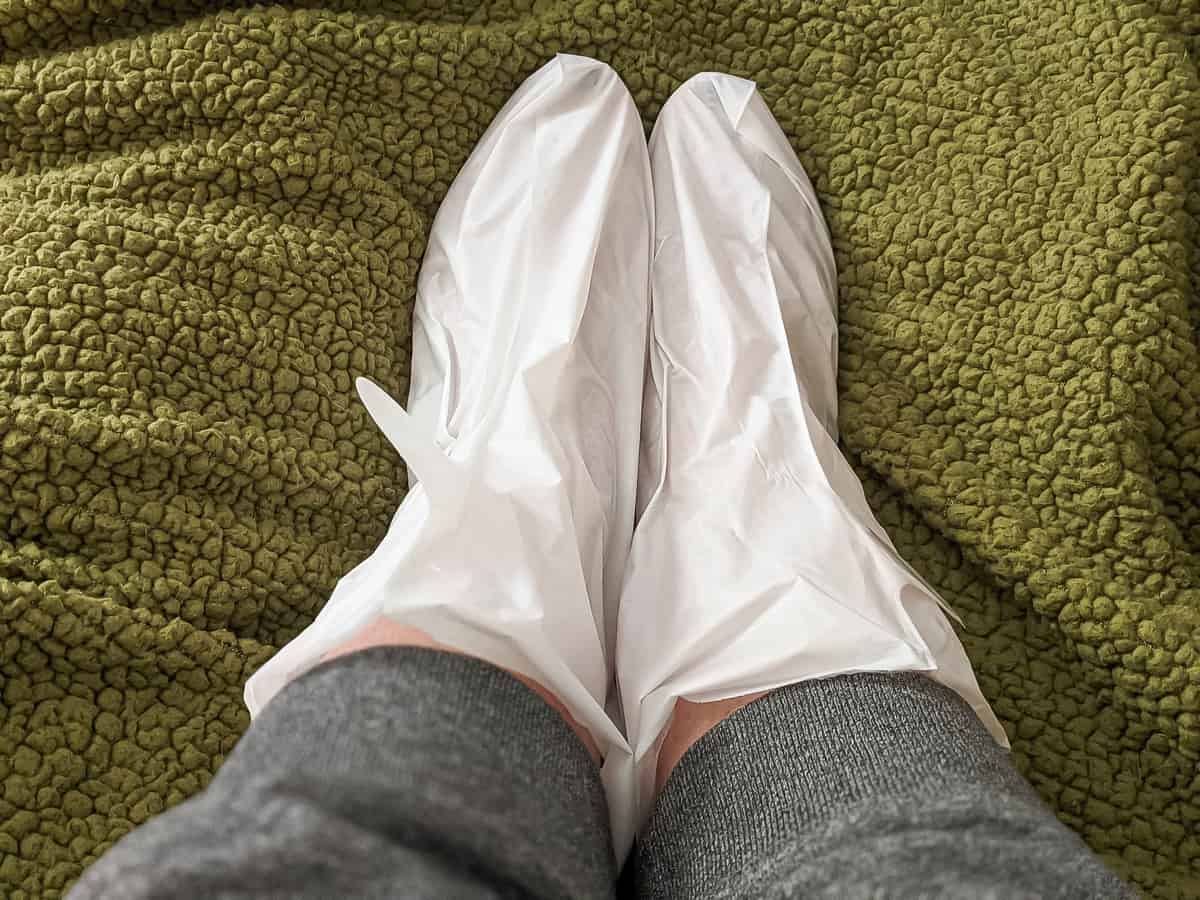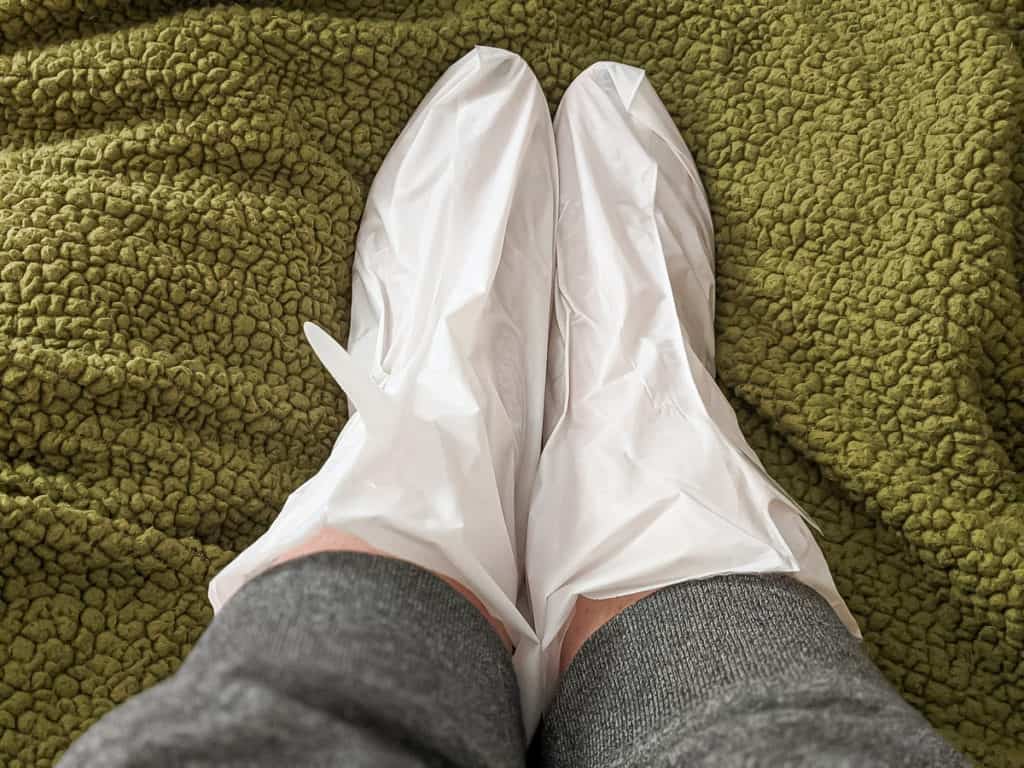 Overall, I wasn't like falling heave over heels in love with the foot mask, but it definitely felt nice. I think, for the money, it's definitely worth the outcome.
Pros:
It didn't mess with any of my allergies or cause a rash.
It was great for my sensitive skin.
The mask booties are plenty large for a wide variety of sizes.
Definitely softened my feet.
Easy to use.
Affordable.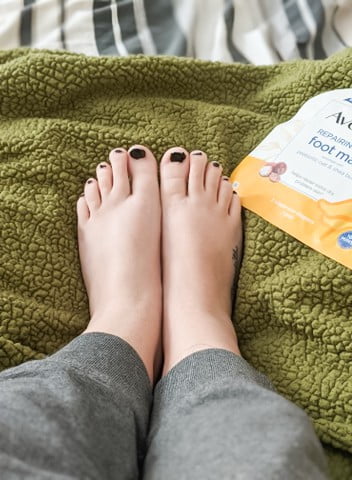 Cons:
Left an oily residue for a while after using.
The booties weren't big enough for my husband to use. So, larger feet are out of the question. I would say a woman's size 11 is about as big as they will go.
They felt a little uncomfortable as far as the material of the booties goes. Scratchy/itchy.
The results of the mask weren't long lasting. As in, my feet returned to almost the same roughness by the end of the week as they were before the mask.
They work best if you give yourself a full foot work over before use. Remove callus, scrub clean, soak, etc.
Check out this video:
Common Questions About Aveeno Repairing CICA Foot Mask Peel
As promised, let's take a look at some of the most frequently asked questions about this trendy Aveeno foot mask.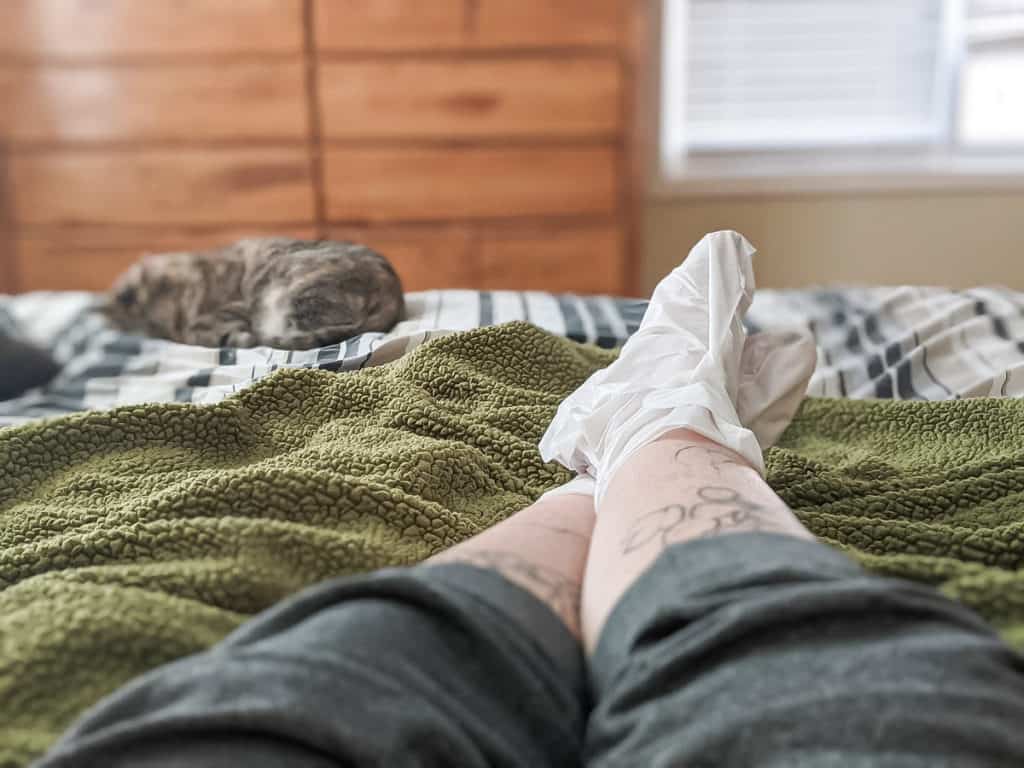 Has anyone ever had an Aveeno Repairing Cica Foot Mask allergic reaction?
I'm allergic to many makeup products, perfumes, lotions, and even laundry detergent/fabric softener. I had zero allergic reactions to this product. However, there have been reports, although few, that this Aveeno foot mask results in a rash after use.
What do the overall Aveeno Repairing Cica Foot Mask reviews say?
Everyone wants to know what the overall reviews say. For me, I give it 4 stars out of 5. Out of hundreds of reviewers on Amazon, it was given a 4.7-star rating, overall, out of 5 stars.
How often should you use the Aveeno foot mask?
It seems the rash issue occurred when a customer would use it more often. As in, once a week.
I never could find an official statement from the company on how often they suggest using the product.
However, I would suggest no sooner than every two weeks at minimum.
How to use Aveeno foot mask
The Aveeno foot mask directions are simple.
Wash your feet.
Dry your feet.
Apply mask and wait ten minutes.
Remove booties and massage in the remaining lotion.
What are the top perks of the Aveeno foot mask?
Although there are a lot of perks to this foot mask, the topics that hit the top of my list are below.
Infused with prebiotic oat and shea butter.
Fragrance free so there's less chance of allergy issues.
Dermatologist recommended.
Paraben free.
Made for those with sensitive skin in mind.
Made to balance the skin's natural moisture barrier.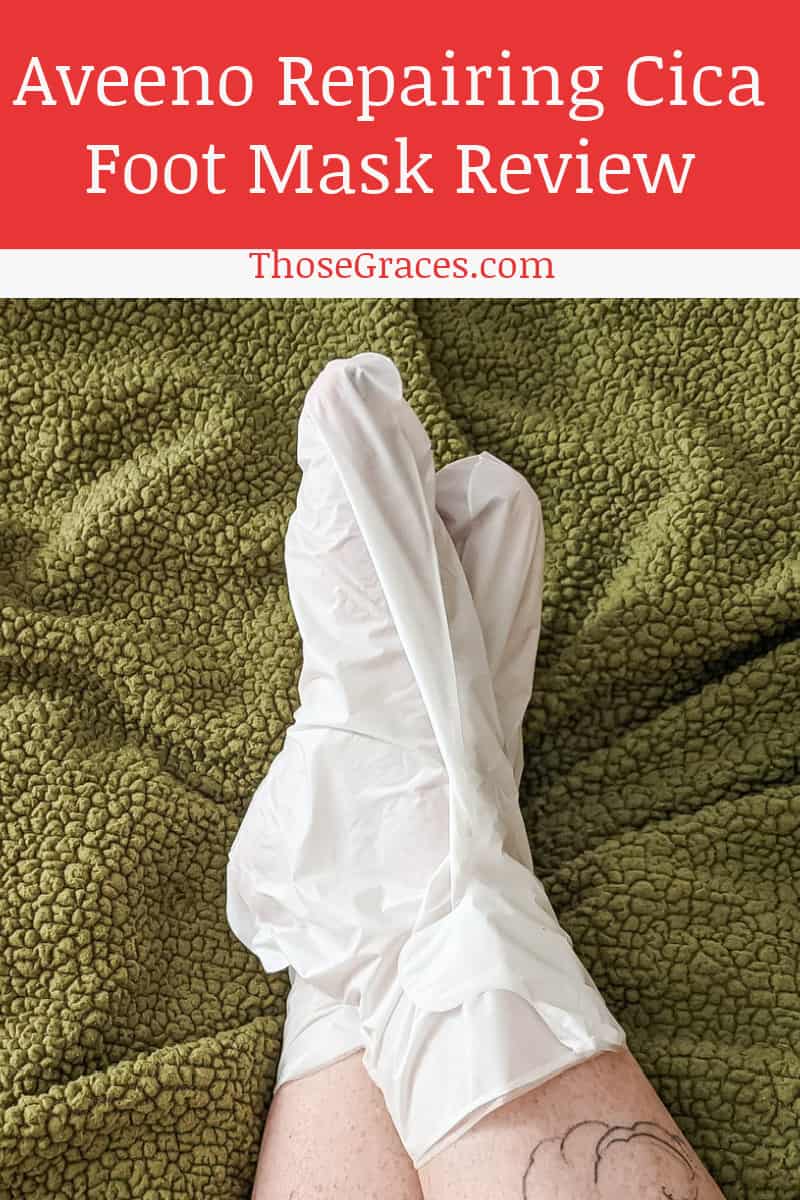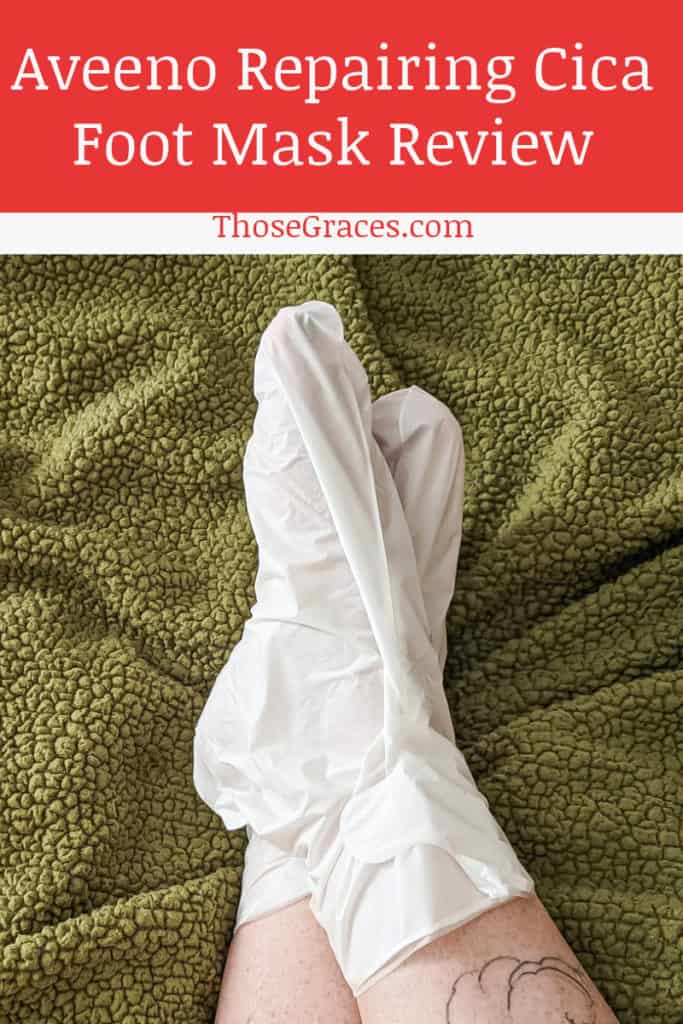 Like I said, while I don't necessarily think the Aveeno Repairing Cica Foot Mask is totally life-changing, it's definitely worth the money!
Just don't expect it to completely and permanently undo years worth of dry, cracked skin on your feet in one go.
You'll need to either repeat it again every so often or really step up your foot care game to maintain the results.
Have you tried it? Do you have anything to add to my Aveeno Repairing Cica Foot Mask review? Share below!