Looking for the best foot masks for men to buy for yourself or your special guy?
We've got you covered (or rather, your toes covered!) below.
I'm sharing my top 6 favorite brands that you can buy on Amazon & Etsy.
Let's jump right in!
Our Top Picks
FYI, this post contains affiliate links. If you make a purchase through these links, we earn a small commission at no extra charge to you.
In a rush and need something right away? Check out our top picks on the table below!
Top Benefit
Made to fit all men's feet
BEST FOOT MASKs FOR MEN
I know many men aren't into the habit of getting a manicure or pedicure, but a little self-care is okay.
If you don't want the ugly and rough feet anymore (no judgment, my boyfriend has those most of the time), there are ways to fix it without going to a spa.
And while they're multiple ways you can go about it, I'll go with the simplest way: buying a foot mask for men and applying them at home.
I know you've probably never shopped for one for men, so I'll recommend the best foot mask peels in the market that your guy will love.
Without further due, let's get shopping.
1.Phoenix Foot Peel Mask for Men
The foot mask is designed to fit even large feet (up to size 14).
It really worked perfectly for my boyfriend. We didn't wait for the recommended 90 minutes on our first trial, and honestly, the results weren't as pleasant.
After reading reviews and seeing many users recommending the 90 minutes soak for people with many callouses, we decided to try it again.
And he shed like a snake!
The callous remover extra-strength gel, works even the toughest dead skin, leaving your feet feeling like a smooth baby bum.
Buy the phoenix foot peel mask for men on Amazon.
(Pack of 2) Phoenix Foot Peel for Men - Extra Large - Extra Strength - Exfoliating Dry Feet Treatment - Callus Remover - Unscented - Paraben and Fragrance Free
EXPERIENCE THE REBIRTH OF YOUR FEET- Men, if you or your SO are tired of you having gnarly dry feet, try Phoenix Foot Peel for Men! Repair those calluses and enjoy pleasant and smooth heels.
UNSCENTED - We don't add any unnecessary scents or 'fragrance'
NATURAL FOOT PEEL MASK - Phoenix Foot Peel for Men is paraben and fragrance free.
LARGE FOOT MASK - Phoenix Foot Peel for Men was tested to fit (normal width) mens' size 14. This exfoliation foot peel uses larger-than-average size booties to accommodate larger foot sizes.
EXTRA STRENGTH - The callous remover extra-strength gel inside works on the toughest dead skin, making the most rugged heel baby-butt soft. This exfoliator treatment can help treat the most callused feet.
2. Spa Life Men's Hand; Foot, Face Mask
I love this set because it gives you a whole spa experience. And it's so refreshing. I ordered two, one for me and one for my boyfriend, and they were amazing.
After staying at home for quarantine and neglecting any kind of skincare routine, nothing was looking good.
You know, cracked feet and hard hands from our new gardening experience, not to mention days without moisturizing our skin.
It worked very well by the time we completed the process. Our hands are somewhat back to normal.
The mask also hydrates, moisturizes your skin, regenerates cellular repair, and even has anti-aging effects!
The size was great and fitted both of us. I definitely recommend the set if you want to kill three birds with the same stone (I just came up with that, but you get the point).
The mask is available on Amazon.
SpaLife Men's Hand, Foot, Face 12 Piece Spa Set
AT-HOME SPA TREATMENT. Treat yourself to some much-needed "me" time with a soothing, refreshing facial without ever stepping foot in the spa. This spa set will moisturize your skin to minimize fine lines and wrinkles, delivering a healthier complexion.
READY-TO-USE MASKS - To accommodate your needs, you get slipper-style treatments that you can apply warm or cool. Refrigerate the hydrating mask until ready to use for a cool application, or place the pack in tepid water for a warm spa treatment. Each treatment should only be used once and then discarded for sanitation purposes.
NATURAL INGREDIENTS - This energizing treatment is formulated to help soothe tired, achy feet, making your skin soft and restoring it to a healthy, vibrant appearance. You will notice visible results after one treatment!
Benefits: anti-aging, anti-wrinkle, moisturizes, hydrates, stimulates, regenerates cellular repair
3. Exfoliating Foot Mask from Ocean Touch
I bought this mask for my parents because their feet were very cracked from years of gardening without using the right equipment.
My mum's feet were so hard and cracked to an extent where a coin could actually fit in (yeah, that bad, and not pretty).
Like any other mask, nothing major happened in the first few days of application. But by day 7, we began seeing major peeling.
Since she had layers of dead skin, it took almost 20 days for the peeling to end. We saw a big difference, but it wasn't the baby bum kind of result.
So we decided to give it another chance.
And after using the mask three times, she got her smooth feet back (of course, the crack hasn't disappeared fully yet, but that's expected).
Buy the mask from Amazon.
24K Gold Foot Peel Mask - Argan Oil, Aloe Vera, Vitamin A & E Exfoliating Masks - Baby Soft Peeling Socks - for Dead Skin & Dry Feet - Cracked Heels & Rough Calluses Remover - Smooth Foot Repair
✅Baby Soft Peeling Mask - Golden Feet by Ocean Touch baby soft peeling mask gently removes dead skin, making for a smoother appearance. It peels away hard corns and calluses, repairing even the most cracked heels. The perfect option to get ready for beach season!
✅ Dry Feet Treatment - Golden Feet foot peeling mask deeply moisturizes dehydrated skin bringing soothing and nourishing effects. Our exfoliating foot peel mask penetrates deep into the skin, boosting collagen production, and enhances the cell rejuvenating process.
✅ Natural Ingredients - Containing only the highest-quality ingredients like Collagen, Argan Oil, and many more nutrient-rich components. Our peeling foot mask is entirely safe for all skin types, from rough to sensitive, and is sufficient for both women and men of all ages.
✅ Top-Grade Foot Exfoliator - Golden Feet foot peel mask with vitamins A & E is created by leading American dermatologists and produced according to strict world manufacturing laws using only the newest technology to ensure the highest-grade quality.
✅ Perfect Feet Care - We aim to provide our customers worldwide with the purest and most excellent skincare product that meets all needs. If our feet peel mask fell short of your expectations, please contact us, and we will do our best to improve your experience!
4. Foot Peel Mask from Aliver
This is one of the most popular foot peel masks on the market. And I'd say the product matches its hype.
It was the second mask my boyfriend and I tried together, and the results were amazing.
The only advice I'd give is to wear socks the whole time after application. Or you'll be collecting lots of dead skin.
Another great tip is to soak your feet in warm water each day after application to allow it to peel, instead of pulling the dead skin.
See what other users are saying about the Aliver foot mask on Amazon.
Sale
Foot Peel Mask 3 Pack, Exfoliator Peel Off Calluses Dead Skin Callus Remover,Baby Soft Smooth Touch Feet-Men Women (Lavender)
WEARABLE SOCK TYPE FOOT MASK:Our foot mask designed to wrap your feet like socks, that allows the feet to absorb the essence in all directions. you can wear regular socks over the foot masks to keep the mask close to the skin, and to aid with walking.
FOOT PEEL MASKS THAT AGING RESISTANCE:Our foot mask can effectively improve dry, rough, crack foot skin and reduce the appearance of fine lines, thus improve skin vitality, and nourish the skin, especially during the dry season.
SAFE AND PAIN-FREE FEET PEELING MASK:Our lavender foot peel mask comprises of all-natural ingredients and botanical extracts that are safe to use on both men and woman.there is zero pain in this process of renewing the skin on your feet. no salicylic acid used.
BABY SOFT SMOOTH FEET:Our exfoliating foot peeling mask provides a treatment to remove hardened, dead,callused skin to make your foot skin soft and tender like baby in 1-2 weeks!
IDEAL GIFTS FOR FRIENDS AND FAMILY:Men and Women can both enjoy a total spa experience with our foot peel masks. you can got this organic feet peel moisturizer mask for your loved one as gifts!
5. Yemaya's Foot Mask and Scrub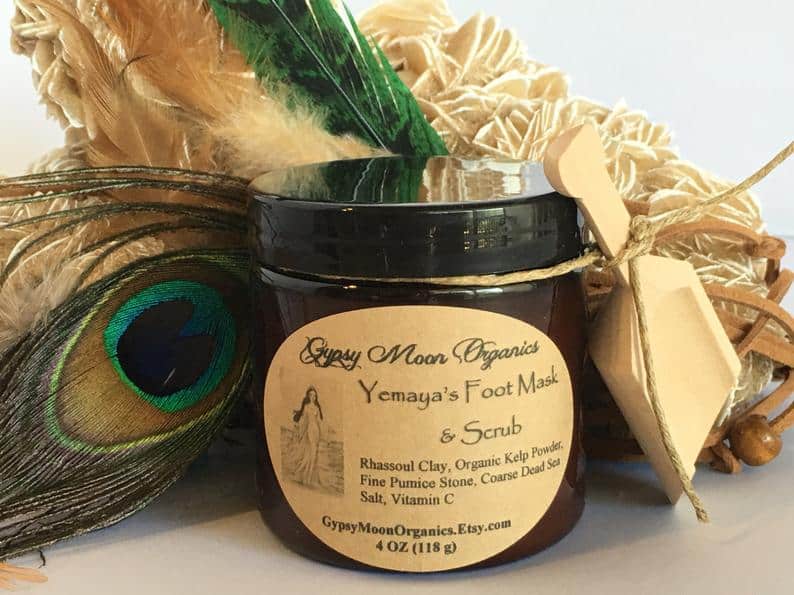 This is different from other foot masks that I've recommended on the list.
And the results and experience are different too.
The mask is made of rhassoul clay, organic kelp, deep-sea salt, and other organic products.
When you apply the foot mask, you get the same feeling you get when you're walking barefoot on a beach.
To give the ultimate experience, the foot mask and scrub even has some seaweed.
It's very soothing, and it leaves your feet soft and smooth.
Not only does the mask leave your foot smooth, but it also gets rids of any impurities and toxins and adds nutrients.
Check out the foot mask on Etsy.
6. Texas Gypsy Co Foot Scrub & Mask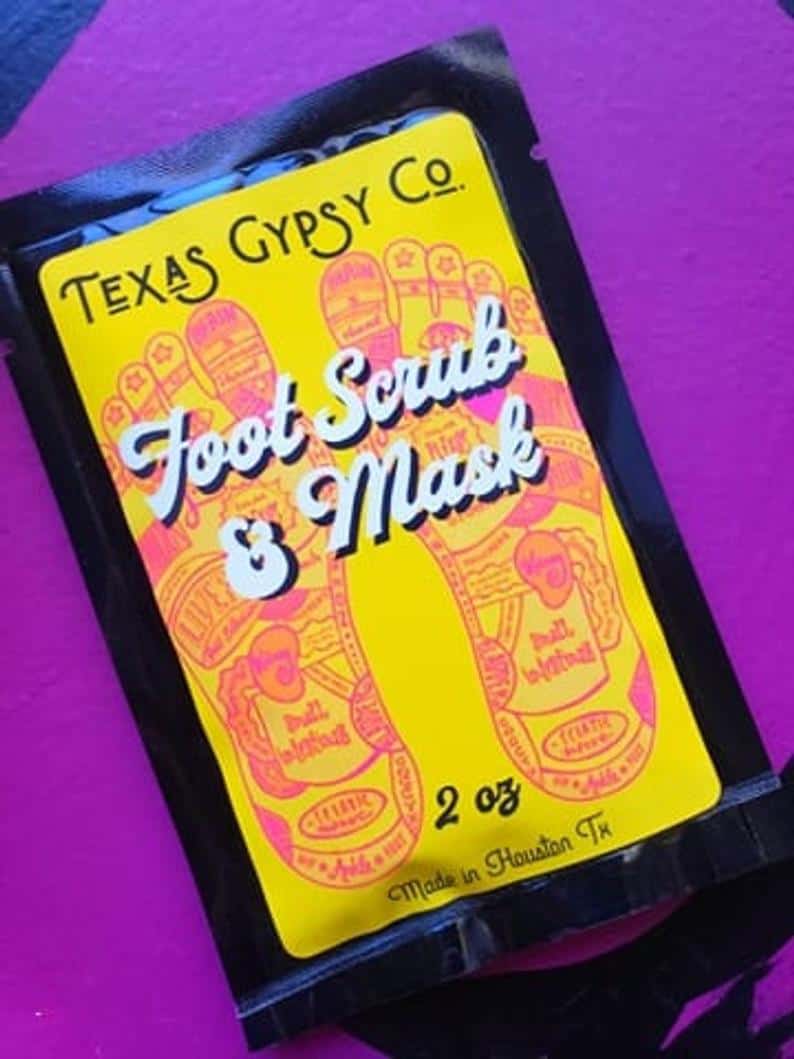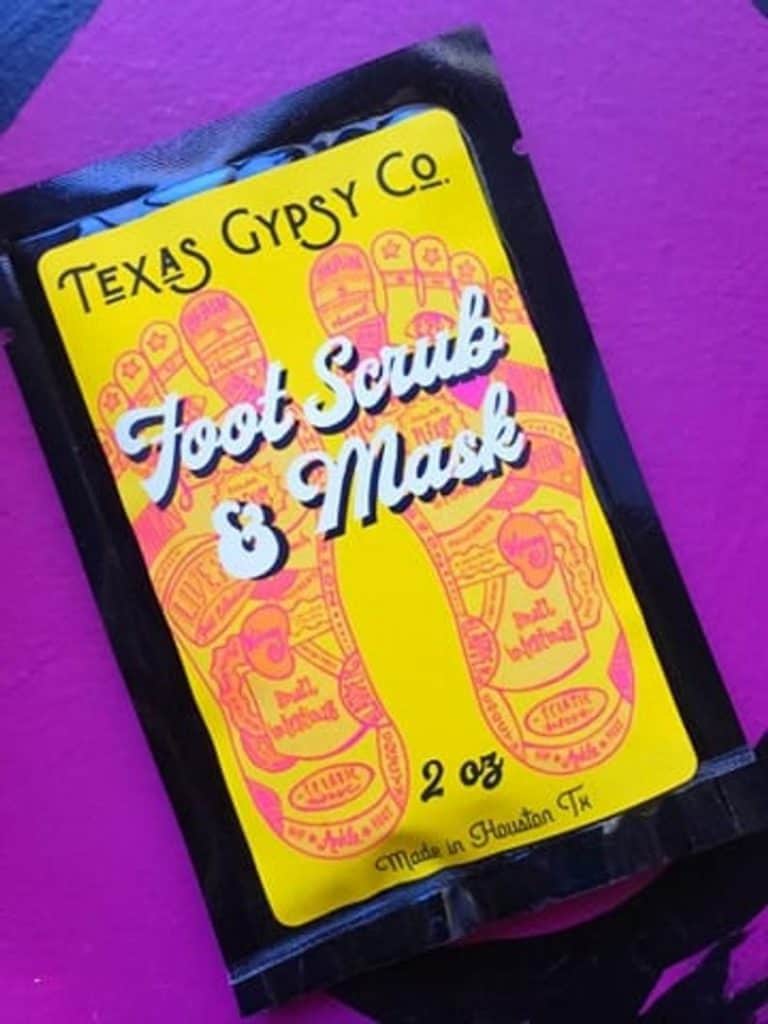 I love this mask because of the ingredients used. It's made of kaolin clay, Brazilian rose clay, and paired with walnut seeds and hemp seeds. The foot scrub also has moisturizing oils such as coconut and avocado oils.
I also love the sweet peppermint scent that's so soothing. The mask is very effective and pocket friendly for those looking for something budget-friendly.
Buy the mask on Etsy.
Frequently Asked Questions
Here are some of the commonly asked questions regarding foot masks for men.
Do foot masks really work?
Yes, they work very well for many people. In fact, the results may last anywhere between a few weeks or months.
It's recommended you use foot peels once a month to maintain the soft feet.
Of course, if you have a skin condition, talk to your doctor first!
After my foot peel mask treatment, how do I take care of my feet?
After application, wash your feet as usual but don't add lotion.
If you feel like they're too dry, add a little oil or moisturizer. If you want to fasten the peeling, soak your feet in warm water every day after application.
Are foot masks safe?
Yes, they're hardly any cases of negative reactions. Yet, like any other beauty product, it's important to consult with a medical professional before committing to it.
You can run a small test by applying the foot peel mask on a small area of your feet. If you don't experience any reactions, then you can go ahead and apply both feet.
Best Foot Mask for Men (Final Words)
Self-care ( even a small one like foot care) can go a long way in boosting our productivity, self-confidence, and self-love.
But what if you don't want to go to a spa? That's totally fine.
You can recreate the spa experience in the comfort of your home.
For example, for soft feet, you can buy one of the foot peel masks I recommended.
Remember, self-care both your physical and inner glow.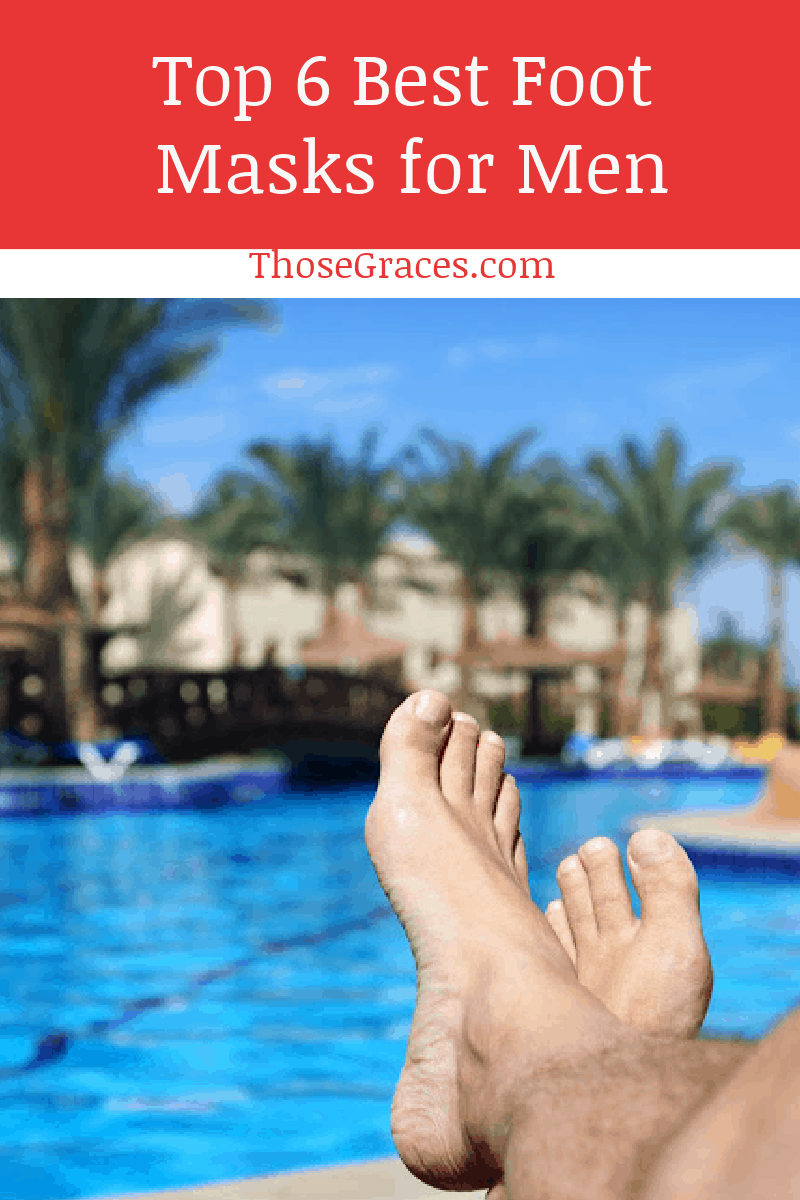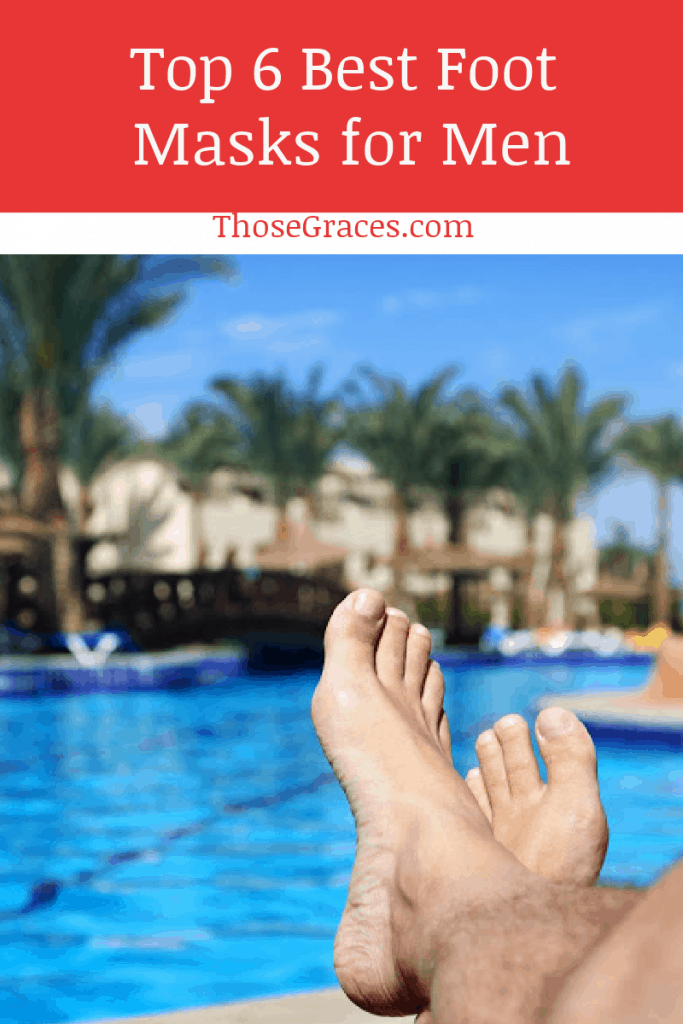 Have you ever tried a foot mask for men before? What was your experience? If yes, please share your experience in the comment section.