Confused about the different types of tanning and don't know which one to choose?
As a tanning expert, I've researched this A LOT!
I am sharing my findings in this detailed guide so your skin can look tan and healthy every day!
If you consult the Fitzpatrick scale, it may categorize your natural skin color as fair or even pale, but that doesn't mean you can't alter your skin tones. (1)
Getting darker skin is easy when you know how to do it right, and I'm here to tell you all about it. Also, check out the best professional spray tan machine of 2022 for sunless tanning.
Key Takeaways:
Natural sun exposure increases the risk of skin cancer.
Indoor tanning beds can cause melanoma and cancer.
Self-tanners and bronzing lotions are the safest ways to get a tan.
6 Different Types Of Tanning For Your Skin
Let's get to the nitty-gritty of getting a darker skin tone that everyone loves and envies.
The types of tanning techniques have changed over time to become accessible and easy to use for all consumers. (2)
Let's start then!
1. Natural Sunlight
Both the center of the universe and the main factor in giving you tanned skin, the sun is a top-tier method of darkening human skin.
You already know that moderate exposure to ultraviolet radiation can help you achieve brown skin. Of course, you must always apply sunblock creams or gels and reapply them frequently.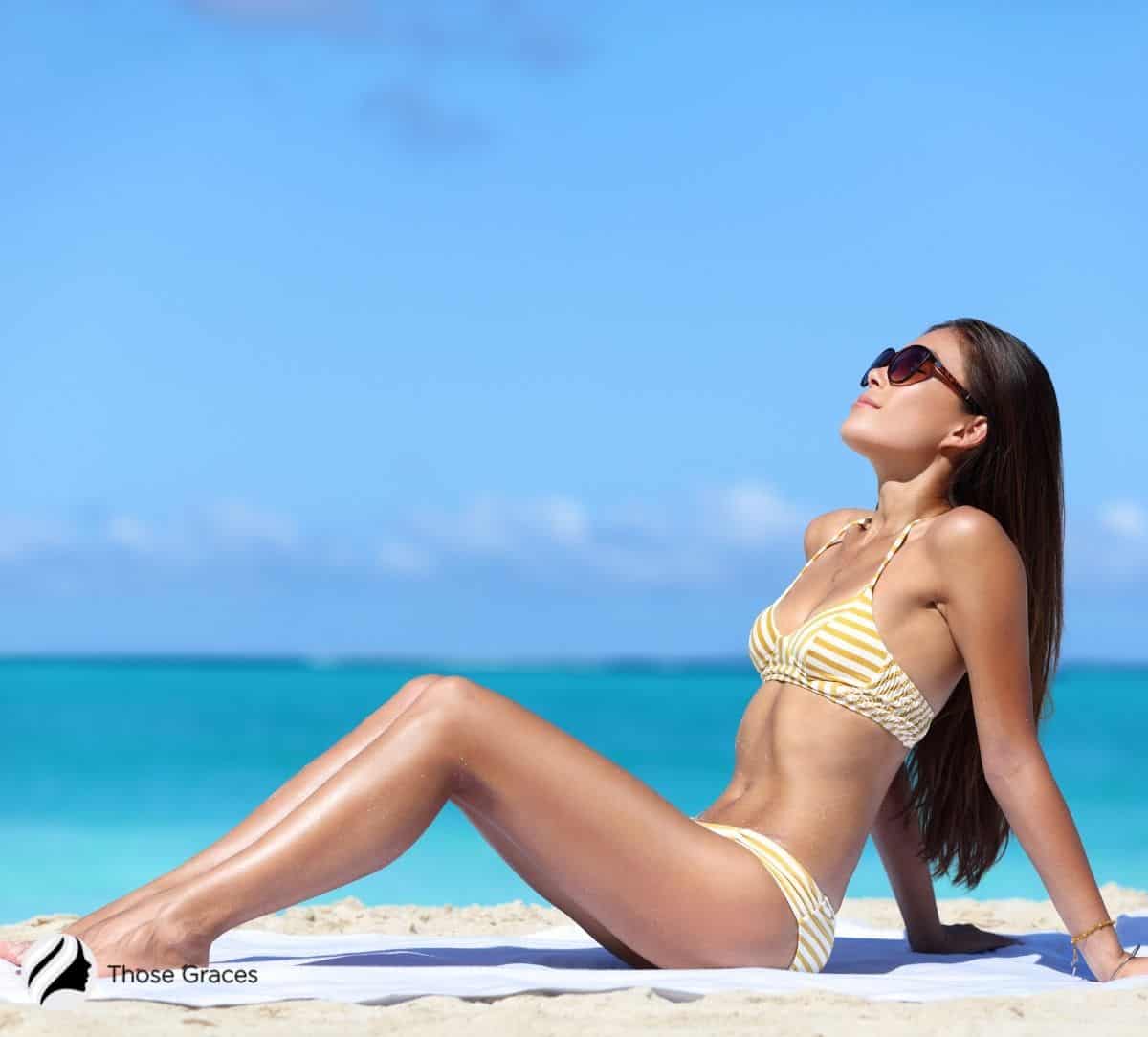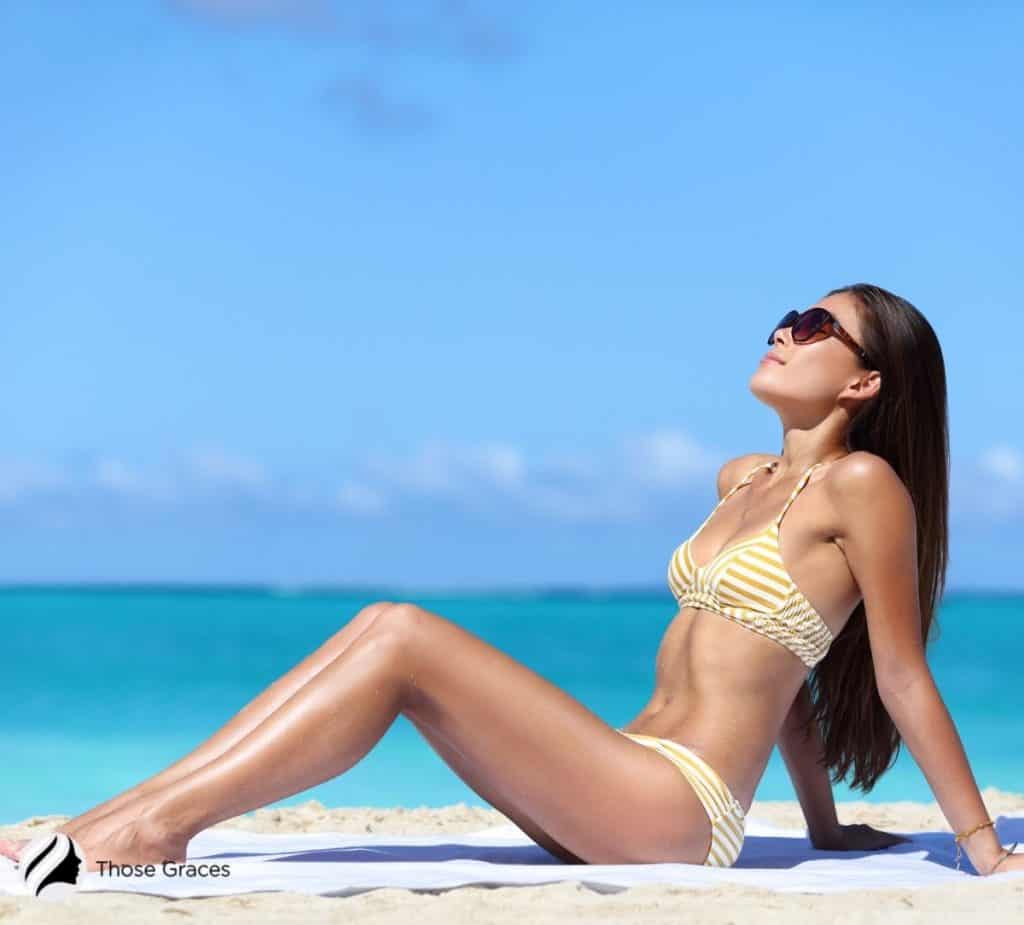 These are mantras I've heard since I was a kid.
With outdoor tanning comes the risk of cancer, which is why frequent tanning can harm the skin. (3)
Will sunburn turn into tan? It is important to know that sunburns do not always turn into tans; it is better to avoid sun overexposure.
READ MORE: How To Tan Nude?
2. Sunless Self-tanner
Faux tanning through sunless self-tanner is quite popular among people. It comes in a cream, gel, or spray form and can be applied on the skin directly for instant tanning.
Self-tanning products contain DHA, or dihydroxyacetone, which instantly transforms fair or pale skin to a darker shade.
Dr. Michele Farber, a certified dermatologist, says,
"Dihydroxyacetone, or DHA as it's more commonly referred to, is a colorless sugar compound that's used in most self-tanners and is FDA-cleared." (4)
Since DHA is colorless, it can be quite easy to use too much on the skin and end up with a streaky tan. Be careful when you're applying it.
Always make sure to wash your hands right after the process, or you'll end up with orange hands for days – trust me!
For some great tan-through swimwear, check out this video:
CHECK: Tanning Lamp for Home Use
3. Self-Tanning Bronzers
If you seek one of the fastest methods of instant tanning, you can opt for self-tanning bronzer lotions.
Most bronzing lotions contain DHA, while others have natural ingredients to make skin deeper in color.
This method is popular among frequent tanners since it gives you a darker skin tone instantly.
However, these products wash away after a short time, so if you're looking for something that will last longer, this may not be the best choice.
4. Indoor Tanning Beds
Tanning booths are trendy tanning methods since you can get beautiful brown skin conveniently.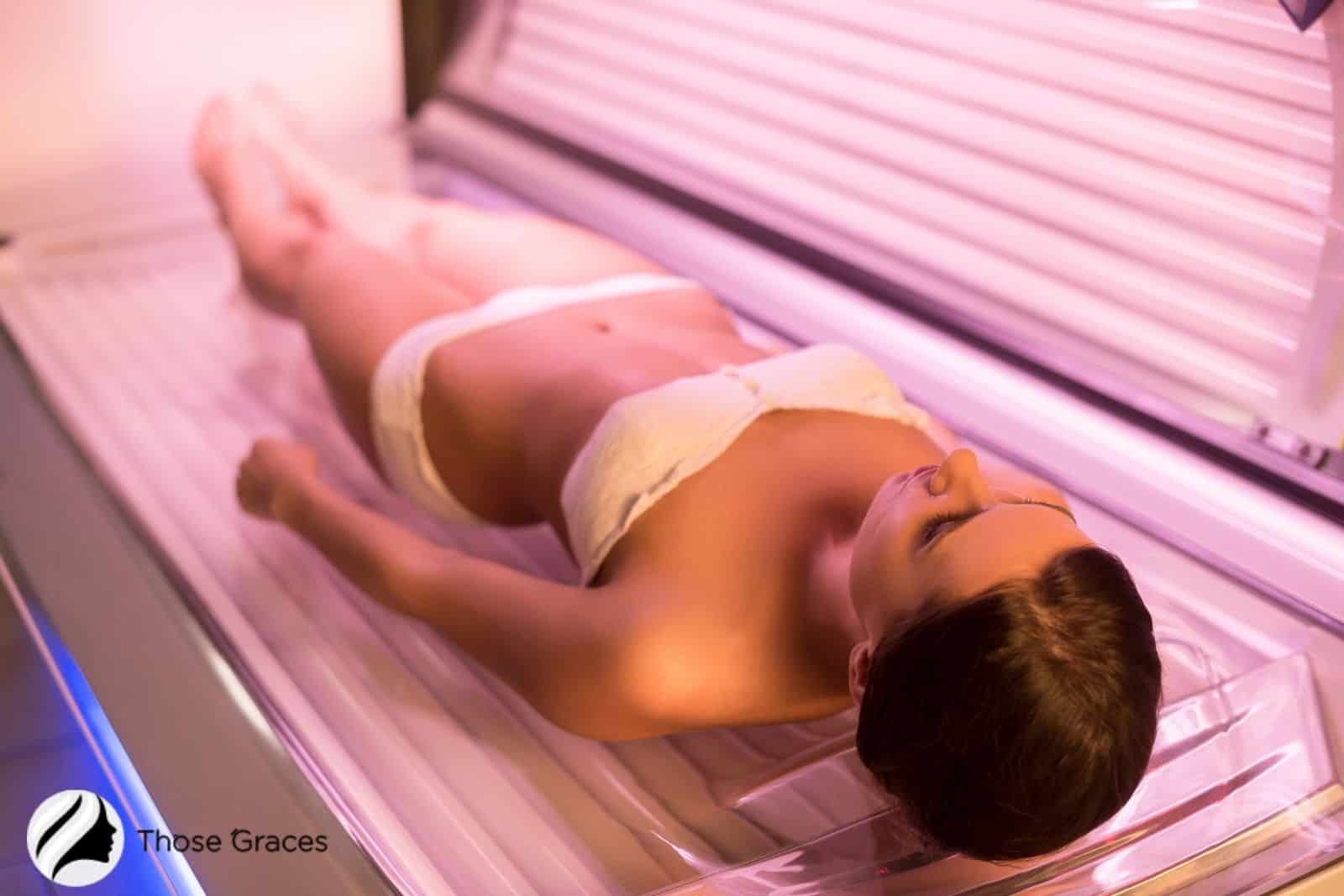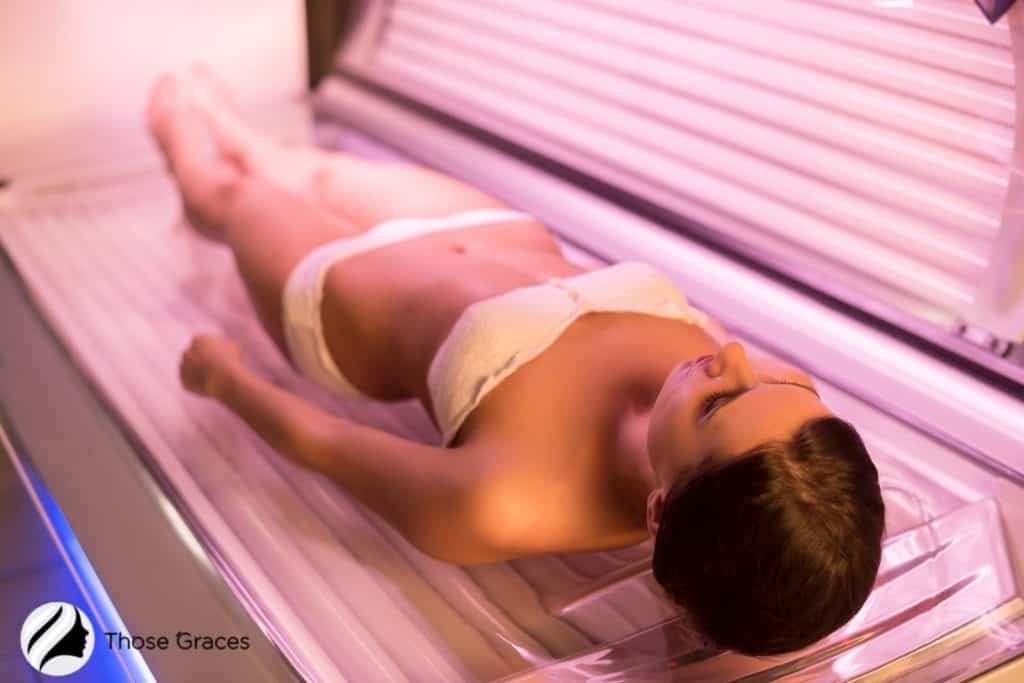 These instant-tanning methods utilize UV-A and UV-B rays to enhance melanin levels in the skin. You lie in a tanning bed for a few minutes and walk out with tanned skin.
However, frequent tanning in tanning beds can be quite harmful to the skin due to exposure to ultraviolet radiation.
Deborah S. Sarnoff, President of the Skin Cancer Foundation, says,
"Aside from significantly increasing your risk of developing skin cancer, indoor tanning can contribute to premature aging." (5)
I wouldn't recommend this tanning method unless you're in an emergency and need your tan to last a couple of days.
READ MORE: Tan Through Bathing Suits
5. Spray Tans
I love spray tans because they're super easy, and the results last about a week. I usually have a professional do it for me, but there are also spray tan booths in which you can do the sunless tanning yourself.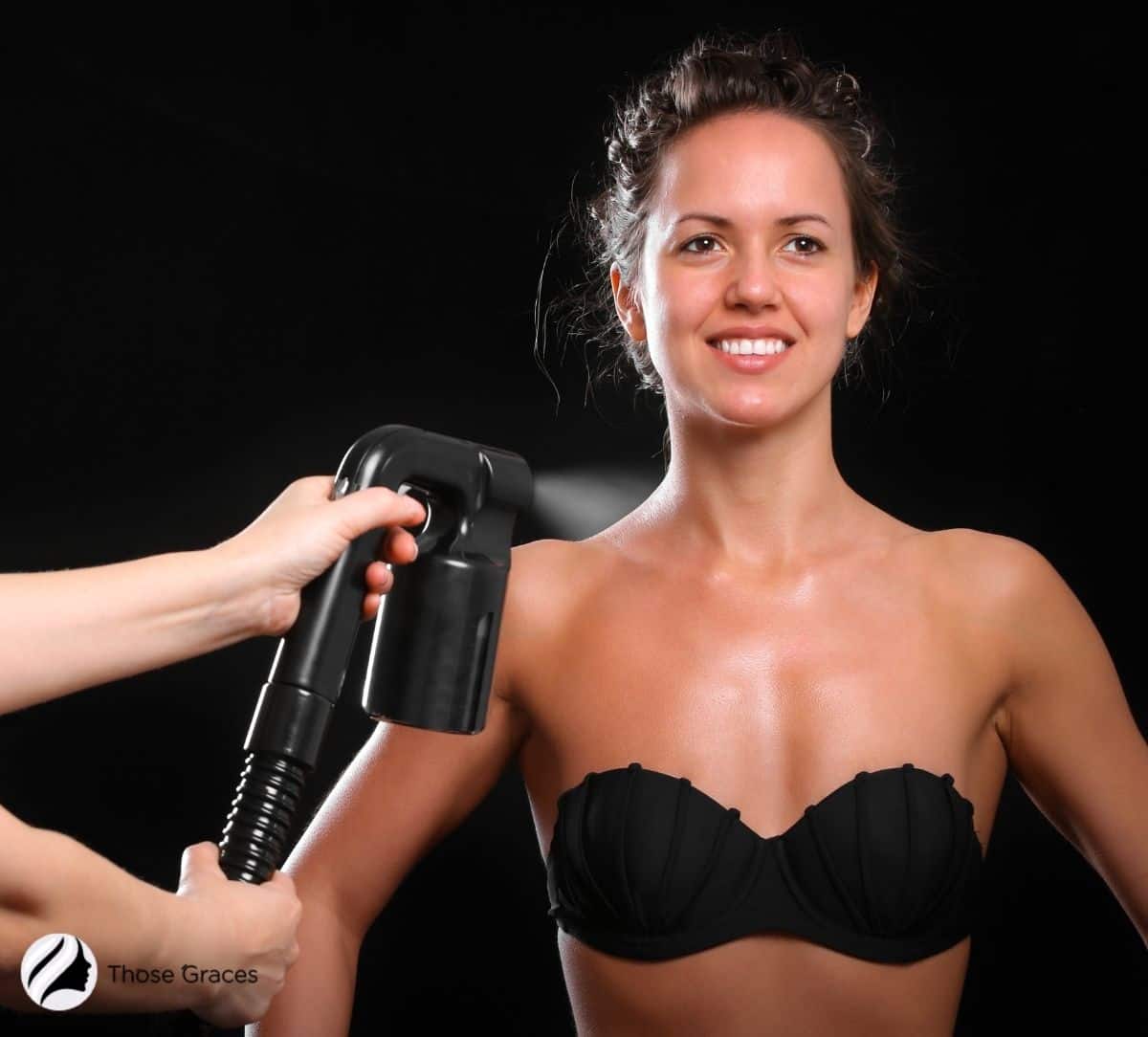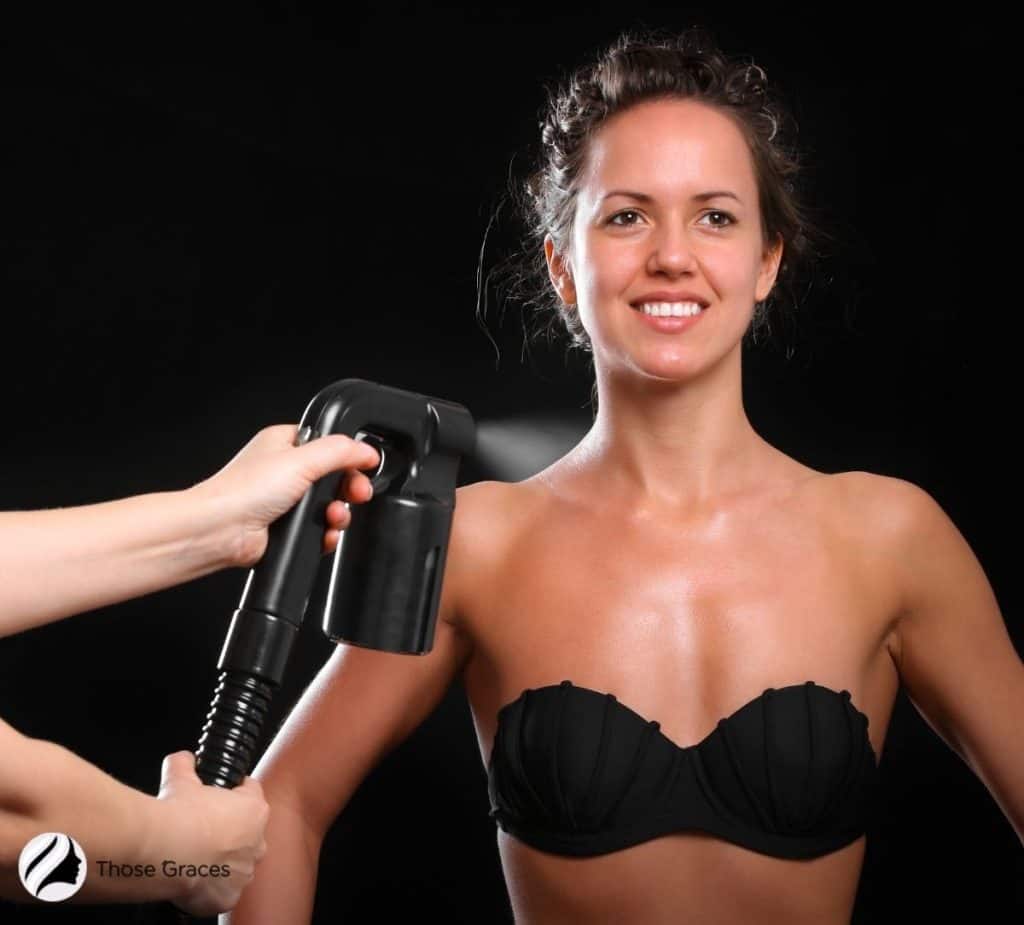 Spray tans also contain DHA, which changes your skin color. Make sure to exfoliate your skin before getting a spray tan because dead skin cells can make your tan look streaky and imperfect.
6. Tanning pills:
The last and most dangerous tanning method is the intake of tanning pills. Tanning pills contain canthaxanthin, which releases chemicals to alter your skin tone.
Sound dangerous? It is! This is why the FDA has not cleared this tanning method as safe. Some users still consume these tanning pills at their own risk.
The pills may even turn your skin orange – a risk I'm not willing to take at all.
Which Tanning Type is Best?
Now that you know several methods to tan your skin, which one should you choose?
Unsurprisingly, getting a fake tan via self-tanners, bronzing lotions, or spray tans is the best way to get a tan without damaging the skin.
DHA is an FDA-cleared chemical that tans your skin without exposing it to the harmful rays of the sun or your indoor tanning bed.
The results may not last as long, and you will have to tan your skin frequently, but in the long run, tanning with DHA-inclusive products is best for skin health.
Check out this video by Kassin Marie on achieving a perfect tan at home.
FAQs
1. What is the difference between chrome tanning and vegetable tanning?
Vegetable tanning utilizes plant extracts to tan animal skin, while chrome tanning uses chemicals like chromium sulfate to tan skin.
2. How can I tan without damaging my skin?
You can tan without damaging your skin and risking skin cancer by applying a sunblock lotion with an SPF of 30 or above. Avoiding ultraviolet radiation helps, too.
3. Can tanning be good?
Self-tanning bronzers help give you brown skin and a healthy complexion. Moderate exposure to sunlight helps give your body vitamin D, which enhances one's mood.
4. What to do after tanning?
After moderate exposure to natural sunlight or spray tanning, always apply moisturizer. It's also important to stay hydrated for skin health.
Conclusion
I am positive the types of tanning methods that I reviewed will be invaluable for getting you darker skin for days!
I love tanned skin, but I know frequent tanning can be harsh on your skin's health. It's best to flaunt your natural skin color sometimes and give your skin a break.
After all, we were all born beautiful. Tell me, which tanning type did you try and worked for you best?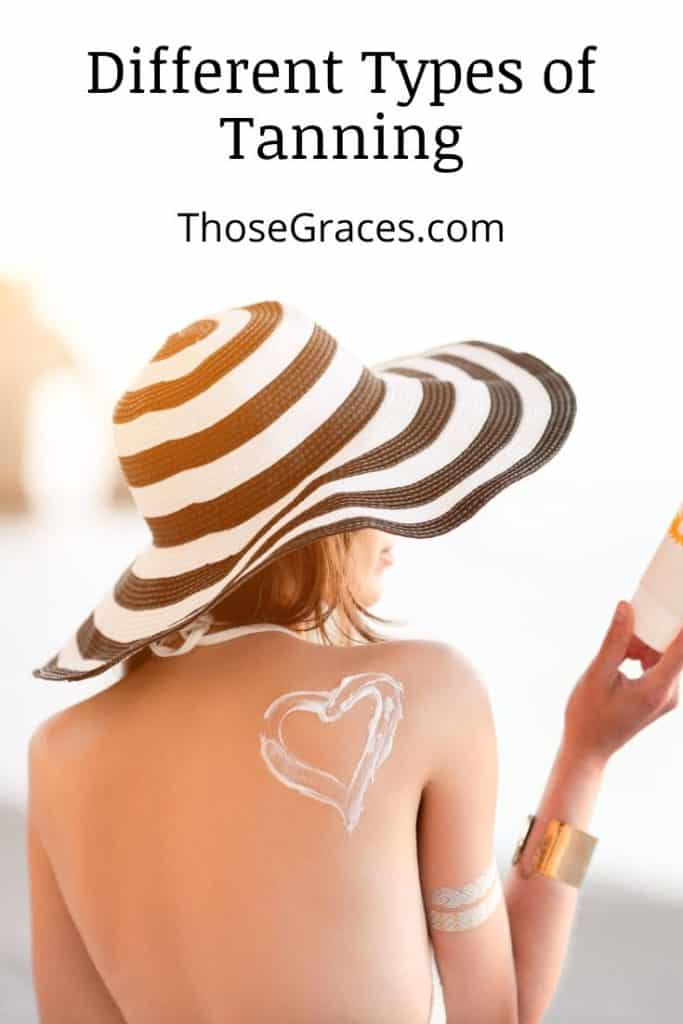 Resources
1. Fors M, González P, Viada C, Falcon K, Palacios S. Validity of the Fitzpatrick Skin Phototype Classification in Ecuador. Advances in Skin & Wound Care. 2020;33:1–5.
2. Garone M, Howard J, Fabrikant J. A review of common tanning methods. The Journal of clinical and aesthetic dermatology [Internet]. Matrix Medical Communications; 2015;8:43–7. Available from: https://www.ncbi.nlm.nih.gov/pmc/articles/PMC4345932/
3. Hoel DG, Berwick M, de Gruijl FR, Holick MF. The risks and benefits of sun exposure 2016. Dermato-Endocrinology [Internet]. 2016;8:e1248325. Available from: https://www.ncbi.nlm.nih.gov/pmc/articles/PMC5129901/
4. Dihydroxyacetone for Skin: Benefits and How to Use [Internet]. Byrdie. [cited 2022 Oct 31]. Available from: https://www.byrdie.com/dihydroxyacetone-for-skin-5194916
5. What are the best and worst ways to get a tan? – In Style Tips [Internet]. [cited 2022 Oct 31]. Available from: https://www.instyletips.com/best-and-worst-tanning-methods/