Is NuFACE worth it, and should you invest in these skincare tools?
I had this same question, so I conducted extensive research and found that this product is effective with consistent use over an extended period.
According to Medical News Today,
"The idea behind this is that the electrical current will build up muscles in the face, lifting and tightening the skin." (1)
Let's get started. You also might want to check out the best skin tightening device to enhance your facial contour.
Key takeaways:
NuFACE Trinity is a powerful microcurrent skin device.
It reduces the appearance of wrinkles and provides a lift to the face.
Users can see a difference in facial contour when used for an extended period.
How Does Nuface Work?
NuFACE Trinity and NuFACE Mini are beauty tools that utilize optimal microcurrent to tighten facial muscles. (2)
A low electric current is applied to the face, which works deep into the facial contour and tightens it. You won't notice a big difference right away, but a precise microcurrent in the same area repeatedly will give an instant lifted appearance.
Precise microcurrent attachments aid in wound healing, reduce the appearance of wrinkles, and aid collagen production. (3)
Graceanne Svendsen, licensed aesthetician, says,
"Microcurrent machines in facial aesthetic applications are used to 'work out' the muscles of the face, production of collagen, and tighten skin appearance." (4)
You can also learn how to use NuFACE on neck to tighten it. But make sure to avoid the thyroid glands, or the middle part of the neck, since it can cause thyroid issues.
The standard microcurrent attachment has two silver balls that provide optimal microcurrent to facial muscles. You can get additional attachments in the NuFACE Trinity.
Are you curious about the potential side effects of using Nuface? Well, in this video, we'll uncover the truth and share some tips to ensure you have a safe and effective experience with this beauty gadget:
Here is also a video issued by NuFACE to show its users how they can use this at-home facial device for contouring and smoothing the face:
Does NuFACE Hurt?
NuFACE Trinity microcurrent devices essentially provide tiny electric shocks to facial muscles, which can be painful to some people.
It depends on how good you are with pain. For me, the gentle microcurrent causes very little to no discomfort. But to some, it can be slightly painful.
Make sure to use a primer before using these microcurrent skin devices. Not using a microcurrent-friendly primer can also cause some pain.
The NuFACE gel primers are also laden with other skincare benefits, but they can be quite expensive. You can opt for some NuFACE primer alternative for an economical option.
Check out how Ava Lee uses her NuFACE Trinity Pro on her pesky lines.
Is NuFACE Effective?
Using NuFACE Trinity or NuFACE mini is like hitting the gym. You will only see the results if you consistently use them for an extended period.
A gentle microcurrent dose is enough to lift the face for a specific time, but the results are not permanent. Numerous professionals urge users to apply optimal microcurrent levels to maintain skin health.
Tess Mauricio, a board-certified dermatologist, says, "Clinical evidence shows these facial devices act as a way to maintain healthy and youthful skin." (5)
You may not see a massive difference in facial contour and smile lines, but your facial muscles will tone better and look more lifted.
The skincare benefits of these beauty devices will fade if not used consistently. But, a mere three minutes with the NuFACE Trinity can make a difference even for first-time microcurrent users.
So, is NuFACE worth it? Yes, if you are dedicated to using it properly.
Don't believe me? Check out cheygren's TikTok video on immediate results after using the NuFace trinity on her face. Precise microcurrent application gives her a lifted look instantly.
How Often to Use NuFACE?
How often to use NuFACE? For best results, first-time microcurrent users must use the NuFACE Trinity daily in upward motions for 60 days for 15-20 minutes.
After that, you need only provide a gentle microcurrent dose three days a week to maintain results. NuFACE Trinity can only be used once a day and can be used either in the morning or at night.
A gentle microcurrent dose is enough to maintain skin health and youthfulness. Using it more than once can have harmful side effects such as headaches, nausea, skin redness, and tingling.
Check out a well-explained thorough video from my favorite YouTuber Cassandra Bankson, and her experience using the NuFACE Trinity.
Should We Go For Nuface?
Oh yes! Microcurrent skin treatment has a wide number of positive reviews thanks to its skincare benefits.
An at-home microcurrent facial is a perfect option for people who want to lift their faces without spending too much on professional treatment.
Of course, the results are not as great as the treatment from microcurrent aestheticians, but the electrical current does a decent job.
The NuFACE Trinity beauty devices on the face help tighten it and provide a well-lifted look. I always use mine in the morning. That way, my face looks lifted throughout the day.
I also love the NuFACE Trinity ELE microcurrent attachment that targets eyes, lips, and pesky lines.
My favorite TikToker, Marianna Hewitt, swears by the NuFACE Mini for a lifted look, and I am obsessed!
If you are looking for more natural skincare benefits, I recommend the NuFACE Trinity.
FAQs
1. Should you use NuFACE in the morning or at night?
NuFACE Trinity microcurrent treatments can be a part of your skincare routine at any time of the day.
2. Does NuFACE have side effects?
Yes. Common NuFACE side effects of microcurrent technology are tingling, headaches, and nausea.
3. Does the NuFACE device work?
Yes. But you must use NuFACE Trinity for 15-20 minutes every day for some time to see a noticeable difference.
4. Is NuFACE as good as Botox?
No. But microcurrent facial is a non-invasive treatment that acts as a toning device over an extended period.
Conclusion
So, then, is NuFACE worth it? Does the NuFACE work? Absolutely! Microcurrent devices are effective against smile lines, jowls, and forehead wrinkles.
Of course, you must consistently use your NuFACE Trinity Pro or NuFACE Mini in your skincare regimen for the best results.
A mere 5-15 minutes is all you need for a good microcurrent facial session. See you in the following article.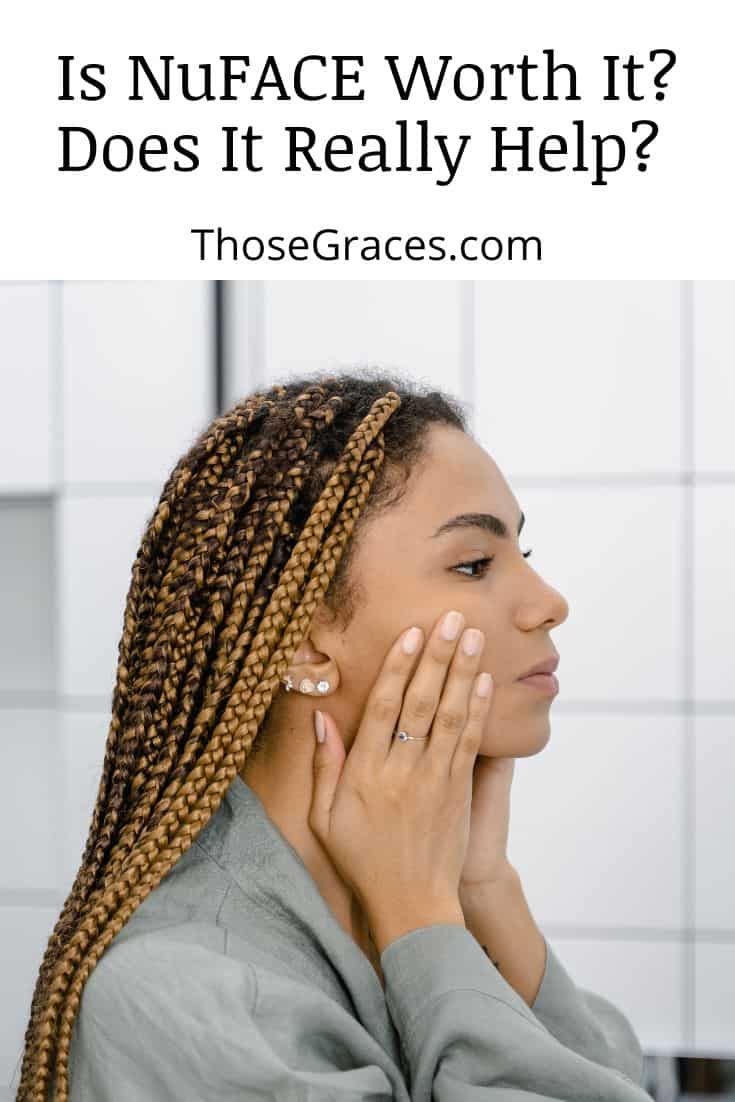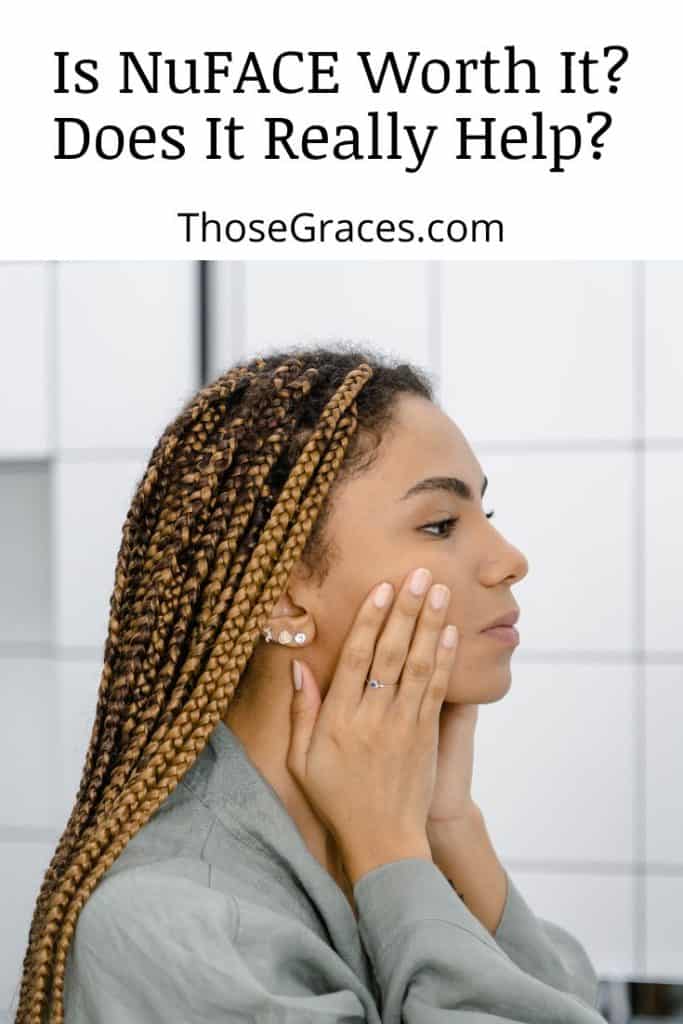 Resources:
1. Microcurrent facial: What it is, how it works, and devices [Internet]. www.medicalnewstoday.com. 2022 [cited 2022 Oct 19]. Available from: https://www.medicalnewstoday.com/articles/microcurrent-facial#how-it-works
2. Yu C, Hu Z-Q, Peng R-Y. Effects and mechanisms of a microcurrent dressing on skin wound healing: a review. Military Medical Research. 2014;1.
3. The effect of microcurrents on facial wrinkles [Internet]. Research Gate. 2012 [cited 2022 Oct 19]. Available from: https://www.researchgate.net/publication/323852520_The_effect_of_microcurrents_on_facial_wrinkles
4. Microcurrent Facial: How It Works, Professional vs. At-Home, Costs & More [Internet]. Healthline. 2019. Available from: https://www.healthline.com/health/beauty-skin-care/microcurrent-facial#TOC_TITLE_HDR_1
5. Bauso A. What's the Deal With At-Home Microcurrent Devices? [Internet]. Allure. Available from: https://www.allure.com/story/at-home-microcurrent-facial-toning-devices